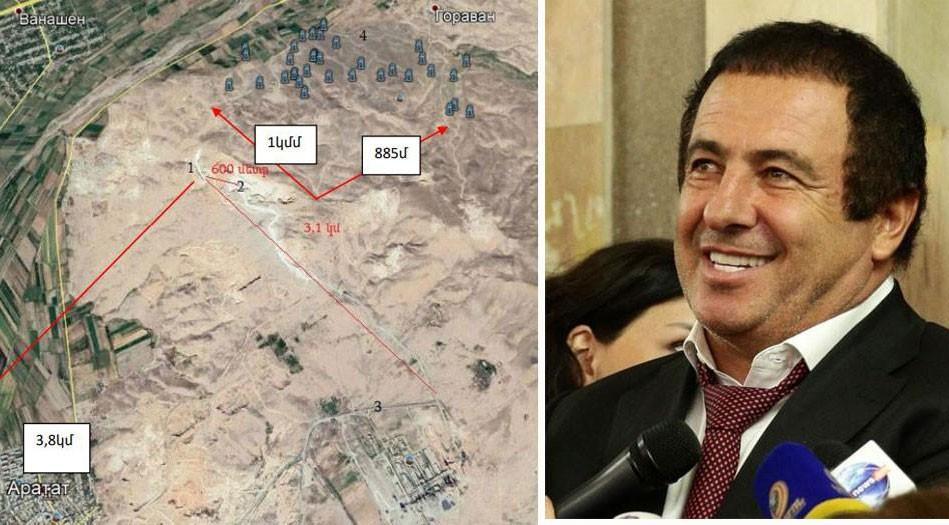 Goravan Sands Sanctuary Threatened: Gagik Tsarukyan Wants to Expand Ararat Travertine Mine
Prosperous Armenia Party leader MP Gagik Tsarukyan wants to expand the area of ​​the Ararat travertine stone mine owned by his Multi Group Stone CJSC.
If the project goes through, the mine would be a mere 885 meters from the Goravan Sands State Sanctuary, a rare sand desert ecosystem in the province of Ararat with unique flora and fauna.
The mine now measures 4.3 hectares. Tsarukyan wants to expand it by two hectares.
In 2004, the company was provided with a permit for that mine for the period 2003-2015. The deadline was extended to April 30, 2020. Given the extended permit deadline and to include new mining areas, the company has drafted an expansion plan.
The expanded mine will be two milometers from the Vanashen community, four from Avshar and 1.5 from the Vedi River 1.5 km.
The sanctuary, established in 1959, is the only complete ecosystem of natural growth of the desert shrub Calligonum polygonoides in the South Caucasus, with endemic, rare and extinct species of its unique flora and fauna.
"The sanctuary is the first in Armenia with absolute numbers of rare and endangered species of vascular plants (10 species are listed in the Red Book of Armenia). There are 160 species of vascular plants growing in the sanctuary in general," reads the sanctuary's Reconstruction Project Report.
The Goravan Sands Sanctuary is a part of the Khosrov Forest State Reserve.
Smbat Gharibyan, the reserve's deputy director, told Hetq that the mine, given that it merely a quarry and not a processing plant, does not negatively impact the environment.
Gharibyan was unaware that the company wanted to enlarge the mine site.
When asked if mining operations so close to the sanctuary wouldn't pose a risk to the flora and fauna, Gharibyan said the law wasn't clear on the size of environmental buffer zones in such cases.
Gharibyan repeated his claim that the mine wouldn't pose a risk to the sanctuary.
When asked if quarry explosions and dust they'd raise wouldn't pose a problem for endemic species in the area, Gharibyan replied: "We work to preserve species within the sanctuary. We have no jurisdiction for anything outside it."
If you found a typo you can notify us by selecting the text area and pressing CTRL+Enter