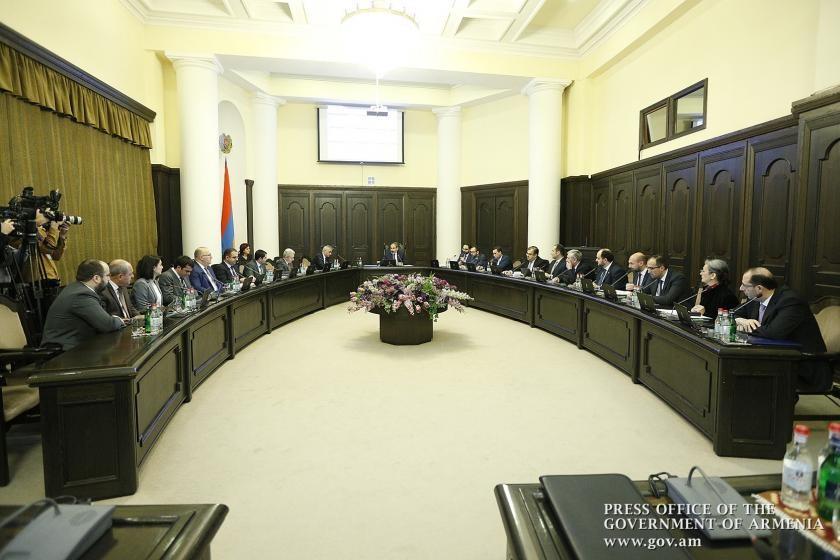 Armenian Government Introduces AMD 25 Billion Business Support Package to Cushion Coronavirus Impact; Social Assistance Package In the Works
The Armenian government plans to implement three sets of support packages for the ongoing coronavirus-related crisis and the post-crisis situation. One of them is ready and will be open for public debate.
Today's government session began with discussions on the coronavirus.
"As a result of this crisis, Armenia, Artsakh, the Armenian people, we all need to come out stronger," Prime Minister Nikol Pashinyan announced at a cabinet meeting today, saying that anti-crisis economic tactics and strategy were discussed yesterday.
"I want to say that our decision is unequivocal. We have not set a task before us and will not restore the pre-crisis economic situation however good it was in Armenia. We have set ourselves the task of being guided by much greater ambition in post-crisis posturing. It follows from the logic of our actions that we need to implement development plans during this period, maybe focus more on the reform agenda we have adopted and, of course, need to provide serious support to the economy that has development logic," Pashinyan said.
Pashinyan noted that it is understandable that given the spread of coronavirus, the crisis will also pose some social challenges. "We must confront and take appropriate steps to address them. It is very important for these social programs to be effective and targeted fairly," Pashinyan said, recalling that in the past there were cases when social assistance was concentrated in several places, and there were some cases of illegal enrichment. He said such cases must be ruled out.
Pashinyan reported that a business support package of approximately 25 billion drams (some US$50m) will be launched in the near future. A 25 billion dram social assistance package is being drafted and will be used as needed, and another 80 billion dram package is in the works designed to improve Armenia's economic position in the post-crisis reality.
Deputy Prime Minister Mher Grigoryan noted that as a result of discussions it was decided to introduce the 25 billion AMD business support package for public debate as of today.
"Of course, the current situation of the coronavirus and global markets is leading to irregular consumption, including a decline, which means we need to have financing cushioning that allow businesses to pass through irregular consumption without significant losses or losses. Accordingly, we have developed a range of potential credit products, which imply co-financing, refinancing and interest subsidies. We think we will have the kind of credit that will enable the business to cover all expenses, not have interest rate burdens, currency risk, but to retain both employees and solve current utility problems," Grigoryan said.
Pashinyan said that up to 50% of loans will be financed by the government without interest, the rest by banks and credit organizations, whose interests will also be subsidized by the state.
"That is, the businesses receive credit at zero interest," Pashinyan said, noting that those funds can be given to businessmen for the following purposes:
1. Salaries and equity payments to employees and payment of taxes thereon. It is proposed that the amount for each employee does not exceed 500,000 drams and for not more than three months.
2. Purchase or import of raw materials in cases when the whole volume of raw materials is to be used for the production of finished products in Armenia and the borrower has the necessary production capacity.
3. Import of equipment and equipment if they are used for organizing production or expanding production in Armenia.
4. To cover of water, electricity and gas expenses, but not exceeding 5 million drams for each service and for not more than three months.
5. Importation of food by commercial companies if the goods are to be imported to Armenia.
6. Import of fertilizer, seed, seedling, other agricultural raw materials, if the imported product is to be sold in Armenia.
Loans to be issued are in AMD, maturity up to 24 months, maximum amount is AMD 500 million, but the amount of co-financing or refinancing may not exceed AMD 250 million. The procedure for providing credit facilities is only by non-cash and bank transfer.
Pashinyan also talked about the recently widely discussed issue of giving a tax break to businesses. He asked if the government gives everyone a tax break, how will the above expenditures be made.
"They say that the government should spend the money for this and that. In the same sentence they say that the government should issue tax breaks. If we do, who's supposed to cover all these expenditures. That's why we say that people need to be ready to cover their taxes and payments. Of course, we cannot ignore the crisis. That's why the government is making these investments. That's to say the government, along with citizens, is participating in paying taxes. We have agreed that banks should work individually with their clients on loan issues," Pashinyan said.
If you found a typo you can notify us by selecting the text area and pressing CTRL+Enter