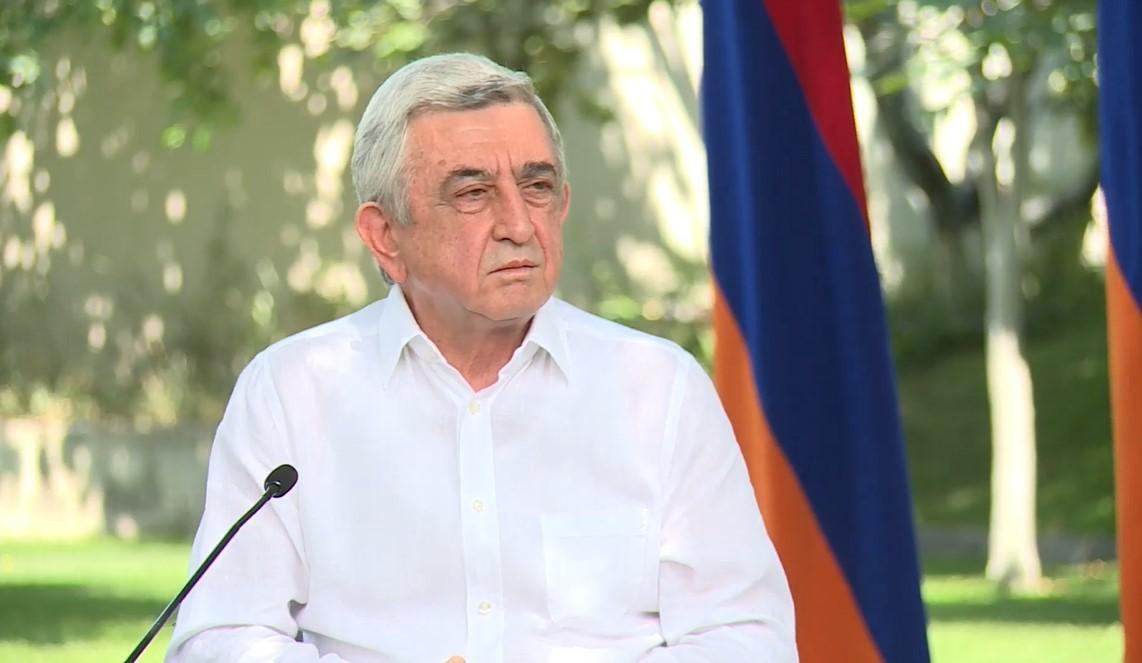 Serzh Sargsyan on 2016 Four-Day War: ""We didn't know that Azerbaijan was preparing a large-scale military operation"
At a press conference today focusing on the April 2016 clashes along the Artsakh-Azerbaijani border, Serzh Sargsyan, who was the president of Armenia at the time and resigned as prime minister in 2018 following mass protests, noted that despite some shortcomings, almost all military, political, state and civilian circles in Armenia performed to the best of their ability.
Sargsyan began the press conference by reciting the opening speech he gave on April 16 of this year at a session of a special parliamentary commission convened to investigate the 2016 military clashes.
Addressing the MPs in the closed session, Sargsyan asked if there was anyone who doubted the victory of the Armenian side in the four-day war and could substantiate that Azerbaijan had won the four-day war.
Sargsyan, today, reiterated that while some could disagree with the Moscow brokered ceasefire the probability was high that the Armenian side would have suffered dozens more casualties if hostilities continued.
Armenia's third president avoided commenting on the work of the commission, saying that he had agreed not to publish details of the session if the entire video of the meeting was given to him.
One lingering question about the 2016 clashes is whether Armenia intelligence agencies knew, in advance, about the possibility of large-scale clashes.
Sargsyan, in this regard, today said that information about an impending war was circulated by officials who weren't fully apprised of the existing intelligence or couldn't satisfactorily interpret such intelligence.
"We didn't know that Azerbaijan was preparing a large-scale military operation. Our intelligence failed in this matter. There is nothing puzzling here. We already had preliminary information on the first of the month, in the second half of the day, that a subversive operation was being prepared by Azerbaijan," Sargsyan said today.
Clashes broke out on April 1, 2016 and a ceasefire declared on April 5.
Sargsyan said that even the best intelligence armies in the world have shortcomings.
As to the criticism voiced at the time that the Armenian military was equipped with outdated 1980s weaponry while Azerbaijan was armed with modern technology, Sargsyan today said that even the best armies in the world have weapons made in the 1980s in their arsenals, adding that such criticism was highly speculative and politically motivated.
As to why Armenia didn't employ Iskander short-range ballistic missiles in 2016, Sargsyan said that since it was not a large-scale war, their use would be like "shooting at sparrows with cannons".
If you found a typo you can notify us by selecting the text area and pressing CTRL+Enter