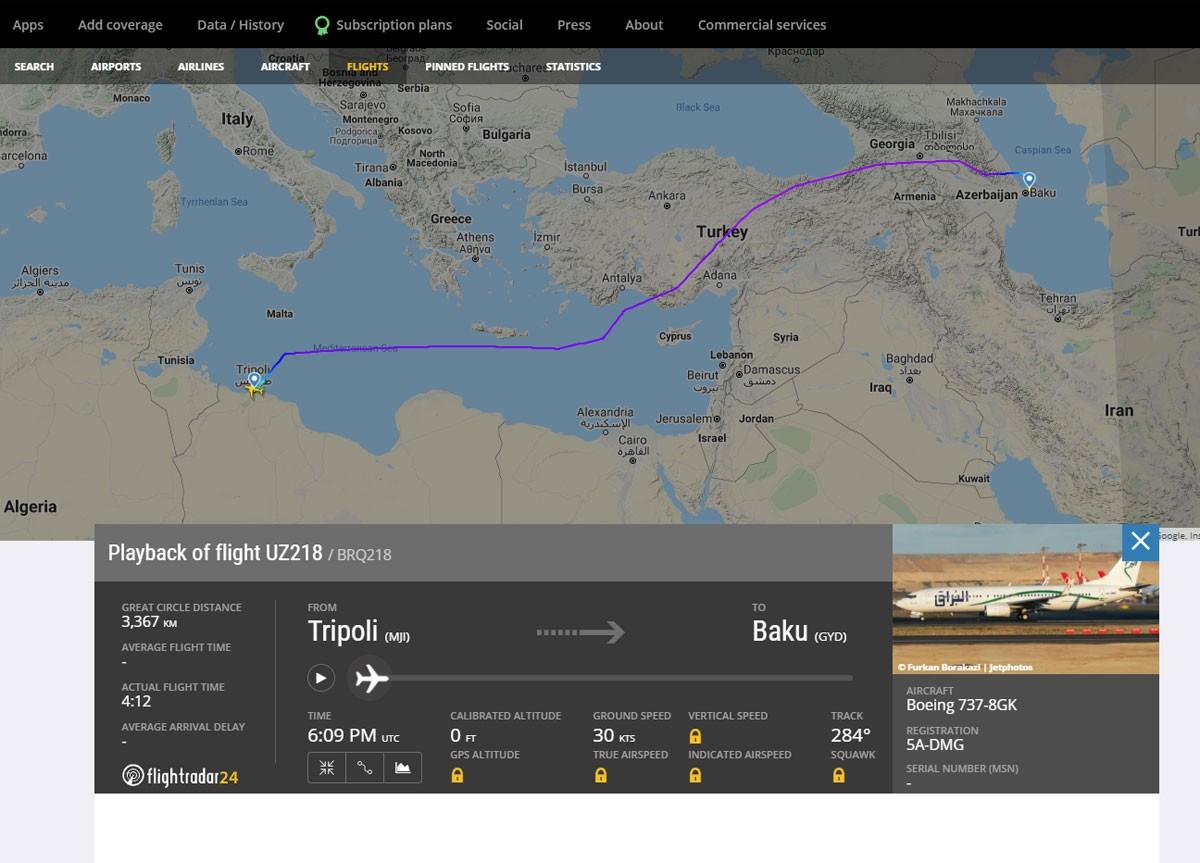 The Turkish Connection: Libyan Plane Destined for Baku Left Tripoli
Yesterday, at around 22:10 Yerevan time, a Boeing 737-800 passenger plane flew from the Libyan capital Tripoli to Baku.
It touched down in the Azerbaijani capital at around 02:30 Yerevan time.
The flight was operated by the Libyan Buraq Air.
The flight was non-stop. The plane passed through the airspace of Turkey and Georgia before arriving at the Heydar Aliyev International Airport in Baku.
Note that in civil war-torn western Libya, with Tripoli as its capital, there is a government of national accord. Turkey is using Syrian mercenaries in Libya to fight General Haftar's forces in eastern Libya.
On September 27, the Armenian United Information Center, citing Armenian intelligence, noted that about 4,000 militants from Syria were taking part in the hostilities unleashed by Azerbaijan along the Artsakh border
Reuters was able to talk to two Syrian mercenaries, who said that they were leaving for Azerbaijan under the coordination of Ankara.
"I did not want to go, but I do not have any money. "Life is very hard and poor," the Ahrar al-Sham militant group combatant told Reuters. (It's considered a terrorist organization by several countries, including the United States.) The latter and another mercenary reported that they had been promised some $1,500 a month to fight on the side of Azerbaijan.
The Guardian also spoke to Syrian mercenaries, including Omar (renamed) from the Turkish-controlled Syrian city of Idlib, who said that when they were first offered a job in Libya, many were afraid to leave, but now there are thousands of people who want to go to Libya or Azerbaijan. "We have nothing to do here," said Omar of Idlib.
The Guardian reported that some of the mercenaries heading to both Azerbaijan and Libya said they had been told to patrol only but were taken to the battlefield instead. Many also mentioned that the commanders pocketed 20% of their money.
Returning to the Tripoli-Baku flight, let us emphasize that there is no regular connection between these cities. That is, this is a charter flight. The plane left Baku for Dhaka, the capital of Bangladesh.
Before leaving for Baku, as we see on flightradar24.com, this "Buraq Air" plane flew from Tripoli, Libya and Misrata to Istanbul and back. Unlike Baku, Istanbul is one of the airline's flight destinations.
If you found a typo you can notify us by selecting the text area and pressing CTRL+Enter