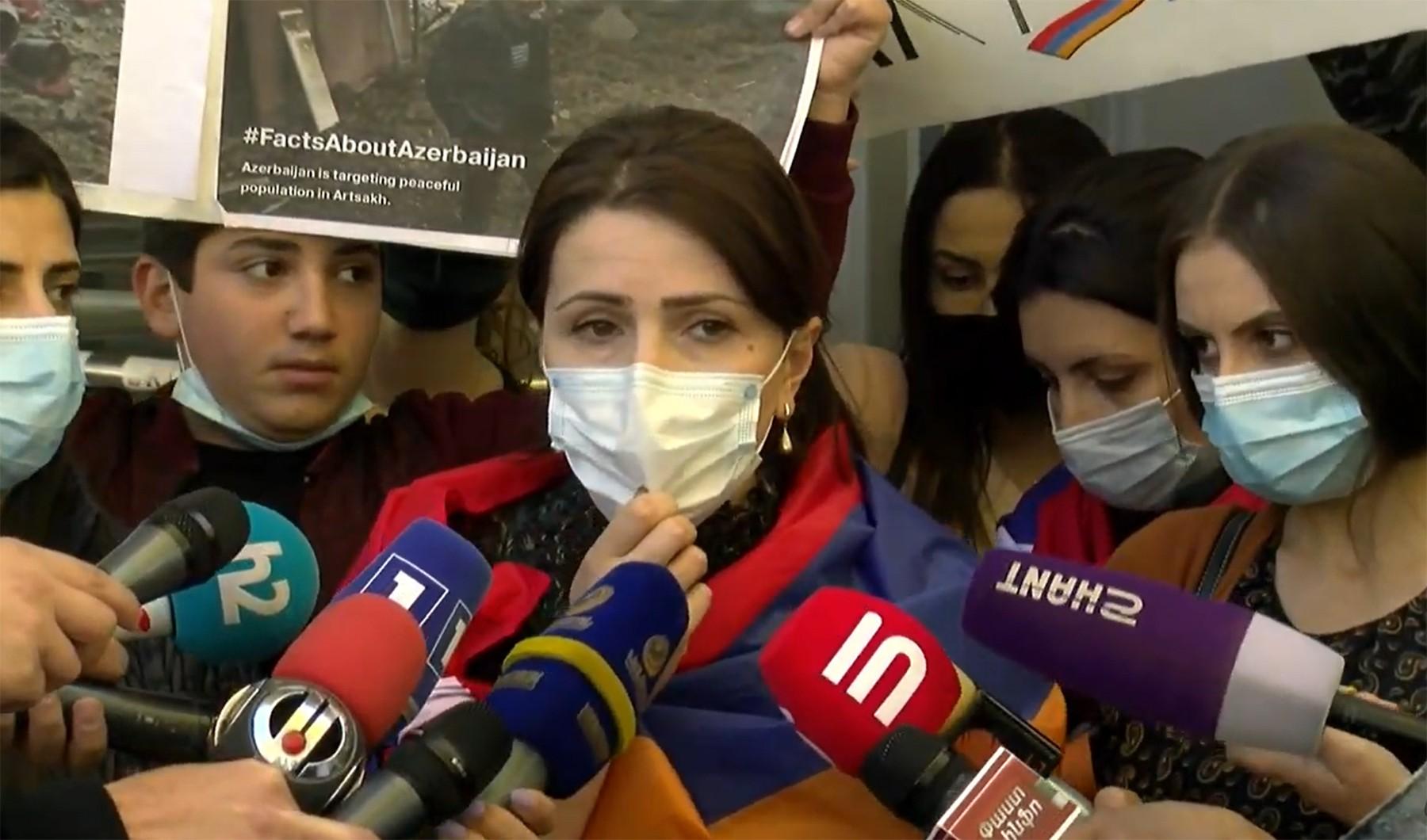 Yerevan: Demonstrators Demand Germany Facilitate Karabakh Ceasefire
Demonstrators rallied outside the German Embassy in Yerevan today, demanding a face-to-face meeting with German Ambassador to Armenia Michael Banzhaf regarding the situation in the Karabakh conflict zone.
The demonstrators want Germany to take a more active role to establish a ceasefire.
Armineh Melkonyan, one of the protest organizers, announced that the photos of a beheaded Armenian soldier in Artsakh will be shown to the representatives of all international bodies and ambassadors.
Melkonyan said that the cruel treatment of the Armenian servicemen at the hands of mercenaries in the pay of the Azerbaijani Armed Forces is a result of the silence of international organizations.
She said they did not take steps when similar incidents occurred during the April 2016 hostilities.
"An Armenian soldier was beheaded only because he is Armenian. International structures fighting against racism, where are you? A person is tortured because he is Armenian. Where is the voice of the world? Why are you silent?" asked Melkonyan.
Marineh Chobanyan, one of the rally participants, was allowed inside to meet withj was received by Ambassador Banzhaf. During the meeting, the ambassador expressed concern about what was happening in Artsakh and apologized that he could not go down to meet the protesters on the street.
"The ambassador said that they are aware of everything. He said that they're addressing the issue with great sorrow and deep pain," Chobanyan said after the meeting.
Ambassador Banzhaf told Chobanyan that, at this stage, impossible for embassy staff to be sent to Artsakh to assess the situation on the spot
Top photo shows Marineh Chobanyan
If you found a typo you can notify us by selecting the text area and pressing CTRL+Enter