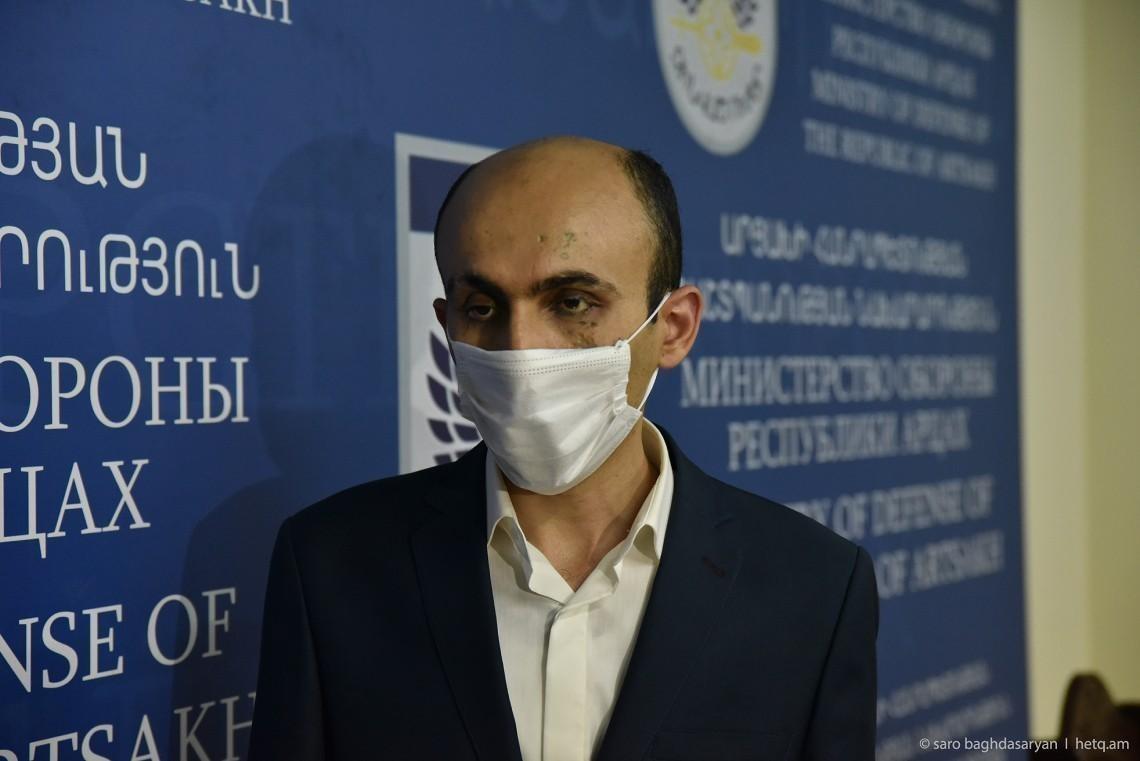 Artsakh Human Rights Defender: "Coexistence Impossible In Near Future"
The Artsakh Human Rights Defender's Office has registered at least 37 civilian victims and at least 118 civilian wounded since fighting broke out along the Artsakh-Azerbaijan border on September 27.
Artsakh ombudsman Artak Beglaryan, during a briefing with journalists in Stepanakert today, said the latest civilian wounded was in the village of Avetaranots due to the Azerbaijani shelling.
From September 27 to date, according to preliminary data compiled by Berglaryan's office, about 10,500 pieces private property - apartments, houses, shops, more than 1,500 infrastructure units - have been damaged or completely destroyed, as well as more than 1,100 pieces of movable property, especially cars.
Beglaryan said there are some preliminary data on the deaths of civilians, especially in the settlements where Azerbaijani subversive groups have entered, but again, due to the continuation of hostilities, it is impossible to provide accurate numbers.
"However, given the case of Hadrut where two civilians were murdered and the video which appeared on social media, the possibility is quite high that there may be other cases as well. According to our information, there are missing civilians from these settlements. Given the playbook used by the Azerbaijani armed forces, there is a great danger that these civilians were killed, even tortured, and subject to a number of other military operations," said Beglaryan.
Beglaryan said that Azerbaijan has continuously targeted many residential settlements with artillery or rockets. The towns of Martuni and Martakert, their adjacent settlements, as well as some settlements of the Hadrut region, are regularly hit.
The Artsakh capital Stepanakert has been regularly targeted as well.
Beglaryan says Azerbaijan is targeting the city's civilian areas with Polonez rockets, which constitutes a war crime according to the Geneva Convention.
He said that numerous photos and videos recently appearing on Azerbaijani social media showing the inhuman treatment of dead POWs and the beheadings of alive POWs are real.
Beglaryan said that Armenian POWs are being pressured, both physically and psychologically, to parrot the Azerbaijani narrative on the war and that such treatment violates the provisions of international humanitarian law.
"From this point of view, it is very important that the international community pay due attention to these cases in order to prevent further violations, guarantee the protection of prisoners of war in Azerbaijan, and exclude further violations of the bodies of dead Armenian servicemen."
He argued that Azerbaijan has twice violated the humanitarian ceasefire, preventing the removal of war dead from the battlefield, because it does not want to reveal the extent of its losses and thus cause public discontent. Beglaryan described this approach as "inhumane".
Beglaryan said that Azerbaijan forces are targeting vital roads and other infrastructure to intensify human suffering in Artsakh. He noted yesterday's shelling of the Berdzor roadway, linking Armenia and Artsakh.
Beglaryan downplayed recent remarks by Azerbaijani President Aliyev that Karabakh Armenians would be given "cultural autonomy".
"The future of Artsakh is determined by the residents of Artsakh with the support of the entire Armenian people, since we are the owner of the Artsakh Republic, we are the one who decides our destiny. We are the one who decide the destiny of our homeland."
Noting that Baku has pursued a policy of inciting hatred towards Armenians, it is impossible, for the near future at least, to expect any type of "coexistence". Beglaryan noted that when the Azerbaijani side publishes a video or photo of the inhuman treatment of Armenian prisoners of war or corpses, there's a "celebration" in Azerbaijani society.
Beglaryan condemned Turkey's involvement in the war, describing it as a continuation of a policy Turkey has waged against various peoples in the Middle East and beyond.
Concluding, Beglaryan advised against republishing Azerbaijani social media posts and news outlet material, saying that most of these are propaganda seeking to "psychologically divide and weaken" Armenian society.
If you found a typo you can notify us by selecting the text area and pressing CTRL+Enter