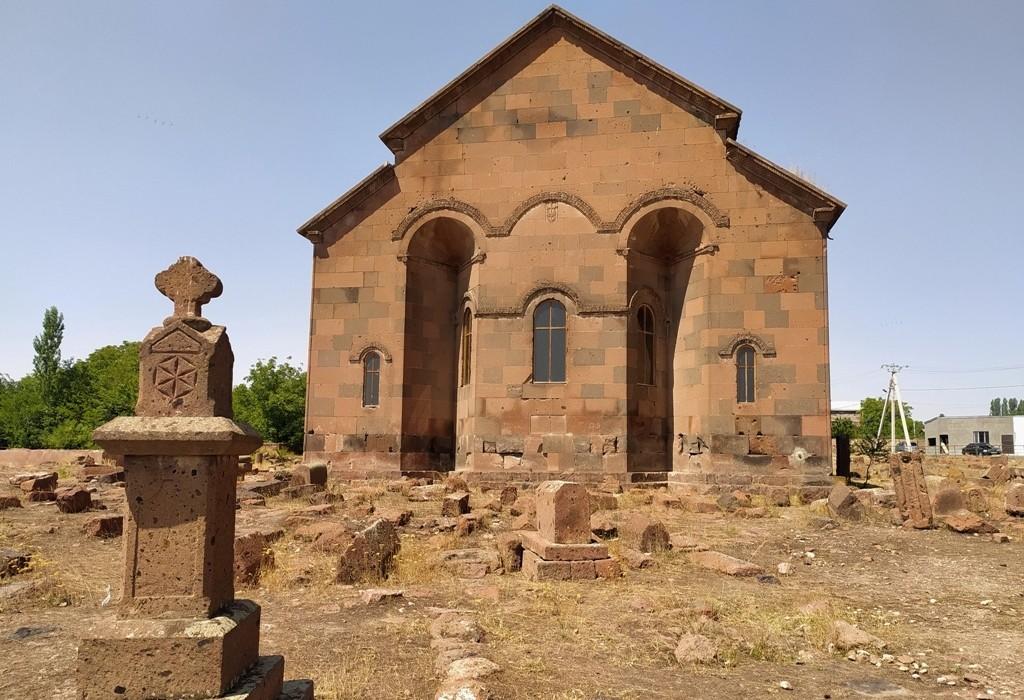 Armenia's 7th Century St. Grigor Church Faces Uncertain Future
The 7th century St. Grigor Church (Arouch Temple), in Armenia's Aragatzotn Province, features the largest of the early medieval domed vaults still standing in the country.
The dome has long since disappeared. Entering the non-functioning church, one hears the cackle of crows inside. Remnants of burning candles can be seen. A caretaker priest occasionally visits the church, to officiate at baptisms and weddings. The area is fenced off. Garbage bins are installed in the yard. The church was built by Armenian ruler Grigor Mamikonyan and his wife Heghineh and served as an administrative center.
In 2013, Armenian-Italian specialists excavated, studied, cleaned and improved the church. The Italians plan to propose a project to restore or strengthen the edifice by year's end.
On the south side of the church, during the excavations of the 1950s, the ruins of the basilica of Prince Grigor Mamikonyan's palace structure were discovered. The whole area was a Christian mausoleum. Some of the tombstones and stone crosses have been preserved, which are lined up in the yard.
The attitude of the state towards the monument is noted in a panel placed in the mausoleum. It was installed by the Department of Preservation and Use of Historical and Cultural Monuments of the Council of Ministers of the Armenian SSR. It reads: "VII-XX centuries cemetery is protected by the state. "
Hetq wrote to the Ministry of Education, Science, Culture and Sports, asking whether the ministry was aware of the stage of the work undertaken by the Armenian-Italian specialists, whether an estimate had been made, and how much the restoration work of the temple would cost.
Deputy Minister Arayik Khzmalyan wrote back that in 2013 the activities carried out within the framework of the educational program were carried out by the Italian "Armenian Cultural Heritage Research Center" organization, the founder of which is Gayane Kaznati.
Since the work was not related to the Ministry of Culture, he suggested that we contacted Mrs. Kaznati for answers.
Khzmalyan said the ministry has no information on when the restoration of the temple is planned, adding that due to the lack of state funds, no money was allocated for the study of the monument.
He said that the Department of History and Cultural Monuments Protection is constantly monitoring the church's status, and that if funds are available, it will consider the issue of including the monument in the medium-term expenditure program.
The fate of church remains unknown.
If you found a typo you can notify us by selecting the text area and pressing CTRL+Enter