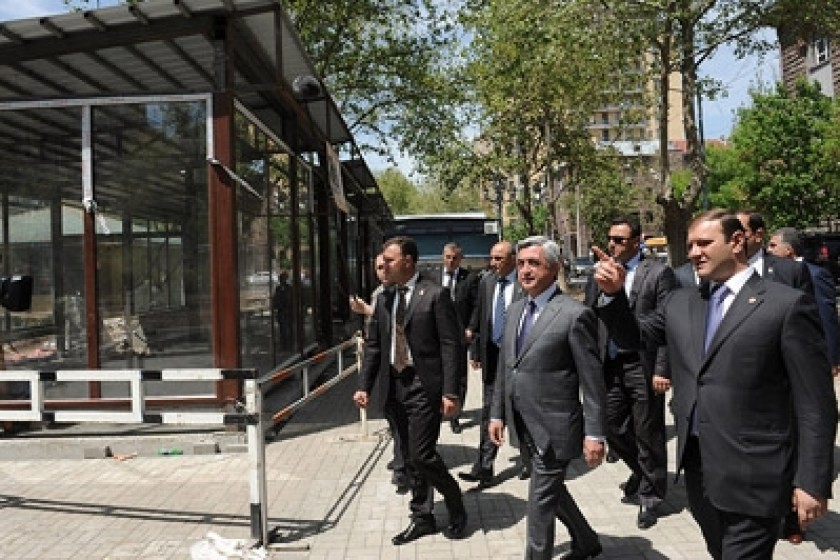 President Sargsyan to Yerevan Mayor: "Mashtots Park Kiosks Should be Dismantled Now"
RA President Serzh Sargsyan has urged Yerevan Mayor Taron Margaryan to dismantle the recently constructed commercial stalls in Mashtots Park.
The stalls, moved to the park from Abovyan Street, have been the focus of a small but determined group of activists who have been fighting for several months to have them removed.
"Taron, one of your great achievements was to remove the stores on Abovyan Street. You have also been correct when it came to the private property issues involved. Yes, you cannot build legality based on illegality. And it is not possible to create comfort with illegal actions," argued President Sargsyan.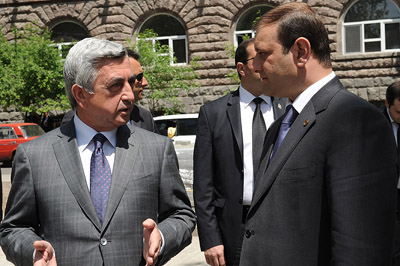 In a tone that some might find just a bit condescending, President Sargsyan added, "Dear Taron jan, you were right to say the kiosks would be taken down in 2-3 years. But you'd agree with me that they don't make a pretty sight. The municipality has worked effectively, no doubt, but the area isn't pleasing to the eye. It would be best to find another solution and dismantle all this."
One of the civic activists at the park approached the president and asked him what he thought about the temporary kiosks.
President Sargsyan told him what his opinion was and stressed that all Yerevean residents wanted their city to look good and for all applicable environmental laws to be respected.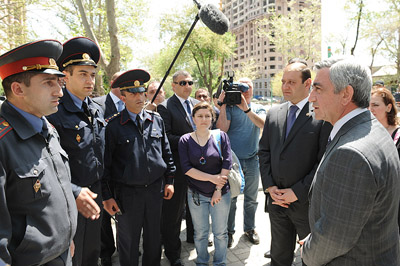 "But this must be accomplished through legal means," stressed President Sargsyan.
Sargsyan then congratulated the police who have been stationed in the park, preventing activists from dismantling the stalls themselves, for a job well done in preserving public order.
The president said the conduct shown by the police was a step in the right direction but that they improve their professional aptitude and dealings with the public even more.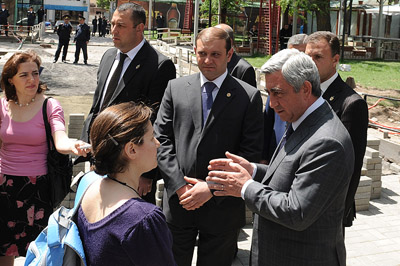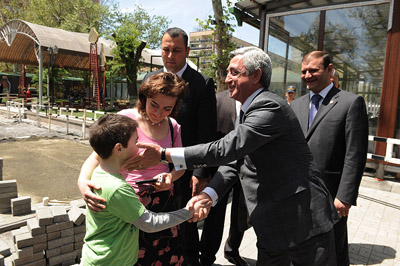 If you found a typo you can notify us by selecting the text area and pressing CTRL+Enter