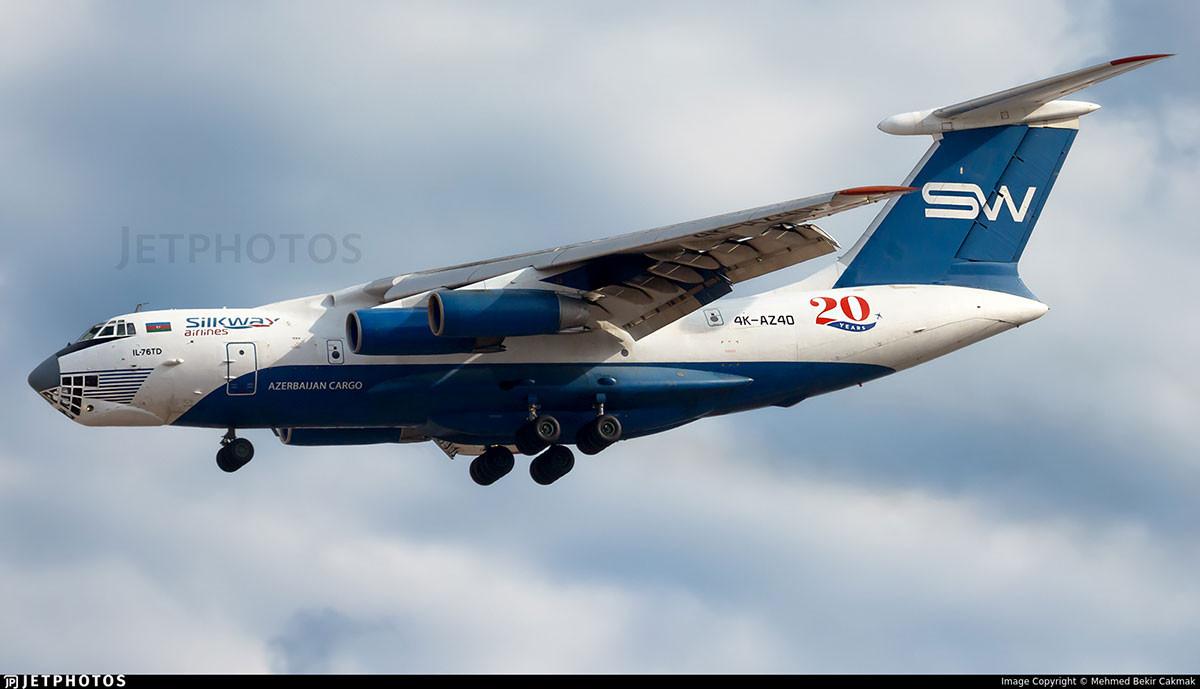 Azerbaijani Flights to Israeli Military Base Have Increased
Flights of Azerbaijani cargo planes to the Ovda military air base in southern Israel have increased of late.
This should attract the attention of the Armenian government because Ovda is where Israel exports explosive munitions from.
Hetq recently referred to a March 2023 Haaretz Israeli daily investigation revealing that over the past seven years, 92 cargo flights flown by Azerbaijani Silk Way Airlines have landed at the Ovda airbase.
Hetq followed up on this news and found that between April and June of 2023 four more Azerbaijani flights touched down in Ovda.
Haaretz's investigation showed that flights to Ovda increased in frequency when military operations took place in Artsakh or on the Armenia-Azerbaijan border.
On September 1, 2023, against the background of another provocation by Azerbaijan in Armenia's Sotk region, flights to Ovda started again. Three Armenian soldiers were killed and two wounded in that attack.
Examining the Silk Way Airlines flights to Ovda, we see that they became more frequent in August-September, which, judging from the previous experience, should flash a warning light in the halls of the Armenian government.
Between August and September alone, more specifically in the last three weeks, one of the planes of Silk Way Airlines (Il-76TD, registration 4K-AZ40), landed in Ovda four times.
Here's the stats.
15.08.2023 – Baku - Ovda (ZP 4611), Ovda - Baku (ZP 4612)
29.08.2023 – Baku - Ovda (ZP 4631), Ovda - Baku (ZP 4632)
01.09.2023 – Baku - Ovda (ZP 4641), Ovda - Ganja (ZP 4642)
02.09.2023 – Ganja - Ovda (ZP 4651), Ovda - Ganja (ZP 4652), Ganja - Baku (ZP 4652)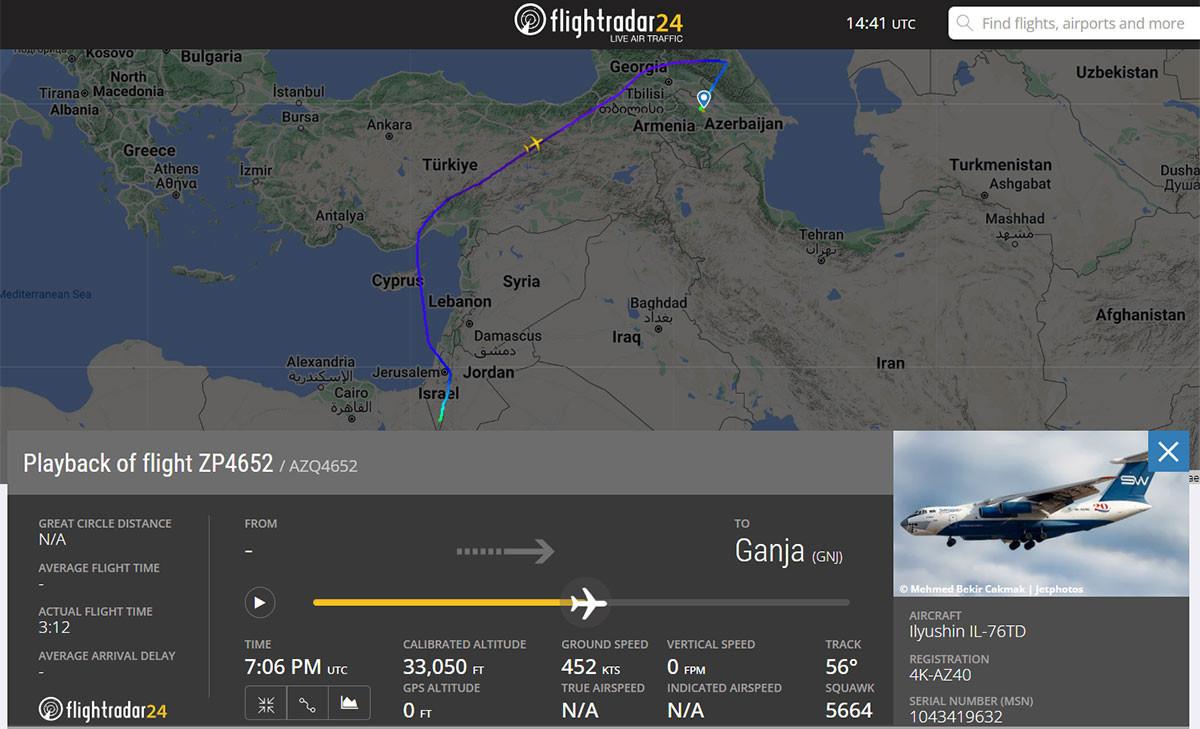 September 2 Ovda - Ganja flight (ZP 4652)
Thus, it appears Azerbaijan has moved explosive weapons not only to Baku, but also to a point much closer to the Armenian-Azerbaijani front line and Artsakh (Ganja), a circumstance worthy of attention.
An Il-76TD aircraft can carry fifty tons of cargo.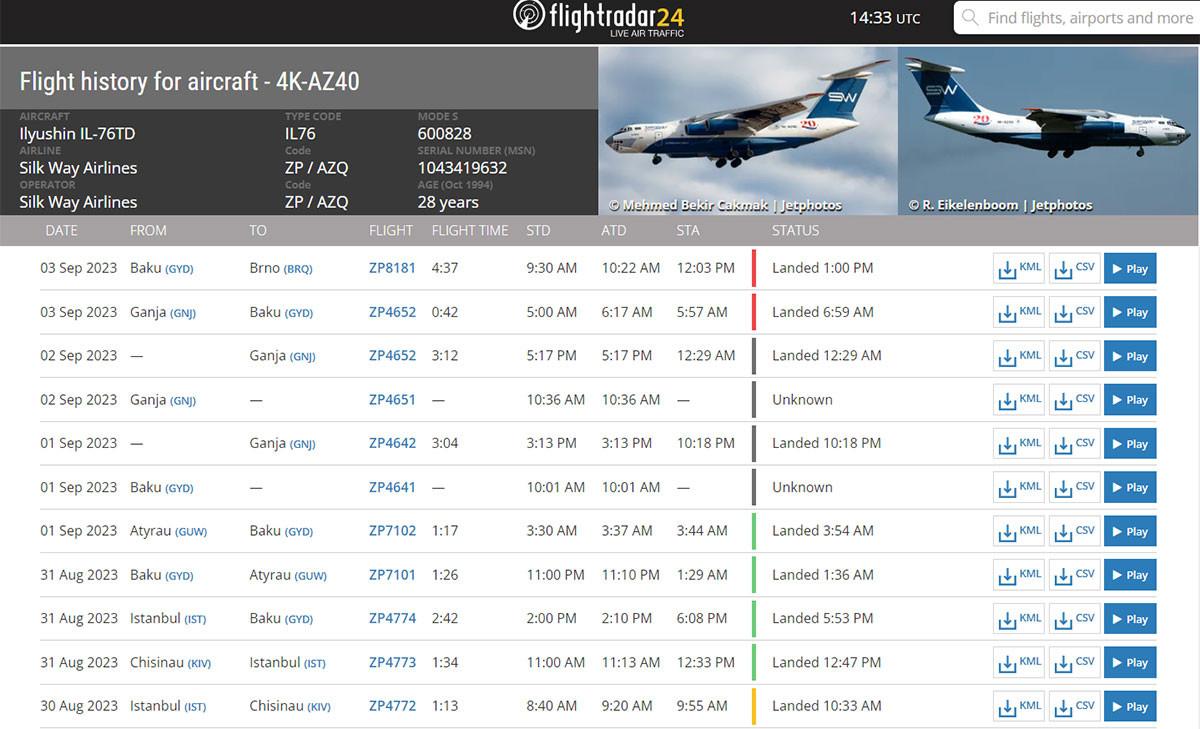 Thus, so far this year, Silk Way Airlines planes landed in Ovda eleven times and then returned to either Baku or Ganja.
At the same time, weekly Baku-Tel Aviv roundtrip flights of the American Boeing 747 type aircraft of Silk Way West Airlines (subsidiary of Silk Way Airlines) continue.
Of note is that on August 12 and today, September 3, the above-mentioned 4K-AZ40 flew from Baku to the Czech city of Brno, known for producing small arms.
Top photo: 4K-AZ40 in Istanbul, Aug. 11, 2023, jetphotos.com
If you found a typo you can notify us by selecting the text area and pressing CTRL+Enter