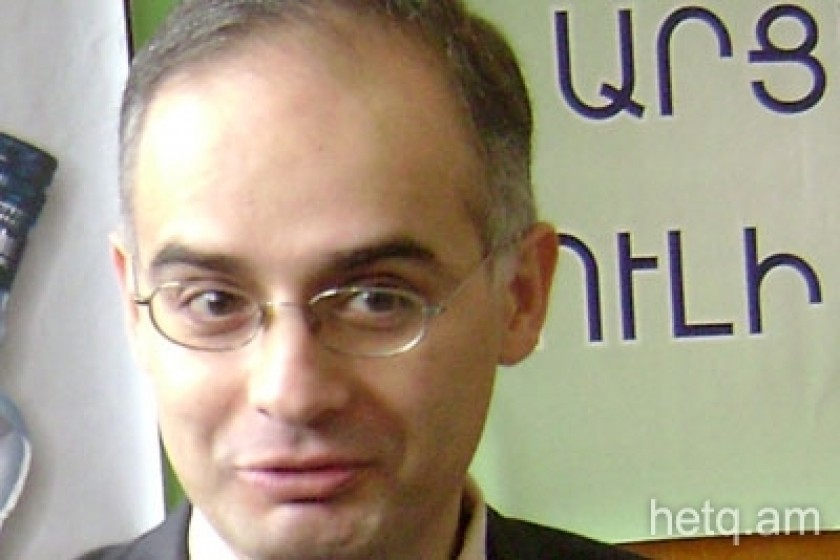 Levon Zurabyan - HAK's Tactics Getting Results
At yesterday's HAK (Armenian National Congress) rally in Yerevan's Freedom Square, Levon Zurabyan congratulated the gathered multitudes for the victory and declared that HAK would be pressing on in its drive to formulate a "legitimate" government via the constitutional process.
Zurabyan noted that according to press leaks from the Ministry of Justice, Sargis Hatspanyan and Mourad Bodjolyan would also be released from prison in the next week to ten days.
The HAK spokesman said that the alliance would be raising Hatspanyan's eviction issue with the government in upcoming talks.
Zurabyan declared that, "Our tactics have paid off and we will continue to stage demonstrations."
Aram Sargsyan, President of the Republic Party, argued that the ruling regime had crossed the line of no return and could no longer hide behind the old ramparts.
"This is only the beginning and we are the ones that will guarantee its positive continuation," Sargsyan said.
Stepan Demirtchyan, another HAK leader, said that pre-term elections were on the agenda given that free and fair elections have yet to be conducted in Armenia.
"Without free elections, it is senseless to talk about a normal socio-political situation in the country," Demirtchyan said.