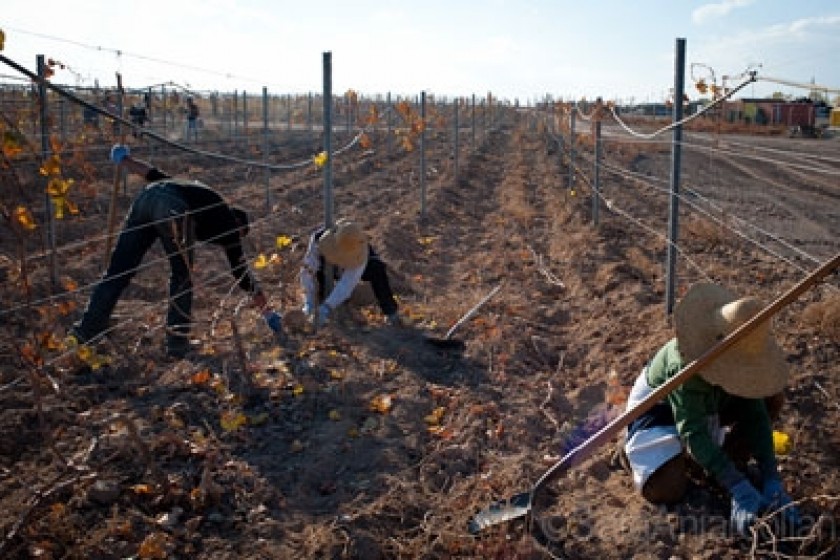 Eurnekian's Wine Biz: $40 Million Investment, 500 New Jobs in Armavir
Marine Madatyan, Edik Baghdasaryan
The company "Tierras de Armenia" was founded by Argentinean-Armenian Eduardo Eurnekian.
Ten years ago, there were 2300 hectares of land in the Armavir region that were uncultivated and covered with rocks. Today, there are 450 hectares of vineyards available. On the day of our visit, the employees were working in different parts of the vineyard, planting grapevines, building water pipes and leveling the land. It's hard to see this type of collaborative effort among workers in the other regions of Armenia.
Recently, the opening of a winery took place on part of the land that belongs to the company. There are different grape varietals grown on the 450 hectares used by the winery. The money invested in the land and the winery is about $40 million. According to Vahe Keushguerian, the sales manager of the winery, the investment is not bringing in any profit yet. Marcelo Wende, Eduardo Eurnekian's representative and general manager of Armenia's International Airport CJSC, believes that this is not a failure; it's just a phase that they will overcome.
''No one builds a business to lose money'', he says. So far, the founders plan to create employment for the farmers, produce high quality wine and plant 50-60 hectares of grape each year.
"Armenian winemaking will be unrecognizable in 8 years"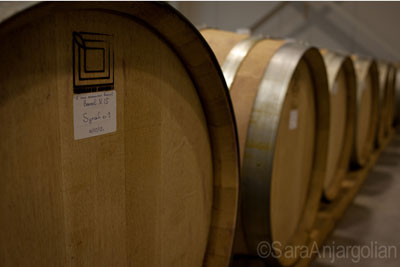 The employees were planting grapevines, which gives them a job during the springtime, since the grapevines need to be removed. The winery has 300 permanent employees and 500 employees during the spring, summer and autumn seasons. The employees are mainly from the Armavir region. Nelly Hakobyan is from Qarakert and has been working, in her own words, ''in the vineyard of Eurnekian" for six years. She says that a lot of people from her village wanted to work in the vineyard and the only reason she was able to get the job was because she was lucky enough to have applied early.
According to Vahe Keushguerian, burying and unearthing grapevines on one hectare of land costs 1000 Euros. "They don't do it in many countries because it is not needed and it is expensive. There are few that do in Canada, China and New York''. Every year ''Tierras de Armenia'' invests 2 million Euros in Armavir.
At first, there were Armenian grape varietals in the vineyard, but the planting was not successful. After this, French varietals were planted. Nowadays, Kangun and experimental Areni varietals are being planted in the vineyard, along with the French varietals. ''It takes time to understand how the varietals adapt to the land. The results of viticulture normally takes many years to understand'', says Vahe Keushguerian, promising that "Armenian winemaking will be unrecognizable in 8 years."
''They employed young people that were back from the army''
The company also owns a greenhouse in the same area, providing vegetables to the guesthouse on the property where, as Vahe Keushguerian mentions, guests of Mr. Eurnekian stay during their visit.
Mrs. Emma, one of the employees of the greenhouse, is from Myasnikyan village. She states that there are a lot of young workers, filling 10-12 buses, in the vineyard that got their job after returning from the army.
''We give bonuses for good work. You get tokens for grapes. 1 basket of grapes is equivalent to 1 token. Whoever gets more tokens means he/she has worked harder than the rest'', says Mrs. Emma.
They have a garden in their house, and 1 hectare of land in the field, but don't cultivate it. She says it's more profitable to work in the greenhouse than to cultivate her own land.
They work 9 hours a day and receive 6,000 AMD ($15) per day.
The company, both in the vineyard and greenhouse, has permanent and seasonal employees. The permanent employees receive 130,000 AMD per month and the seasonal employees receive 6,000 AMD daily.
During winter, permanent employees receive salaries but don't work until spring season.
"The best part of this job is that we have a medical insurance. I needed surgery and the company transferred 350,000 AMD for my surgery''.
"If the grape has "capabilities" we send it to "learn" in new barrels"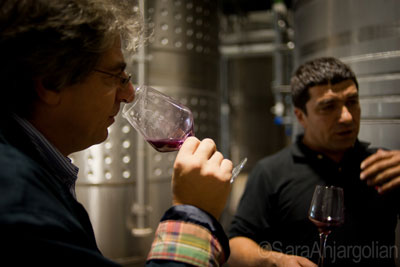 Chardonnay, a French grape varietal, and Kangun, a local grape varietal, will soon be integrated by the initiative of winemaker: Arman Manukyan. The twenty-day fermentation process has ended and now they need to mix the right quantity of the varietals in one type of wine.
"Kangun has structure and endless richness while Chardonnay remains very delicate and thin. The mixture of these two would be interesting. We have to know what quantities to use to get the taste we desire", says Arman in the winery.
Arman graduated from the State Agrarian University's Department of Agronomy. Afterwards, he continued his education in Montpellier University of Winemaking in France.
"I had been hearing about this school for a long time. I read about it in the books and heard about it from my father, who is also a winemaker. I had applied to the school several times. I had a goal and it took me 7-8 years to get there. I've sent a lot of letters to various places".
"It's not good to reveal something that is not yet finished", stated Arman, once we approached the wine barrels filled with Areni grapes. We tried the wine and it seemed perfect. "This wine needs to be ready. It's a little rough now, and due to its fermentation it will become clean and clear. The same can be said about a person. If wine has good capabilities, we'll send it to 'study' in new barrels to obtain new qualities and aromas" says Arman.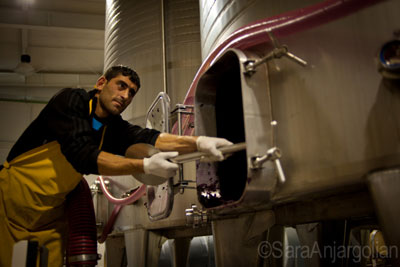 Laborers, engulfed by the aroma of wine, were quickly performing their daily tasks. One of them got into the tank and started emptying out grape pomace. They live in the villages of Armavir region as well. They say that they also have their investment in the taste and quality of the wine, since one of the most important factors in winemaking is to keep the equipment clean, and that's no easy task.
"This is the first case where we were able to achieve this type of aroma and wine with this soil and climate; Armenia didn't have this kind of vineyards before", says Arman. When asked about the manner in which French varietals adapted to Armenian soil, he answered that the warmth and sunlight of Ararat Valley is different. Vahe Keushguerian adds that the implementation of regular drip irrigation system also plays a major role.
The "Karas" glass bottle is imported from Italy. Keushguerian states that the price of local production is almost equivalent to the Italian cost. That's why the company imports from Italy, to use better quality bottles. "Here, the price is 38 cents (the bottles that are produced at Saranist) and in Italy, it's 45 cents. The difference is only 7 cents".
"I was cleaning the toilet when Eurnekian came and shook my hand".
It was the end of the day and the buses that the company hired to take the employees home were getting full.
Knarik Eghoyan has been cleaning the company's 19 toilets for about 3 years. She lives alone. Her husband passed away last year, and her son is in Russia serving a prison sentence.
"It's been years since he's been there. He went to Russia to work was sentenced to nine years. I don't know why, he won't tell me over the phone. I wish he didn't have to go to Russia to work. That's why we need factories here" says Knarik. She receives a 130,000 monthly salary. "The work is a bit unpleasant, but I like the company. They financed my surgery", says Knarik.
Mrs. Knarik wants to meet and talk to her boss, Mr. Eurnekian, personally but hasn't had the chance to meet him. "I have seen him only once. I was cleaning the bathroom. He came shook my hand and gave me a sign that I'm doing my job well before walking away."
If you found a typo you can notify us by selecting the text area and pressing CTRL+Enter