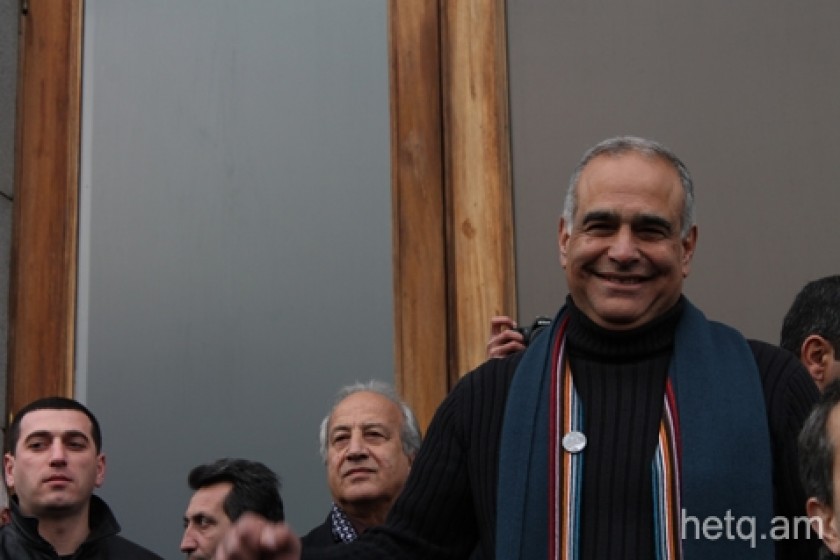 Raffi Hovannisian: "I demanded that Sargsyan recognize the people's victory. He refused."
Raffi Hovannisian announces launch of constitutional struggle. Plans a tour of towns and villages.
Addressing the throngs of supporters today in Yerevan's Freedom Square, Raffi Hovannisian said that a yesterday's meeting at the Presidential Place Serzh Sargsyan refused to recognize the "victory of the people".
Hovannisian told the crowd that, while paying his respects, he demanded that Sargsyan accept the will of the people and that Sargsyan answer was "no".
Responding to some in the crowd who had questioned why Hovannisian took the trouble to walk on foot to see Sargsyan, Hovannisian said, "I went because I have no hang-ups in my homeland. I have no fears."
Hovannisian said that his parting word to Sargsyan was a demand to punish all those who had engaged in election fixing.
Hovannisian, who has refused to accept the official election results naming Sargsyan the winner, assured the crowd that he would continue to wage a "peaceful and constitutional struggle".
"We have no time to waste. This popular movement will not die. We are headed towards victory," he exclaimed.
Hovannisian announced that starting tomorrow, he and his supporters would tour all the towns and villages of Armenia one by one to take the victory and greetings to our compatriots.
"Tomorrow Ashtarak. In the afternoon it's Vanadzor and Gyumri by 5pm. On Sunday at 3pm we will gather again at Freedom Square," said Hovannisian.
If you found a typo you can notify us by selecting the text area and pressing CTRL+Enter