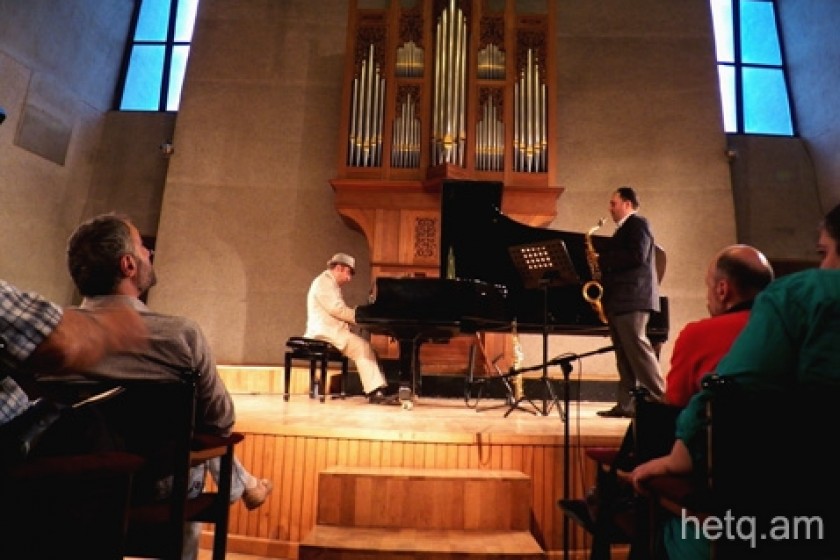 Naregatsi Festival of the Arts Ends Tomorrow with Folk Song & Dance Concert
The Naregatsi Festival of the Arts, which kicked off on June 15 at the Komitas Chamber Music Hall in Yerevan, sadly comes to an end tomorrow.
Naregatsi Art Institute and Melos LLC organized the unprecedented free admission event, its aim being to present the works of visual artists living in Armenia and Armenian contemporary music on its broad spectrum, from traditional art to folk songs, dances, spiritual songs, contemporary academic music, and jazz.
The festival also showcases an exhibition comprised of artworks by some of most renowned painters of different generations under one roof: Hagop Hagopian, Vartan Tovmasyan, Shota Voskanyan, Armen Khojoyan, Nareg Hartounian, Tigran Asatryan, Ashot Avagyan, Sevan Naccashian, Yevgine Martirosyan.
The eight-day concert series has featured renowned Armenian musicians, Vahan Artsruni, Artur Avanesov, Astghik Vardanyan, Mary Dolmazyan, Levon Araqelyan, Armen Hyusnunts, Vahagn Hayrapetyan, as well as the international award-winning Gurdjieff Folk Instruments Ensemble, Luys Quintet, Oshakan Trio, Chamber Choir of Armenia and the Shoghakat Choir, Naregatsi Folk Instruments Ensemble and Karin Folk Song & Dance Ensemble.
The photos here show the fifth day of the exhibition which concluded with a concert of jazz improvisations by Vahagn Hayrapetyan, Armen Hyusnunts
At 7pm today, Vahan Artsruni will present a musical program entitled Komitas: Ten Revelations
The closing performance tomorrow will feature a concert of folk song and dance by the Naregatsi Folk Instrument Ensemble (artistic director: Hovik Sahakyan) and Karin Song and Dance Ensemble (Artistic director: Gagik Ginosyan).
The exhibition is open from 6 to 7pm. Tickets for the concerts to follow are available at the music hall box office. They range in price from 1,000 to 3,000 AMD.