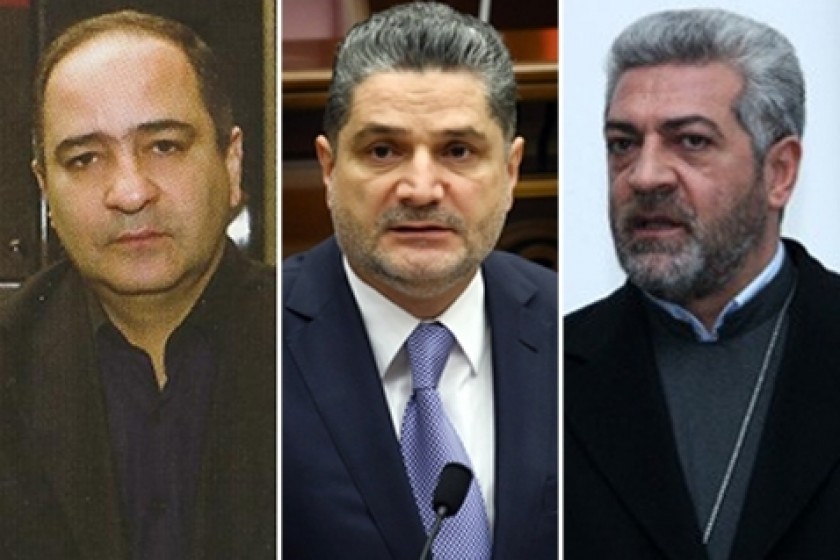 Offshore Labyrinth: Armenian Style
Edik Baghdasaryan
Kristine Aghalaryan
Ararat Davtyan
According to instructions of the Dzoragyugh Production Cooperative, owned by Ashot Sukiasyan, $9,370,450 of the loans issued by AmeriaBank were transferred to the accounts of several offshore companies held at the Hellenic Bank Publik Company of Cyprus. The loan monies were transferred to:
A.B.S. GLOBAL LIMITED- $7,020,450
WLISPERA HOLDINGS LIMITED- $350,000
STR EMERALD LIMITED- $2,000,000
So who are the shareholders of these companies? A.B.S. Global Limited, the company to which the largest amount was wired, is owned by the four following companies according to the Cyprus Department of Registrar of Companies and Official Receiver website.
A.K. Holdings Limited - 1,000 shares
BCB Holdings Limited - 1,000 shares
STR Emerald Limited - 1,400 shares
Wlispera Holdings Limited – 6,600 shares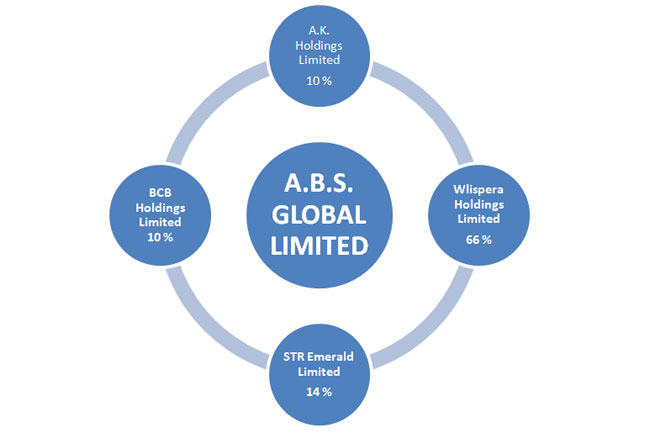 What we see is that Wlispera Holdings Ltd. owns a 66% share of A.B.S. Global Ltd. According to the Cyprus Registrar website, there are three shareholders of Wlispera – Ashot Sukiasyan, Tigran Sargsyan and Samvel Kjoyan
Shareholders of the companies who own A.B.S. Global Limited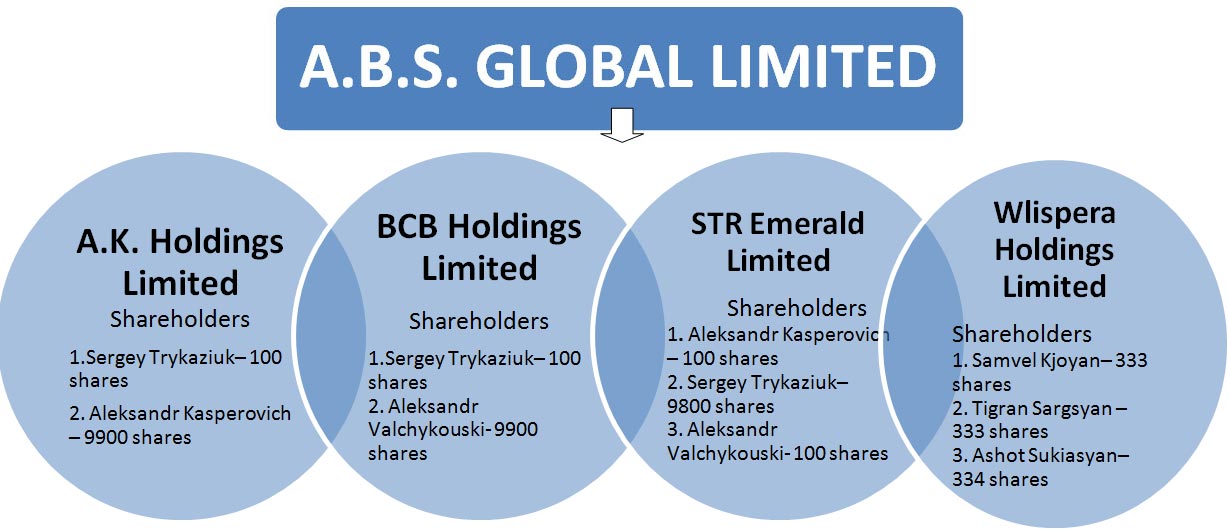 RA Prime Minister has declared that he has no connection to the Cyprus registered company and has petitioned the Prosecutor General's Office to launch an investigation as to how his name appears on the registration document; i.e., who used his name. Ararat Diocesan Primate Navasard (Samvel) Kjoyan also declared that he has no connection to the off-shore company. The Armenian Police has issued an all-points bulletin as to the whereabouts of Ashot Sukiasyan.
Subsequently, Sukiasyan wrote to the Prosecutor General stating that he had registered the company, using the names of Sargsyan and Kjoyan without their prior knowledge. (He also sent a copy of that letter to Hetq).
"I used their names in order for the business to avoid any outside hassle or interference. It never dawned on me that it would lead to such consequences," wrote Sukiasyan.
Ashot Sukiasyan is now entangled in a court case with GMC Global (SL) Limited, a company registered in Sierra Leone. At Sukiasyan's invitation, the owners of this company visited Armenian twice and met with Prime Minister Tigran Sargsyan, among others. Company Director Ruben Mkrtchyan was present at one of those meetings.
Here's an excerpt of the conversation Hetq had with Mkrtchyan.
When did you visit Armenia and how did your meeting with Prime Minister Tigran Sargsyan come about? Who else was at that meeting and who arranged it?
I visited Armenia twice. I can't give a definite date. The first time, I came with my business partners. I brought diamonds to Ashot the second time. The first meeting was in mid-July, 2010. My impression was that the meeting was arranged by Ashot Sukiasyan. The prime minister, N. Kjoyan and Ashot Sukiasyan were present at the meeting, on the one hand, and I and my partners, Sergey Tryukazyuk and Alexander Kalchikovski, on the other. We talked about Sierra Leone and the project, about general investments. Afterwards, in the evening, all of us went to the Noyan Tapan restaurant. We understood that Ashot had complete support and the finances. All of it inspired confidence in us that the investments would actually take place. When I visited the second time, Ashot and N. Kjoyan left for Cyprus. I saw them off at the airport. Ashot has no company in Sierra Leone. He was supposed to receive shares after making investments in the company. But he never received any shares since he didn't even make half the promised investment.
How did the story regarding the development of the diamond business begin?
There is the following news item in the official RA Government website dated November 7, 2008.
RA Prime Minister Tigran Sargsyan met with Shermon Cissy, director of Sierra Leone-based Western Mines Company, a corporate entity specialized in diamond processing and jewelry. The company intends to develop cooperation with Armenian partners by making mutually beneficial investments into Armenia's jewelry sector. Shermon Cissy said to have met the President of his country before coming to Armenia and stressed that the President had welcomed their initiative of establishing business ties with Armenia by assuring of Sierra Leone government's support. Mr. Shermon who owns several gold and diamond ore deposits in Sierra Leone noted that Armenia's tax policy and investment environment seem to be quite favorable for doing business in our country. Tigran Sargsyan assured in turn that, appreciative of any support available to the private sector and desirous of building on the traditions existing in this area, his government will possibly back the strengthening of business contacts which are supposed to foster political interaction between the two countries.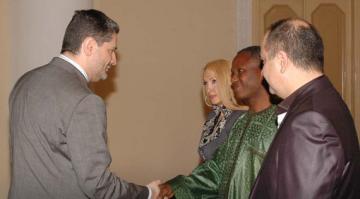 PM Sargsyan shakes hands with Shermon Cissy.
Ashot Sukiasyan is on the right
The new item in the government's website has no photo accompanying it, but here is the photo that appeared in the Hayastany Hanrapetutyun newspaper on the matter. The photo clearly shows that Ashot Sukiasyan was also present at the meeting with the Sierra Leone delegation.
Shermon Cissy, seen here shaking hands with PM Sargsyan, was also issued a power of attorney by Ashot Sukiasyan to serve as an authorized representative of A.B.S. Global Limited. Hetq has in its possession the notarized document to this effect.
In essence, a few months after Tigran Sargsyan became prime minister, Ashot Sukiasyan has bringing delegations to Armenia and arranging meetings with state officials. It was after this same meeting that Minister of the Economy Nerses Yeritsyan decided to develop the diamond business and turn Armenia into a regional center. Similar words are included in the business plan drafted by AmeriaBank.
It remains incomprehensible how AmeriaBank agreed to loan $12 million given such a business plan. AmeriaBank remains silent on the issue and Executive Director Artak Hanesyan refuses to answer our written inquiries. Neither does Ruben Vardanian, Chairman of the Board of Directors at AmeriaBank.
Instead, the bank is quickly trying to sell off the assets that Paylak Hayrapetyan put up as collateral. AmeriaBank seems to believe that it can smash the lid closed on this loan story by doing so.
Also incomprehensible is why Paylak Hayrapetyan's lawyers haven't yet taken the bank to court, given that there are falsifications in the business plan it drew up. Someone apparently "put in a good word" at the bank for the loan to go through.
The answers to these and numerous other questions can be supplied by law enforcement.
Ashot Sukiasyan hasn't only taken a loan from AmeriaBank. He received a $4.5 million loan from Prometey Bank.
And there are transfers from off-shore companies to Prometey Bank as well.
(To be continued)
Top photo (left to right) - Ashot Sukiasyan, RA Prime Minister Tigran Sargsyan, Archbishop Navasard Kjoyan