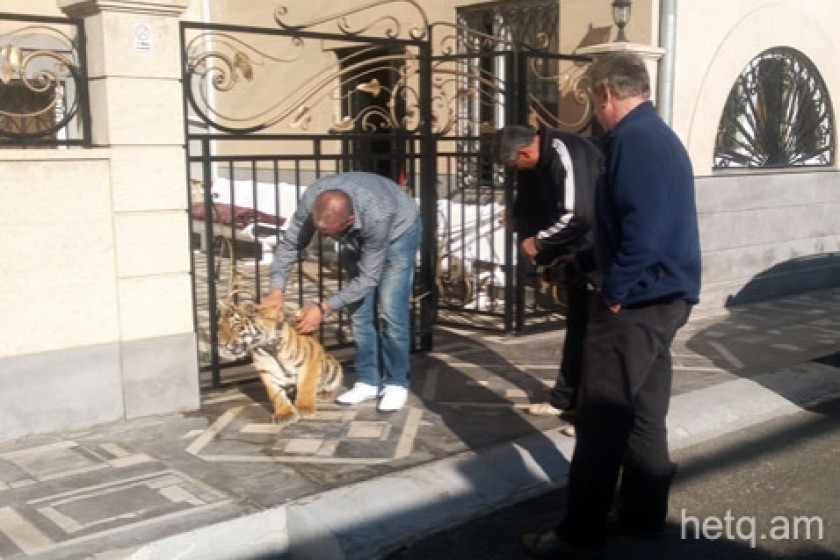 General Grigoryan's Tigers and a Swiss Reporter's Ripped Trousers
A tiger prowls the grounds of the Etchmiadzin home of Manvel Grigoryan, a member of the Armenian National Assembly and a retired Lieutenant General, serving as a formidable security deterrent in addition to human guards.
Local residents say that Grigoryan has more than one tiger and that he occasionally walks them through the town streets.
But the tigers are also known to roam free and unleashed in Etchmiadzin. Last year, members of the Go Green Armenia organization witnessed such an occurrence and posted news of it on their Facebook page. Back then, the tigers were just cubs.
Last week, Swiss reporter Karl Ammann arrived in Armenia to follow up on a Hetq expose about the trafficking of endangered animal species.
This reporter escorted Ammann to the general's house to see the tigers. When we got there, one of the cats was behind the entranceway gate, tied to it.
Ammann got to close and the cat was able to stick out his paw and rip the Swiss reporter's pants leg. While the animal has been de-fanged, it hasn't been declawed.
During his visit to Armenia, Ammann also met with Artur Khachatryan, who is involved in the buying and selling of animals.
Khachatryan boasted that he owns five tigers, but he failed to show them to us. Most likely, Grigoryan got his tigers from Khachatryan.
Armenia's State Revenue Committee has since launched a criminal case against Khachatryan for the illegal importation of bonobo apes. The investigation is ongoing.
The tiger (Panthera tigris) is the largest cat species. Several subspecies (Bali, Caspian and Javan) are already considered extinct.
The remaining six tiger subspecies have been classified as endangered by International Union for the Conservation of Nature. The global population in the wild is estimated to number between 3,062 and 3,948 individuals, down from around 100,000 at the start of the 20th century.
What a former Armenian Army general is doing with an endangered species prowling around his palatial; Etchmiadzin home is anyone's guess.
In the U.S., nineteen states have outlawed having a tiger in ones house as a pet. In another fifteen, a person needs a slew of permits before they can own one of these big cats.
Hetq tried to arrange a meeting with Grigoryan to ask him where his tigers came from.
One of the human security guards told us the general wasn't home.
If you found a typo you can notify us by selecting the text area and pressing CTRL+Enter