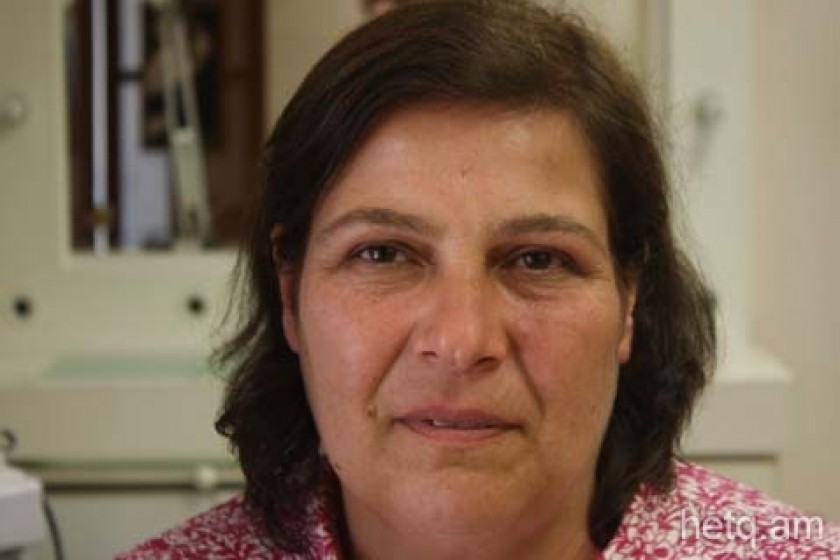 Lives in Limbo: Some Syrian-Armenians, Unable to Cope, Dream of Leaving Armenia
Ever since arriving in Armenia one year ago, after fleeing the war in Syria, Maral Nalbandian hadn't taken a proper bath.
Now, after finding shelter at the Armenian Catholic Church Diocese, the 56 year-old refugee has that basic luxury.
"The shower in the house we were staying was in the yard," she tells me. "It was too cold in the winter and since it had only a curtain instead of a door, it was inconvenient in the summer. Would you feel comfortable?"
Maral hails from Aleppo and, like so many other Armenians fleeing the civil war, wound up in Armenia.
For a year, she rented a room in a house in the Aygestan neighborhood of Yerevan, paying 45,000 a month (around US$100). She was forced to take sponge baths in her room.
In March, she was allocated a room at the diocese through the intervention of a friend.
According to official stats, there are some 11,000 Syrian-Armenians now residing in Armenia; mostly in Yerevan. A small group of them has also been housed at the diocese. The building was a kindergarten in the Soviet era. The Mkhitarist Congregation purchased the site fifteen years. When the flow of Syrian-Armenians to Armenia began, Archbishop Rafael Minassian, Ordinary for Armenian Catholics in Armenia, Georgia and Eastern Europe, decided to renovate a wing of the building and convert it into thirteen small rooms. The project was assisted by Armenian Caritas, an organization that runs a number of social, community development and public health programs in Armenia.
Since 2012, some eighty Syrian-Armenians have found refuge here; most from the rural areas of Qamshli, Hassake and Homs.
When I visited this small refuge, there was an overbearing sense of disillusionment. In addition to getting used to and overcoming the tribulations of life in Armenia, many do not speak Armenian. There used to be thirty Armenian families in Hassake. Except for Aleppo and Damascus, Armenian is only taught in Armenian schools until the sixth grade. This, coupled with the overwhelming Arab majority, has resulted in many not knowing Armenian.
Hakop Movsisian, an acolyte at the church, told me that many do not wander outside the diocese because of the language barrier.
"But they will visit the local stores and try to make themselves understood," he said.
Many of the refugees think about moving on to Europe or even returning to Syria.
"Armenia is very nice, the water, the air. But the young people just sit around," Maral says. "My eldest boy talks about America, and the youngest mentions Europe. I know it's not easy there, but there are humane laws. It's different. Europe provides stipends. It's much different here."
The woman confesses, on the point of crying, that she's torn as to what to do and beseeches God to give her strength.
Maral's sons, aged 15 and 21, haven't been able to acclimate to life in Armenia and see no future here.
Archbishop Minassian says that the cause of their problems isn't only language related.
"They weren't poor folk. They had homes and jobs. We have to accept that there is little work in Armenia and that the prospects and way of doing things is totally different here," the archbishop says.
But some have found jobs. Maral's eldest has a job in a workshop and gets 80,000 AMD a month. Her youngest, a barber for young boys, hasn't found work.
Acolyte Hakop says that even if some find jobs, they get fired quickly.
Armineh Yepremyan, who works at Armenian Caritas, says that working hours in Syria are shorter than in Armenia and the pay greater.
"They also get cheated here, which leads to disillusionment. But many are able to find work and the time will come when they will understand that they must take steps to acclimate to reality here."
The Syrian-Armenians have created a small corner, complete with a grill and hookahs, where they gather in the evenings to chit-chat and pass the time. None of this, however, can get them to forget their life and home in Syria. 80 year-old Hanna Baghdo thinks of nothing else and the memories bring tears to her eyes.
Maral used to own a shop in the Bostan Basha neighborhood of Aleppo. When her husband passed away in 2004, she rented the shop out and lived on the revenue.
She says that she's not used to rural life and talk about moving to Artsakh, where the government has promised to allocate cows to newcomers, doesn't interest her in the least.
The woman says that when the first sounds of gunfire erupted in Aleppo she was home. She never thought the war would affect her.
"Something exploded and the windows were blown out. Everything was covered in dust. We fled, and so did everybody in the neighborhood. I haven't been back to my home since. I wasn't able to salvage anything, just our souls."
Before the war, Maral never possessed a Syrian passport. She never thought of one day leaving the country. Only her eldest son had a passport in order to travel to Dubai.
The family used the little money they had to get their papers in order and to spend on the trip to Armenia.
Snow was also a novelty for the family in Armenia; one that Maral detests.
"We're not used to walking around in the snow. I fell down once and so did my son. I had to take him to a snghchi (traditional bone mender) for a month," she says.
Maral has a job cleaning a hairdresser shop once a week. She's paid 3,500 AMD (US$8.50) per visit. She says it's not a long-term solution to her predicament; a solution which remains elusive.
"I get the odd cleaning job. I started to smoke here and can't give it up. I really get irritated if I do."
If you found a typo you can notify us by selecting the text area and pressing CTRL+Enter