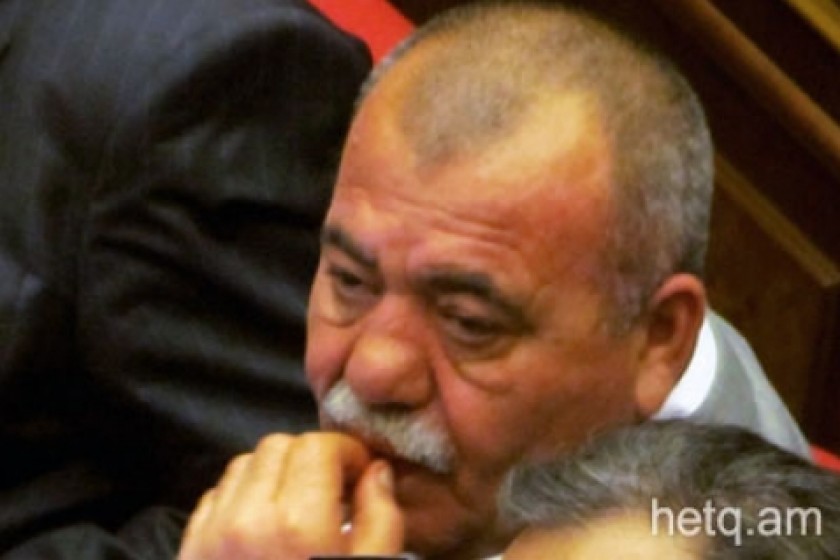 From Army General to Affluent MP: Manvel Grigoryan Hides Income, Doesn't Pay Taxes
Rouben Vardanyan
Kristine Aghalaryan
Edik Baghdasaryan
Armenian MP Manvel Grigoryan, a gregarious former general in the Armenian Army, owns and operates 35 separate pieces of real estate just in the village of Arshalouys (Armavir Province).
He represents the majority Republican Party in parliament and sits on the Defense, National Security and Internal Affairs Standing Committee.
Generasl Manvel's assets consist of buildings, private homes, factories, natural gas and gasoline stations, resort areas, a restaurant, a sauna, a horse track, tens of hectares of grape and apricot gardens, hothouses, a market, animal stables, wheat fields…You get the picture – he's loaded.
And these are just the businesses and properties registered in his name. An almost equal number are registered in the names of other individuals.
Hetq sent a written inquiry to Arshalouys Mayor Zarzand Grigoryan (no relation) about the general's holdings in the village. After examining the information he sent, it turns out the MP isn't paying a majority of his land and property taxes; accumulating finesand penalties since 2008. The general isn't paying local municipal taxes as well.
It's not as if the village municipality hasn't informed Grigoryan about his tax arrears. The municipality has sent several notices to Ara and Aytzemik, a company owned by the general, informing him that the company must pay 200,000 AMD (US$490) in fees to operate his gasoline station and another 1,500 for outside advertising. Mayor Grigoryan reports that the company continues not paying.
The company is also engaged in construction. With state money, it is renovating the schools in Etchmiadzin and neighboring villages. Ara and Aytzemik has won two government contracts totaling 79 million AMD ($190,000).
On the flip side, the general's companies are paying peanuts in taxes. Kouarlini Ltd., famous for producing asphalt, pays only 5,026 AMD ($12.29) annually to the municipal budget Ara and Aytzemik pays 204,000 AMD, and the Arpenik Wine and Cognac Factory pays 65, 924 AMD.
Manvel Grigoryan snatched up many of his properties back in the 1990s; when much of Armenia was up for grabs.
The general also owns a section of Lake Akna in Arshalouys and has built a recreation area along the shore. When a Hetq team visited the lake we ran into a woman who was watching over the general's section of the lake. She even attempted to stop us from taking photos, arguing that the owners had so instructed her. When Hetq asked her who the owners were, the woman replied, "General Manvel".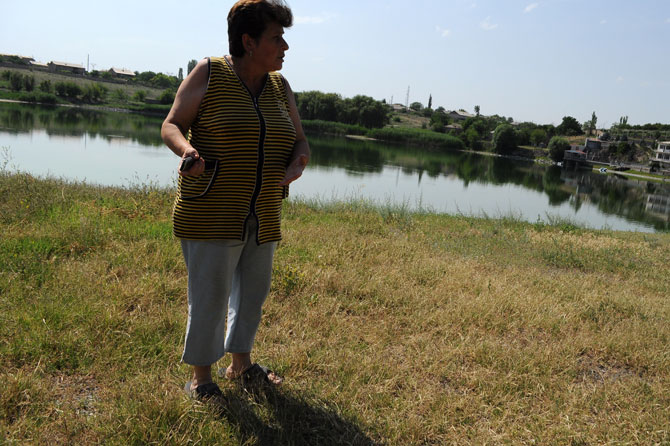 Lake Akna's "supervisor''
The staff at the Arshalouys Municipality told Hetq that there are parcels of land in the village belonging to people unknown to them. They said they can't track down the owners and thus demand tax payments.
For example, Lake Akna's shoreline is full of resort areas and private homes that do not appear on the official real estate map. In August of 2013, the municipality wrote to then Real Estate Cadastre head Yervand Zakharyan, requesting that his office assist them in specifying what construction was legal and illegal and if any zoning laws had been violated.
The Real estate Cadastre has yet to respond to the municipality.
General Manvel's "preserve"
On the left side of the road from Lake Akna to the community of Zartonk there's a sign reading Argelanots (Reserve). Zartonk residents say that the land has been obtained by General Manvel and that he doesn't allow them to graze their animals there.
The land in question falls within the administrative boundaries of Taronik. According to the Taronik Municipality, a company called Lake Akna Beaver Farm operates there. This was a former state enterprise now owned by General Manvel.
General Mavel Grigoryan and his circle of friends and family own a bunch of stuff outside Arshalouys..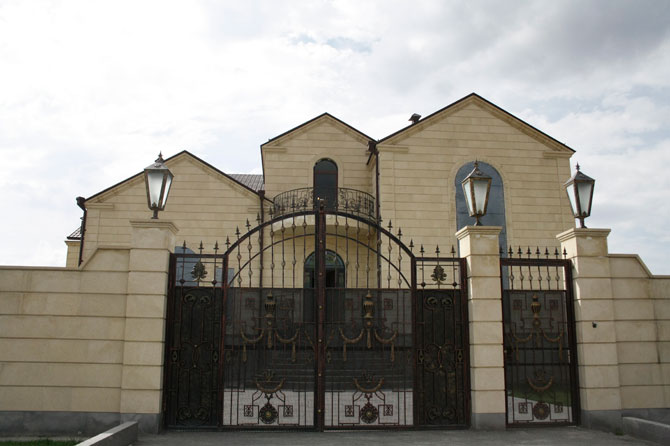 His son, Karen Grigoryan, the mayor of Etchmiadzin is building a palatial two story house on the outskirts of Etchmiadzin. His other son, Arman Grigoryan, makes money charging each of the 50 or so taxis plying the Etchmiadzin-Yerevan route a "fee" of 5,000-7,000 AMD daily.
The general himself owns the market in Etchmiadzin, the clothing mall, various stores and land; all of which he rents out.
He also owns a luxurious home in Etchmiadzin, complete with a pet tiger.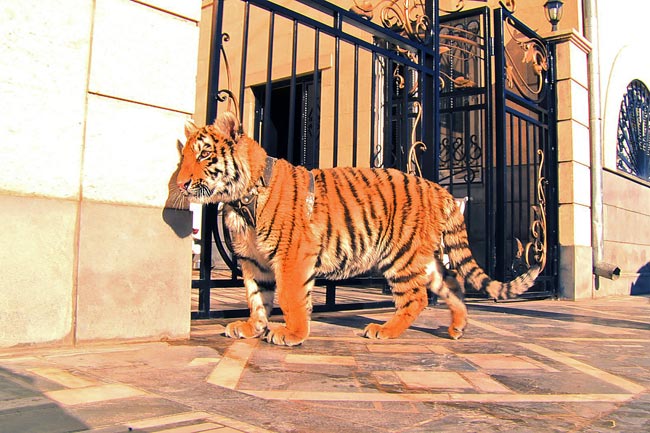 General Manvel's security guard in Etchmiadzin
Not surprisingly, General Manvel reports just a fraction of all this on his income and property statement that he must file as a National Assembly MP.
On May 12, 2012, when he became a MP, the general reported just two parcels of land in Arshalouys, two homes in Etchmiadzin and Arshalouys, and a site zoned for manufacturing. He also reported owning nine vehicles.
He reported 105.8 million AMD in annual dividends from Ara and Aytzemik, and 40 million AMD from Kouarlini Ltd.
In terms of cash holdings, General Manvel reported 108.8 million AMD, US$45,000, and 45,000 Euros.
Neither the general nor individuals closely related to him filed an income and property report in 2013.
Armenia's "Ethics Committee for High-Ranking Officials" told Hetq that it had sent additional notices to those officials who had failed to file for 2013.
That was over a month ago and General Manvel has still not filed his parliamentary financial report.
The following question thus arises: Is the government intentionally covering up for the general, or is it just too feeble to do anything?
Photos: Narek Aleksanyan
If you found a typo you can notify us by selecting the text area and pressing CTRL+Enter