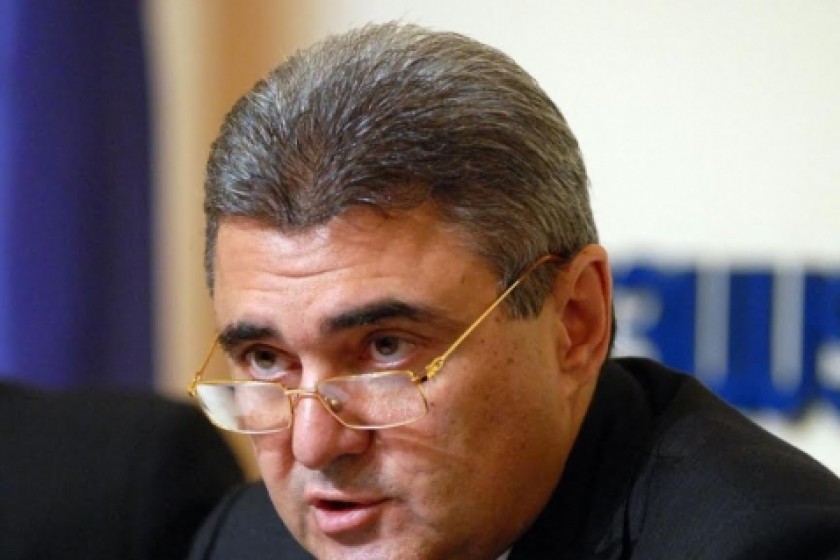 Karabakh's Healthcare Minister Encourages Armenian Diaspora to Come Work in Country's Medical Industry
Former healthcare minister of the Republic of Armenia Harutyun Kushkyan on March 14 this year was appointed the healthcare minister of the Republic of Nagorno-Karabakh. Hetq spoke to the minister about the state of Karabakh's healthcare sector and involving the Armenian diaspora to come work in Karabakh for several months and train staff.
You've been minister for six months now. If we were to classify the problems in Karabakh's healthcare sector, what would they be?
The first is personnel — we need to replenish their numbers and increase their qualifications.
The other is organizational issues, beginning from the ministry. It's not bad, but it needs to be better. It's work with the population, preventative work.
We have to change the way we serve people. Basic things; the attitude; in many places there are queues — these sort of things. I meet with residents frequently, with patients, their family members. That is, I have information from different places. I see people at my office nearly every day, though Friday is the day set aside for meetings [with the public].
What are the specific problems in Karabakh's healthcare system?
The main problems are very similar to problems in Armenia, beginning with the physical state of hospitals in the regions. In the regions, as here, so too in Armenia, there are hospitals that we would like to be in a different state than they are now. The other is the situation of staffing, as I already said, the vacancies, the lack of staff — it's the same as in Armenia. But now we're actively engaged in personnel qualification.
How are you doing this, what does that mean?
First, we send them to Armenia, mainly to Erebuni and Nairi medical centers. We have an agreement with [Yerevan] State Medical University — we also send [them] there. We already know what experts we're lacking; we've begun to prepare [them]. During that time we bring experts from Armenia. We invite a group of the best experts nearly every week. Whomever we know, the best doctors and professors we've heard of, have come here — traumatologists, surgeons, therapists. We've invited here also senior nurses, related to organizational activities. We organize seminars and lectures so that we gradually transfer that knowledge and also say that this is how we must work.
Don't you invite diaspora Armenians? Perhaps you should issue a call to them? I know doctors who will come and work here for a month or more.
We do. We've met with Armenian physicians' associations from the US and France. And they have responded with great enthusiasm and readiness. They've already come here from Russia and Canada. I want to say that we've activated the organizational part of that work.
We've completely changed the state of emergency services, as we did in Armenia.
The adoption of modern means of communication and computer technology. We've introduced GPRS and navigation systems, with the possibility of determining the distribution of brigades on an interactive map. The staff has taken classes in working with both medical and modern technology. The experts invited from Yerevan worked for 3 months. There was a staffing issue; they were mainly pensioners; we moved them; we changed the entire work style — we will open it in about 15 days. In 15 days we also will open the hospital in Kovsakan. It's a hospital that's very much required: we've already purchased the equipment; they're being installed. There we have a good chief physician and a good team. In October we'll open the hospital in Martouni; equipment is now being installed there too. Then we'll open the polyclinic in Martakert.
The doctors in Stepanakert go and do surgeries in [other] places […] Recently, a group of physicians went to the hospital in Hadrout and conducted 18 surgeries. Next week, Artavazd Sahakyan is coming to Hadorut. He comes to Karabakh almost every month for surgeries.
Residents say there are no ophthalmologists.
We are definitely going to bring ophthalmologists; it's just that there are a few [pieces of] equipment that we don't have, but we've ordered them. We'll bring them and we'll strengthen the ophthalmology service.
The first goal is for people not to go to Yerevan for simple illnesses. Otherwise, whatever happens, they go to Yerevan — that should only happen in that case when we don't have the opportunity here, and there's a need to go there.
Furthermore, we're establishing a angiographic and stenting center — we're going to insert cardiac vascular stents there. The center will be ready by the end of this year.
How will you resolve the matter of experts?
This program also includes training in Paris. Both doctors and nurses will be trained. It will be built next to the republican hospital, and there will be a connecting corridor.
Isn't it possible to make it so that people from Syunik, instead of going to Yerevan, also come here for surgeries?
Of course they will. A patient from Yerevan came here to undergo surgery because we have such pricing policies that it's more beneficial here [for the patient]. If surgery in Yerevan costs, for example, 300,000[Armenian dram]; here he was operated on for 150,000 [Armenian dram]. I'm sure the number of those seeking it will be great. When you walk into the republican hospital building, you see that you've entered a serious institution. There are experts, plus the cooperation of our centers — definitely they will achieve that. We also have to invite experts: coming for 3 or 4 days is not a solution to the issue.
Who will cover the costs?
Those three- or four-day visits are covered by the hospital; we cover the transportation and hotel costs. When they come for 1, 2 or 3 months, it's the government that pays. There are government decisions, with which we are able to pay invited guests quite well. For young (but not inexperienced) experts, of course it's a good opportunity — they'll come and work.
But why should they come?
First, for Karabakh. There's the idea that if you're a normal Armenian, you definitely have to do something. That call within a person… Second, a physician's dignity, his vocation obliges [it], his profession. Plus, of course, romanticism. I too have worked for three years in Ashtarak's emergency services. Why shouldn't a young person not want to come, work for several months here? Especially [if] he will be paid well and his accommodation will be provided. There's a group being put together in Erebuni hospital that has to come to stay for 1–3 months. The Stepanakert Republican Hospital is so alluring that everyone wants to work there. Financed by resident of Russia, businessman, and philanthropist Samvel Karapetyan, was built such a hospital as you might see in Switzerland, Germany, [or] France. All the equipment is German, the latest production. I see good prospects; there will be very rapid changes.
For years, [people] were being sent from here for special study, [and] the majority wasn't returning. You're sending them [abroad] now too?
We do that too, but now we've become stricter. If we're funding experts, we sign contracts that if they suddenly don't come back, they have to return the money, plus pay a fine. We've tightened the restrictions so they return. It wasn't like that before; those going had no obligation; though they went on on a special permit, they mostly didn't return. But it won't be like that now.
Photo credit: Photolure
If you found a typo you can notify us by selecting the text area and pressing CTRL+Enter