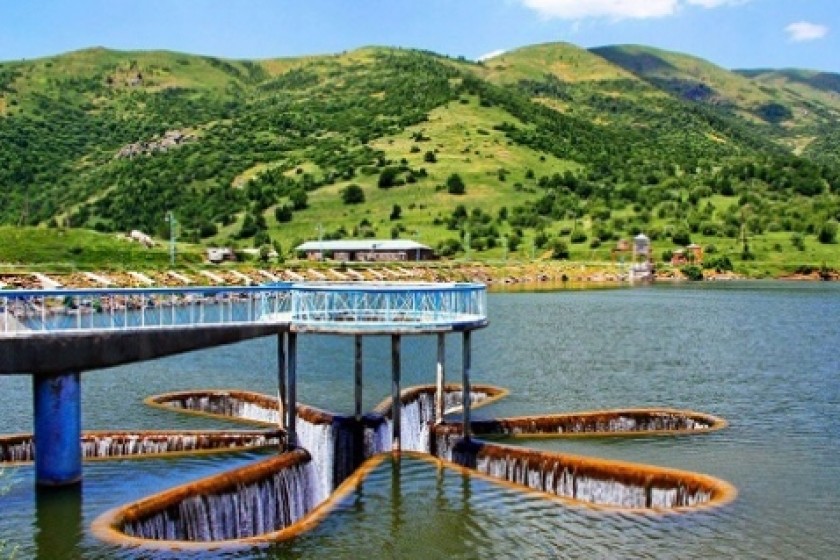 Pools of Wealth: Armenia's Reservoirs
Armenia is known for its sources of pleasant-tasting water, which include Lake Sevan, more than 100 small lakes, around 9480 rivers, at least 80 reservoirs and underground springs.
However, the country is the only one in the region where surface waters flow out, due to the high inclination (the waters from the Arax and Akhuri rivers and tributaries flowing into Armenia don't remain in the country). Water deposits from the Arax and Kuri rivers lie in unfriendly territories to the east and west.
According to the Armenian Ministry of Nature Protection, on average 19.7 billion cubic meters of water enter the country per year (from precipitation, bordering and underground waters and other sources). Out of the 19.7 billion cubic meters of water that also flow out of the country, at least 6 billion leaves Armenia via rivers that originate from some of the local sources and underground springs. Waters that flow into the country does not remain. The remaining water from underground sources is extracted solely for human consumption.
Table 1:
Inflowing

Outflowing

Components per million m3 annually

Components per million m3 annually

Entering

17.600

Exiting

11.475

Inflowing rivers

-

Outflowing rivers (from Armenia)

6.250

Bordering waters

940

Bordering waters

940

Inflowing underground waters

1.193

Outflowing underground waters

1.068

Total

19.733

Total

19.733
Armenia's supply of underground waters amounts to a bit more than 4 billion cubic meters. Most of the surface water originates from Lake Sevan, which has a volume of around 33 billion cubic meters.
Dams Best Control Flowing Water
According to the table above, apart from bordering waters and water flowing out of the country, Armenia can utilize 7.3 billion cubic meters of water annually (from rivers and underground sources). However, some experts such as engineer Gevork Gevorkyan and Director of Hayjrnakhagits Institute CJSC Yuri Javadyan state that Armenia can only take advantage of between 2 and 2.3 billion cubic meters of water per year. The rest flows away.
Since the Soviet era Armenia has implemented reservoirs as the most advantageous method for properly utilizing Lake Sevan and other bodies of water. That volume currently amounts to around 1.4 billion cubic meters.
But reservoir construction actually started more recently. According to the Soviet Encyclopedia dams have been built in Armenia since the 4th millennium BC. There are three dams around Ejmiadzin that measure 2-3 meters high and 150-300 meters in length. The remains of a dam built near Abovyan on the Kizil-Chai tributary of the Goght River between 336-343 AD have been discovered, measuring 9 meters in height and 560 meters long. What's interesting is that this dam is still in use. It is located to the east of Geghard monastery along Lake Vishap or Lake Vank, also known as Geghard Reservoir.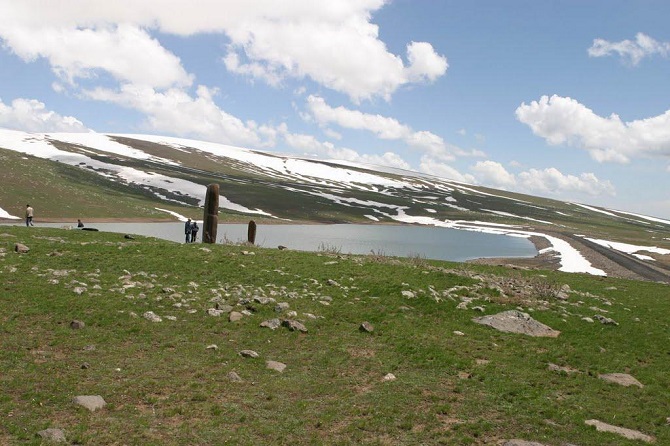 Geghard Reservoir (Lake Vishap)
Experts differ on the number of reservoirs that are found in Armenia, with estimates ranging from 72 to 87. At least 80 were found while the country was being mapped out (constructed and unfinished reservoirs will be reviewed in a separate article). Six of them—Spandaryan, Tolors, Angeghakot, Shamb, Akhpara and Argel— are used for generating energy. The first four are in use at Vorotan Falls, while the Akhpara and Argel operate on the Sevan-Hrazdan cascade. Others are used for irrigation purposes.
Table 2:
Armenia's Top Ten Largest Reservoirs
| | | | | | |
| --- | --- | --- | --- | --- | --- |
| | Name of reservoir | Region | Volume (per million m3) | Volume in Use (per million m3) | Spillway Height (m) |
| 1. | Akhuryan | Shirak | 525 | 510 | 59.1 |
| 2. | Spandaryan | Syunik | 257 | 218 | 83 |
| 3. | Lake Arpi | Shirak | 105 | 102 | 15 |
| 4. | Tolors | Syunik | 96.8 | 80 | 69 |
| 5. | Aparan | Aragatsotn | 91 | 81 | 52.6 |
| 6. | Azat | Ararat | 70 | 60.8 | 76 |
| 7. | Djoghaz | Tavush | 45 | 43.8 | 60 |
| 8. | Herher | Vayots Dzor | 26 | 23 | 74 |
| 9. | Marmarik | Kotayk | 24.2 | 23 | 55.5 |
| 10. | Karnut | Shirak | 23.9 | 23.1 | 34.6 |
The total volume of reservoir water in Armenia—1.4 billion cubic meters—is a doubtful figure when considering the usage of Akhuryan, which is the country's largest reservoir. Built in 1973 by the USSR with Turkey's consent, both Armenia and Turkey share Akhuryan's water supply equally. In other words, each country uses 262.5 million cubic meters. About 10 large reservoirs in Armenia with a volume of at least 10 million cubic meters each are nonoperational for various reasons.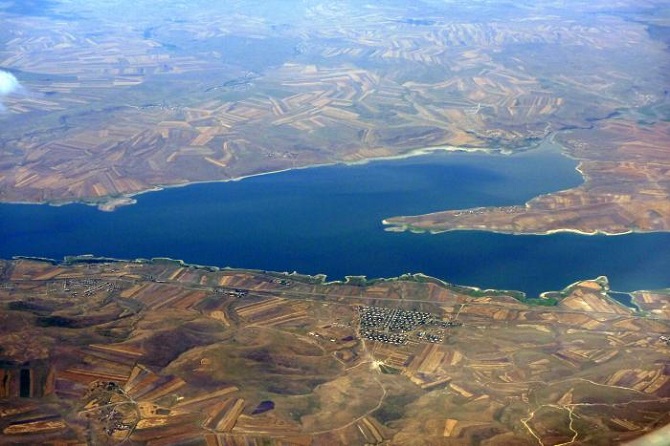 Akhuryan Reservoir
Tavush's Djoghaz reservoir, located adjacent to the village of Berkaber, was used in the past to irrigate land in the vicinities of Ijevan and Noyemberyan and also Azerbaijan. But now the reservoir is under protection due to enemy conflict. A pumping station is used to extract the water due to its elevation. According to the National Water Council's Hydraulic Engineer Hamlet Harutyunyan, the installation of a hydraulic machine would increase total water output by 10 percent, which is necessary since many villages around Ijevan are in poor shape. About 4800 hectares of land in the region are in need of irrigation water.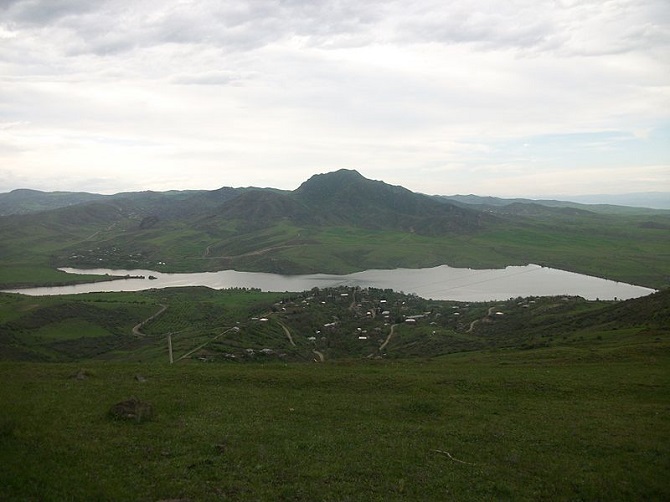 Berkaber Alongside Djoghaz Reservoir, with Azerbaijan's Mezem Community in the Distance
Some of the water flowing into Djoghaz needs to be conserved. The reservoir in Karmir village, located 18 km away from Voskepar, was designed to hold water from Djoghaz along the Voskepar River. According to Harutyunyan the water channels are in place and the area for the reservoir, which would hold 8.5 million cubic meters of water, has been cleared. Only 6 meters of the 54 meter-long dam that was originally designed has been constructed, which Harutyunyan is convinced will fall apart.
"After the earthquake new seismic codes and measures have been implemented, and the cost for a 6 meter dam is peanuts by comparison," Harutyunyan explained. "I've said many times that all we need is only 10 million cubic meters of water here, which would allow us to water all the land in Noyemberyan."
Harutyunyan believes that it would also be possible to build a dam along the Kirants (Karahan) River, which also flows into Djoghaz, although the area's ecology has to be considered since it is forested. But he's convinced there's no other option. For instance, the Aygedzor Reservoir, more famously known as Tzili-Dzov, was built in the forest.
Paghjur Reservoir, which would be used to irrigate the lands around Ijevan, is designed to hold 14 million cubic meters of water. Although the area has been cleared construction has yet to go underway.
"That reservoir, once built, would allow for gravity-fed irrigation for Ijevan," Harutyunyan said. "Right now, those lands are mechanically irrigated, so the cost of 1 cubic meter of water can run 100 dram, while the same amount of gravity-fed irrigation would cost 7 or 10 dram, maximum. That's a huge difference."
Some of Armenia's reservoirs, especially Halavar Reservoir in Aragatsotn, which can hold 5.5 million cubic meters, are not in use. Due to unfavorable geological conditions, a huge amount of water is wasted, and as a result Harutyunyan decided to let the water flow from the Kasagh River to Aparan Reservoir. Gevork Gevorkyan, an engineer working for the government's Rural Areas Economic Development Programme, stated in an article published by Armef News that the 26 million cubic meters of water from the Herher Reservoir flows away to Nakhichevan via the Arpi River because the pumping station is not operational. According to him, an investment of $25-30 million in a new 29-kilometer water line would provide gravity-fed irrigation for 2700 hectares of land in the Yeghegnadzor area.
Experts Say Armenia's Irrigation Network Is Deplorable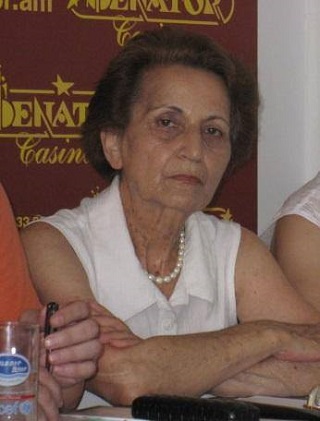 Technical sciences and water expert Knarik Hovhannisyan believes that Armenia's water main network is in deplorable condition, stressing that the water loss is great.
"During the Soviet era Armenia's water works was functional, drinking water cost next to nothing and we were able to irrigate twice as much surface area," Hovhannisyan said.
According to Gevorkyan 25-30 years ago Armenia used 4 billion cubic meters of water, but today about half that quantity is utilized.
"Today due to lack of irrigation we have soil that is highly salinized and the Ararat valley is looking more like a desert, with the topsoil exposed," Hovhannisyan said. "That's not only due to the reservoirs, it's also due to neglect of the irrigation network, which results in all that water loss."
The reservoirs also have problems. Water is escaping from basins formed from cracks and holes. Hovhannisyan and Harutyunyan are pointing first and foremost to Aparan Reservoir. Vardakar (Horom) and Karnut Reservoirs also have similar issues. Hovhannisyan believes that the cement necessary to fix the cavities should be sold.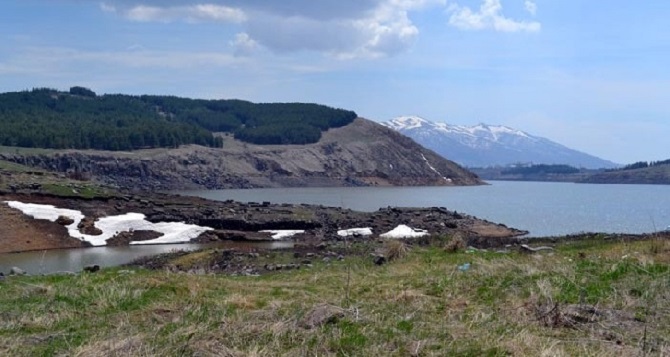 Aparan Reservoir
Work has been underway to do such repairs using concrete and stones for the stoppage to prevent losses in profit. Funds are set aside in the budget for repair work. The reservoirs and other water networks are the property of the government and fall under the control of the State Committee of Water Economy of the Ministry of Agriculture. Nevertheless, they are allocated to profiteers without compensation. Companies such as Sevan-Hrazdanyan-Jrar and Akhuryan-Arax-Jrar fall within the committee's jurisdiction.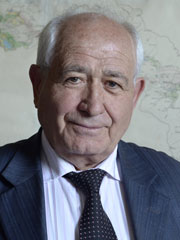 "Ask any water company how many hectares of land they irrigate, how much capital repair work they performed and they'll all tell you [they don't have enough funds], which only means the profiteer doesn't comprehend the work that needs to be done," Gevorkyan told Armef news. "They think that opening the valve not only means that water will flow, but also that money will come in. You can't develop the rural economy this way. As a result of that, we're using between 1-1.5 billion less cubic meters of water."
Sevan's Fixed Water Supply Limit Changed Four Times
Lake Sevan provides much of the water for irrigation in Armenia, especially the Ararat valley. It's impossible to imagine irrigation in the country without Sevan's resources.
The maximum amount of water that can be drained from Lake Sevan is defined by law, called the "Law on Lake Sevan's Ecosystem Restoration, Conservation, Reproduction, and Annual Terms of Use and Authorization of Extensive Programs." The law was passed in 2001 and went into effect on January 1, 2002. By law, the water drainage limit from Lake Sevan is capped at 170 million cubic meters. The law also states that the Armenian National Assembly can pass a measure to change the limit whenever deemed absolutely necessary.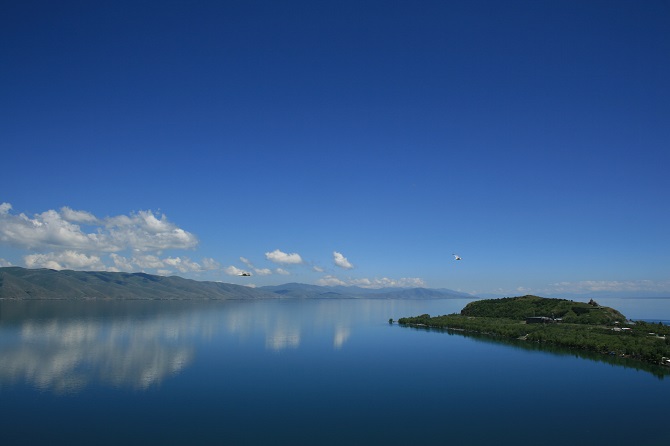 Lake Sevan
Since 2002 the water drainage limit has changed four times. In June 2008 the limit was increased to 240 million cubic meters. That August after thorough deliberations were made, the National Assembly increased the limit further to 360 million cubic meters by year's end. Then in 2012, due to another water shortage, the limit was increased to 320 million cubic meters. The latest change to the limit was made last June, then set at 270 million cubic meters, 30 million more than had been originally proposed. Director of Sevan-Hrazdanyan-Jrar Director Samvel Hovhannisyan told Radio Liberty/Radio Free Europe that the company pushed for the increase as it was made evident during the third reading of the bill that the water limit proposed wasn't enough for irrigation.
But that wasn't the main reason. Along with Sevan, there was a water shortage in the Hrazdan rivers and Aparan and Azat reservoirs, and as a consequence of fallen underground water levels many wells and springs are no longer free flowing. The shortage in water caused problems in canals and pumping stations. There was also a problem at the Sevan-Hrazdan Hydro Power Plant. Environmental activists were sounding the alarm that 80 percent of the water from Sevan never made it to village residents due to a worn-out irrigation system, while Samvel Hovhannisyan claimed it was only 30-40 percent (out of 270 million cubic meters), in other words 81-108 million cubic meters of water.
Why Does Armenia Put so Much Hope on Sevan Given its Reservoirs?
Knarik Hovhannisyan doesn't share the opinion that there was a dry spell last summer.
"I wouldn't say Armenia was suffering from a drought," she said. "It may have been a little dry, but it wasn't drought, and that was no reason to empty Sevan."
She believes that the reservoir waters would have been enough, despite that the levels were low this year. And that was due to mismanagement, not bad weather. The real issue lay with the rivers that flow out of the reservoirs from which water is appropriated to village residents. Business for the water plants is very profitable since return on investment is quick.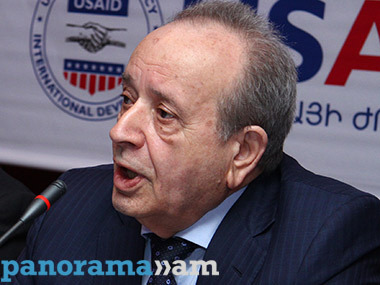 Yuri Javadyan said that building a plant on a river exiting a reservoir on a spot where an irrigation line is located is permissible. However, it's not yet possible to determine how long that standard will be implemented.
"Water from Sevan has supposedly reached the planting fields, but I've spoken to many village residents who have told me that they use artisan wells for irrigation," Hovhannisyan said. "I'm convinced that this year's exchange premium was the reason."
Hovhannisyan believes there are many reasons for needing to increase Sevan's water supply limit. First, the lake's water level rose at a higher rate than the relevant authorities had originally predicted. The authorities were concerned that their coastal homes would be submerged under water as a result. Second, roads and telecommunications lines caught under water would result in high expenses, while this year only 140 million cubic meters of drinking water passed through the Vorotan-Arpa-Sevan tunnel from the Arpa River into the lake instead of the expected 400 million.
"The biggest reason is so that parliamentarians and oligarchs can line their pockets with the pure profit made from draining the water," she said.
Reservoir Water Levels Dip Below Dead Storage Line
Not only were reservoir levels lower this year, customers began to consume water from reservoir dead storage.
As a rule, reservoir water is divided into two parts: active or live storage, which is safe to use, and dead or inactive storage, which is not intended for use. Water in dead storage, found in the bottom portion of the reservoir, is designated unsuitable for use since sediment, stones and sand that travels with inflowing water settles there.
According to Hovhannisyan, this year the water levels in many reservoirs dipped past the dead storage mark, which troubles her. She claims that happened as a result of running water off for irrigation. This past year the water volume of the Aparan Reservoir—which holds 91 million cubic meters of water (81 in active storage, 10 in dead storage) — fell down to between 5-7 million cubic meters.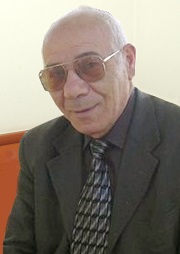 Nevertheless Hamlet Harutyunyan doesn't see the tragedy here. He stresses that the reservoirs are designed to ensure 75 percent stability. In other words, if a reservoir is intended to be in use for 100 years, 25 of those years will likely see problems related to water replenishment. He doesn't agree with Hovhannisyan's assessment that this year Armenia's reservoirs were only filled to 30 percent capacity. "Monitored levels have shown that it hasn't been that low. Akhuryan Reservoir was down, containing 220 million cubic meters of water rather than 525 million."
"We use water from dead storage since the water hasn't run out," he explained. "We have special equipment that's used at Aparan and Azat to handle that water for irrigation purposes. There's nothing dangerous in using it, and we use as much as possible. For instance, we use water from Aparan so that we don't drain Lake Sevan. That water is used primarily in autumn sowing and when burying grape vines, which need watering so that the vines will bud."
Fish Are Unlawfully Kept in Reservoirs
Harutyunyan stresses that fish cannot be raised in reservoirs for obvious reasons, since the water is used for irrigation purposes or producing electricity, and especially because the fish would die out in cases where the water levels dip below the dead storage mark. Furthermore, in order to catch the fish people would have to go to the water surface, which would be unacceptable.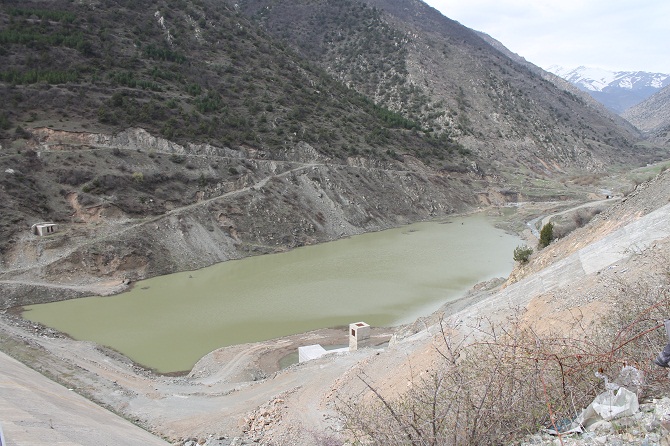 Geghi Reservoir
Nevertheless, Maksim Hakobyan, General Manager of the Zangezur Copper Molybdenum Combine (ZCMC), told us in April of this year that 300,000 fish had been deposited into the Geghi Reservoir, which all perished in 2009 due to an accident. He said that he had future plans for fish farming there, which is an example of how the reservoir profit regulations are broken.
According to Harutyunyan the Armhydroenergyproject Institute had designed Geghi Reservoir for use in energy production, but now the water is used to irrigate lands in and around Kapan. But it's not a coincidence that local residents call it the ZCMC reservoir. The company gets its electricity from water that runs off from there. Ler-Eks LLC combine operates the Hankasar mine in the same canyon, far up from the reservoir. ZCMC holds 100 percent of the shares in the company. Until recently discharges from Ler-Eks were flowing directly into Geghi Reservoir, the water from which was used for irrigation. To prevent the outflow ZCMC installed a pipeline in the canyon to carry water from Ler-Eks to ZCMC's tailing, and from there on to the Artzvanik tailing. The owner of this enterprise also operates the Geghi Water Plant, utilizing the water running down from the Geghi Reservoir.
Top photo: Kechut Reservoir's "Margaritka" Spillway
If you found a typo you can notify us by selecting the text area and pressing CTRL+Enter