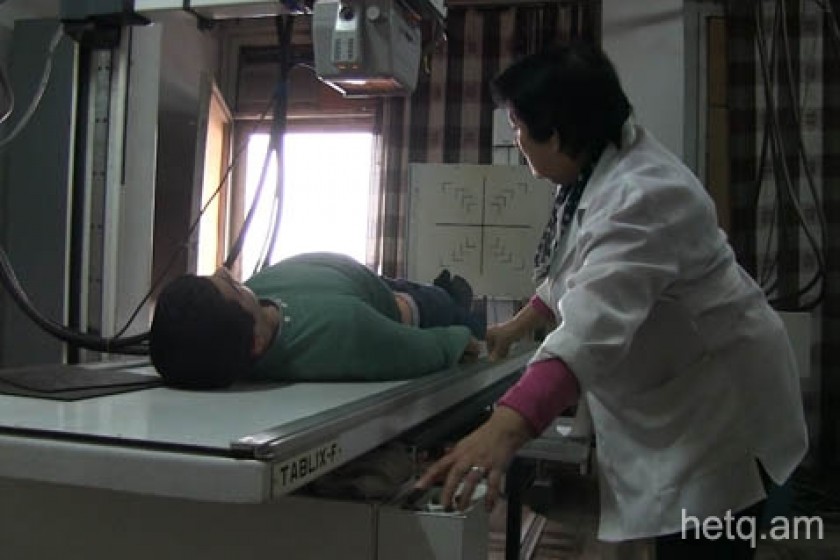 Obsolete Equipment: Is the Free Medical Treatment at Yerevan's Polyclinics Worth the Risk?
Marine Madatyan, Ani Hovhannisyan
50% of all the medical equipment now being used in Yerevan polyclinics is at least 25 years old.
This troubling fact is evidenced by a list of the equipment that Hetq has received from the Yerevan Municipality. It shows that half the equipment now in use at the state run clinics was manufactured between the 1950s and the 1980s.
The situation is even worse when it comes to x-ray machines. Over 70% were built in the 1970s and 1980s.
These Soviet leftovers periodically die off and are resuscitated. As a result, citizens are often not able to avail themselves of the free medical treatment at municipal polyclinics since the equipment isn't working.
When Hetq asked the municipality for permission to photography these machines, we were told that we would only be allowed to visit six polyclinics in Yerevan. The municipality argued that it wasn't convenient for us to visit the other clinics because they were backlogged as a result of various medical promotions and discounts launched by the municipality linked to the ongoing Women's Month in Armenia.
Hetq then went out and photographed x-ray machines being used at Polyclinics # 15, 17, 19 and 20; at the Grigor Narekatsi Medical Center; and the Karmir Blour Polyclinic.
Prior to the day of our visit, the Yerevan Municipality had forewarned polyclinic heads not to provide additional information regarding the working status of their equipment. Unfortunately, the municipality does not provide such vital information to patients visiting these polyclinics.
The Czech manufactured x-ray machine at Polyclinic 17, which serves the Kentron and Erebouni districts of Yerevan, was working overtime when we visited.
A patient who was about to get x-rayed told Hetq that he had broken his foot months ago and had periodically arrived to get treated but that the machine hadn't been working on several occasions. The lab assistant and radiologist Moushegh Stepanyan confirmed that the 25 year-old machine often broke down when used too much or due to electricity fluctuations.
Polyclinic 17 Director Satenik Badalyan refused to comment. "They told us just to let you take photos of the machine and nothing more," she said. According to the x-ray register, the machine services 15-20 patients on a daily average. It can reach forty when servicing military conscripts or other state programs.
We photographed the oldest x-ray machine, built in 1976, at Polyclinic 15. This medical center services the Ajapnyak and Malatya-Sebastia districts of Yerevan. Director Hakob Haroutyunyan told us the municipality had promised to replace the machine.
"It's not just a question of the machine, Haroutyunyan said. "We must also have the conditions. I have taken out a loan to renovate the unit a bit to accommodate a new one. Let's see."
Despite the machine's age it is still in use. When Hetq asked about the possibility that the machine might provide a wrong diagnosis, Director Haroutyunyan answered that we were barking up the wrong tree and that there were more important issues to be dealt with. He said the government couldn't resolve all of them at once.
We heard the same advice from Polyclinic 20 Director Edouard Barseghyan. He too refused to comment on the equipment, arguing that he is a Russian speaker. Despite this, he spoke to us at length on the sidelines, but made it clear that he was doing so in a private capacity. He wouldn't speak on the record as the polyclinic's director.
Given that the Yerevan Municipality only allowed us to photograph six of the city's 22 polyclinics, we were forced to find out something about the remaining x-ray machines via the telephone.
It turns out that a majority of the machines registered at these polyclinics only partially work. Others do not work at all. They have broken down but are still listed as operating on the books.
For example, one of the two x-ray machines at Polyclinic 20 is just taking up space. The only x-ray machine at Karmir Blour Polyclinic doesn't work either. When we visited Karmir Blour, Director Nouneh Avanesyan convened an emergency meeting of the staff. Neither Avanesyan nor any of the doctors wished to respond to our questions.
The old machines that are still 'breathing' do not perform all medical examinations. Examinations of spinal abnormalities in the waist area are impossible with such equipment and patients must travel to private clinics or hospitals.
If a state polyclinic cannot adequately examine patients due to a lack of equipment they are obligated to send them to another polyclinic in the network. This was confirmed by Knar Ghonyan, chief expert at the Ministry of Health's Outpatient Health Policy Division.
Russia has long since retired Soviet equipment still used in Armenia
In Russia, two government orders (1996, 1998) have retired medical equipment manufactured in the 1970s to 1990s from operating in Moscow polyclinics.
All components and parts, including precious metals, have been handed over the Russian State Fund. The value of equipment retired by the first decision was 12 billion rubles and 9 million rubles for the second.
New medical equipment for Yerevan's polyclinics
A total of 14 pieces of new medical equipment (including 2 x-rays, 5 ultrasounds, 2 colposcopy machines and 4 immunoferment analyzers) were purchased last year by the municipality for Yerevan's polyclinics at a cost of 75.886 million AMD (US$161,000). 100 million AMD had been outlaid for expenditure but, according to the Yerevan Municipality, some 24 million was held back.
This year the municipality plans to purchase five ultrasound machines, ten blood analyzers, ten slit lamps and five colposcopy machines; among others.
Five Yerevan polyclinics have received the new equipment in the first quarter. According to a statement issued by the Yerevan municipality Polyclinics 1, 8 and 17, in addition to the Nor Arabkir Health Center and the Sourb Astvatzatzin Medical Center have received modern ultrasound machines.
Hetq has written to the municipality, asking what options are open to patients who cannot receive free treatment at polyclinics due to non-working equipment and who haven't been directed to another facility.
In the next installment of this series, Hetq will cover the radiation risks posed by the old x-ray machines operating at Yerevan's polyclinics.