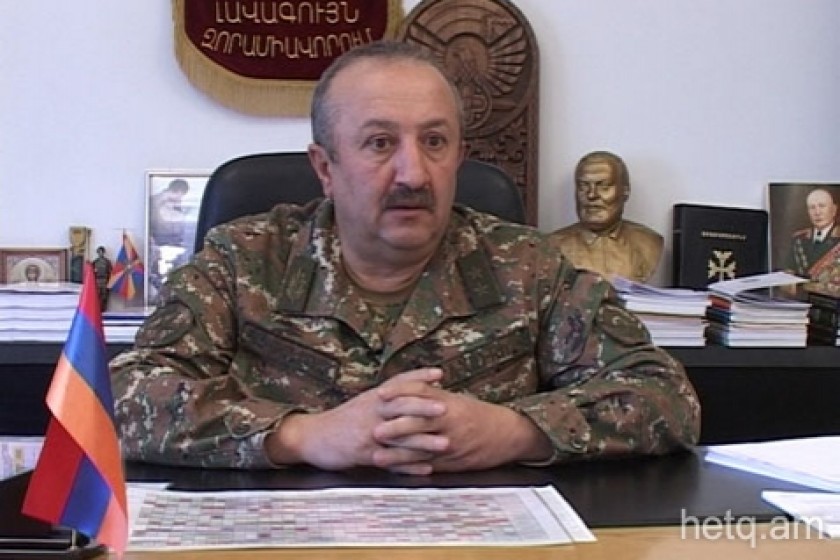 Artsakh Defense Minister: Turkish Soldiers Participating in Azerbaijani Cross Border Raids
Artsakh Minister of Defense Movses Hakobyan responds to Hetq.
Recently, the Azerbaijani military has become active again by constantly striking different sections of the border. In your opinion, is this related to the upcoming centennial of the Genocide?
The situation on the ground hasn't intensified of late. We were in this situation of no war and no peace in 2013 and 2014. The enemy is always violating [the ceasefire]. The final point and target of all these actions is the Armenian as a nation.
At any event organized by our people, the enemy uses all his resources in order to disrupt such events organized in our republic. I believe we can list events related to the 100th anniversary of the Genocide as such. Especially since Turkey is joining in such action and is giving various instructions to Azerbaijan not to let our people organize such events by keeping the situation tense.
When talking to officers, one said that they are convinced that there are Turkish military personnel alongside the Azerbaijanis during their assaults. Is there any information on this?
We have such information that they [Turks] are participating but not permanently. The possibility is great. We have proof regarding two cases only. The odds are great that the unit which operated against us was trained in Turkey. Azerbaijan has invested huge amounts to prepare these units. Until the final surrender of this unit the odds are great that Turks will also participate in their activities.
From talking to officers it's also clear that the attacks by the enemy haven't gone unanswered but that this isn't mentioned in official defense ministry statements. Why isn't there any mention of our actions in response?
First, I'll tell you why we do not speak of these things in our statements. Any military operation is extremely secret; not just secret but highly secret and those operations are not subject to publication.
Based on this, we do not publicize them. I believe that if the press in Azerbaijan was a bit freer their society would be better informed. The army, in wartime, is obligated to respond in kind. If you don't, you'll wind up as the loser.
I believe that the operations of our army today are of equal weight and that they are keeping Azerbaijan in check so that it doesn't start widespread military operations.
If you found a typo you can notify us by selecting the text area and pressing CTRL+Enter