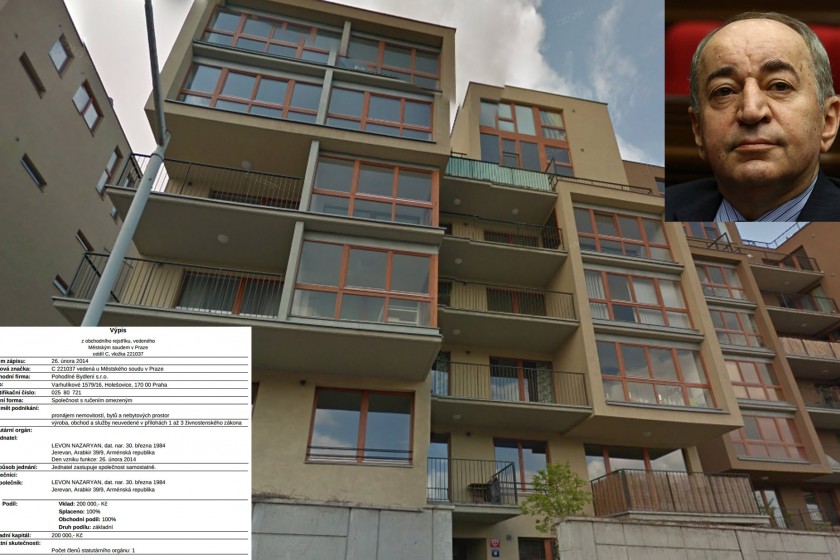 Son and Daughter-In-Law of Head of Armenia's Public Services Regulatory Commission Own Businesses in Prague
Relatives of Robert Nazaryan, president of Armenia's Public Services Regulatory Commission (PSRC) own a number of businesses in the Czech Republic.
Nazaryan served as Yerevan's mayor from 2001-2003 before being appointed PSRC head.
LEMAR INVEST
On August 14, 2008, Levon Nazaryan (Robert Nazaryan's son), and his wife Marine Gevorgyan, found LEMAR INVEST Ltd. in Prague. The company is involved in real estate and the leasing of apartments and office space. Charter capital amounted to 200,000 Czech korunas. At first, the couple split the shares equally, but Marine Gevorgyan has owned 100% since January 2014.
Until 2009, LEMAR INVEST was registered in the Prague neighborhood of Žižkov and later moved to Varhulíkové 1579/16 in the Holešovice neighborhood.
Marine Gevorgyan owns an apartment in the above building where the company is registered. The couple are citizens of Armenia and have a residency registered at 39 Arabkir Street. Levon's parents Robert Nazaryan and Svetlana Kharatyan are registered at the same address.
There is no information regarding Levon Nazaryan in the financial disclosures filed by his father with Armenia's Ethics Committee for Top Officials since father and married son are not regarded as 'linked individuals' even though they officially share the same Yerevan residence.
Pohodlné Bydlení
Levon Nazaryan founded Pohodlné Bydlení Ltd. (Comfortable Housing) in Prague on February 26, 2014. Russian citizen Ksenya Boyko, who had temporary Czech residency status, served as Levon Nazaryan's representative when the company was founded. This company, also founded with 200,000 Czech korunas, deals in real estate as well. Levon Nazaryan is the company's director and sole shareholder.
This company is registered at Varhulíkové 1579/16 as well.
BORANO SCI Finance – a family business
Levon Nazaryan also has an interest in another Czech registered company. Since 2011, he's served on the board of BORANO SCI Finance.
This company was founded in May 2007 and was originally called AFTER DARK. Charter capital amounted to 2 million Czech korunas and it also engages in real estate. Management of the company fell into Armenian hands on December 21, 2011 when Boris Hovhannisyan, a 60-year-old resident of the Kotayk village of Arinj, became a board member, along with his son Norayr Hovhannisyan, and Levon Nazaryan. The Czech Corporate Registry only has shareholder information on the company from 2007-2010. The wives of Boris Hovhannisyan and Levon Nazaryan became observer members of the board on December 21 as well. So too did Kim Yeganyan, the 35-year-old nephew of Gagik Yeganyan, chief of Armenia's State Migration Service.
BORANO – an Armenian relay team
DOLLARSTONE CZ Ltd., another company with Armenian roots, is registered at the above address in Prague. It was founded in August 2006 by Prague residents Mher Gamdjyan (20% shares) and Artem Sahakyan (20%), along with Armenian citizen Lilit Asatryan (60%).
Lilit is the wife of Robert Yeritsyan, son of businessman Albert Yeritsyan. Robert Yeritsyan is now on the run from law enforcement authorities in Armenia. Hetq has written about Robert Yeritsyan and his wife, as well as Mher Gamdjyan.
Until 2008, the company engaged in specialized retail and general trade, and since 2008 in trade and services. Boris Hovhannisyan obtained the company in April 2007, and was later joined by his son Norayr. Boris then changed the name to BORANO Ltd. Prior to 2009, the company was registered at the address of Mher Gamdjyan, and in July 2009, the address was changed to Varhulíkové 1579/16. According to the Czech Real Estate Registry, the company owns an apartment at this address.
Aleksan Zakaryan purchased the company from Hovhannisyan on November 24, 2015. (Aleksan Zakaryan and his brother Gourgen own companies that install speed/traffic cameras and security systems in Armenia)
Zakaryans' Elfnet Group
On November 5, 2008, Yerevan residents Aleksan and Gourgen Zakaryan and their wives Gayane Verdyan and Karine Zakaryan, found Elfnet Group Ltd. in Prague. While initially solely a real estate company, it later branched out into manufacturing, trade and services. Aleksan Zakaryan, the company director, owns a 70% stake.
Elfnet Group is registered at Táboritská 464/10 in Prague. The company owns one apartment, one commercial space, and an auto garage at this location.
If you found a typo you can notify us by selecting the text area and pressing CTRL+Enter