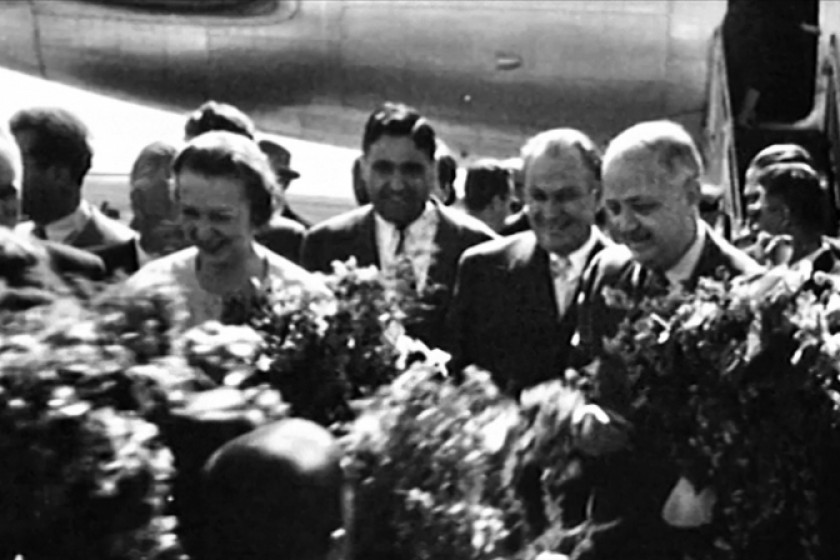 Revenge of the French-Armenians: The 1956 Visit of French Foreign Minister Pineau to Yerevan (Part 2)
By Gevorg Mkrtchyan, researcher at Factum NGO
On May 22, 1956, Foreign Minister of France Christian Pineau, accompanied by his wife and officials, was already in Armenia. "Yerevan greeted French guests with warm rays of the sun" – Sovetakan Hayastan (Soviet Armenia) newspaper headlined its article the next day. The article, which describes in detail how the high-ranking official was welcomed, contains the required "components" – hoisted flags, happy crowds of people, schoolchildren with flowers, etc. Certainly, no word about French Armenians.
"Our trip was organized in a way that enabled me to visit Yerevan, and I am very glad for that," said Christian Pineau at the airport.
What was the reason and goal behind his wish to visit Yerevan? Did he know that the people who were once his country's citizens would greet him in such an impetuous way? Sovetakan Hayastan was silent about it. Talking to ex-repatriates from France didn't shed light on why Pineau had opted to visit Yerevan, either. Assumptions differ. Let me list three of them.
According to Hakob Filyan, a 1949 repatriate from the U.S. who currently lives in Paris, Pineau's father allegedly held shares in Kapan copper mines and that is why the French FM had expressed a desire to visit Armenia. "He asked Khrushchev about it and the latter gave him the green light." Apparently, this is a myth, a widely-spread narration in which names change from time to time. Prior to that, it was said that Charles de Gaulle's father held shares in Alaverdi copper mines and that the French general was allegedly born there – in Lori gorge.
Anahit Grigoryan, a 1947 repatriate who presently lives in Marseille, offers a second version: "Malumyan sent Pineau. Malumyan was a masseur and was working with top high-ranking government authorities. Pineau told him about his planned trip to Russia and Malumyan recommended to visit Yerevan as well, but nobody in Yerevan knew about this story."
In 1947, Doctor Mkrtich Malumyan signed an employment contract and came to Armenia from France to teach sports medicine at the Armenian State Institute of Physical Culture. He had reached preliminary agreement on apartment, remuneration and other issues, however, after seeing that everything he had agreed on was not being met, he attempted to return. And while he was struggling for that (even wrote a letter to Stalin), his son – Arman Malumyan – was arrested and exiled to Siberia. After Stalin's death, Mkrtich Malumyan managed to cross the USSR border and leave it behind. Later his son was also released and joined his family.
The Malumyans were well aware of the repatriates' state and conditions, knew the Soviet reality, had a clear stance on it, but it is quite unlikely that an agenda of a diplomatic visit would be built upon the advice of a massage therapist.
According to the last version, the one which is most talked about, the French FM visited Yerevan upon the advice of the French Embassy in Moscow. Given the relative freedom after Stalin's death, French Armenians started to send letters to the embassy more frequently and their sole request was to grant them the chance to go back to France. Obviously, this could become a reason for the FM's decision to change his route and include Yerevan on his list, but judging from the answers embassy gave, the return of French Armenians to France would hardly become a subject for discussion during the diplomatic visit.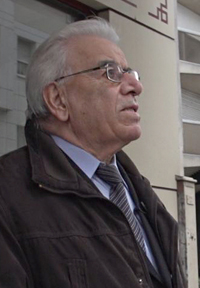 Albert Gezoyan
"Yes, it's true, you are French but from the moment you repatriated to Armenia you adopted the Soviet citizenship. The Soviet Union has the same rights on you, as we. We cannot take any steps unless the Soviet Union allows us to," 60 year later Albert Gezoyan, a 1947 repatriate from France currently residing in Paris, reproduced the answer to his letter.
In all cases, the repatriates' recollections regarding the significance of Pineau's visit to Armenia are overestimated. They say Pineau demanded that French Armenians were given the right to return. But is it possible for the French FM to do such thing and go against the diplomatic code of conduct? He could, at the most, ask questions to Armenian leaders who were to give the same on-duty answer, "Everything is just fine and our citizens are happy."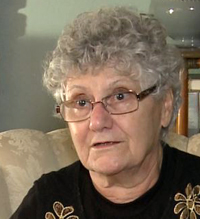 Vergine Hekimyan-Antaramyan
Vergine Hekimyan-Antaramyan, a 1947 repatriate from France who currently lives in Fresno (California, U.S.), describes the visit in details despite the fact she personally has not been in the airport. "People went to the airport to meet him and sang the "La Marseillaise." Pineau was surprised to see and hear people sing their national anthem. There was a woman who fell on her knees begging him to "release" them from the Soviet Union. "We want to go out of here, please find a way," she was crying. After seeing that many people, Pineau instructed to find out why they all wanted to leave," Vergine says.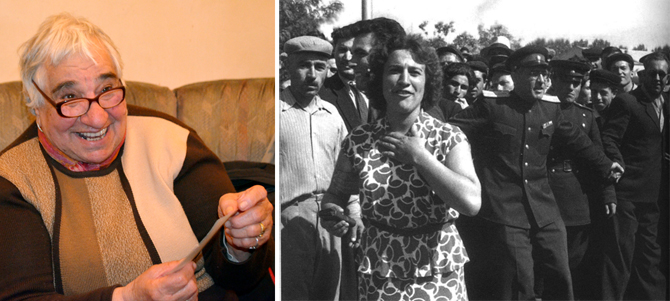 Mrs. Vergine believes that other than giving instructions, the French FM strictly posed a question as to "Why those wishing to leave the Soviet Union were deprived of that chance."
It remains unknown what the Armenian leaders replied to him. There is only the protocol of the Bureau of the Central Committee of the Armenian Communist Party, which shows that the inability and failure of the state authorities to prevent the protest of repatriates had spurred concerns among the leaders of the republic.
As a matter of fact, French Armenians have been actively communicating with Pineau's companions, especially journalists, thus attempting to call attention to the social and daily problems of the repatriates.
Only one of our repatriate interlocutors has been personally present at the airport – Madlen Nirisyan-Chulfyan, who presently lives in Lyon and whose photo was featured in the photo story of Paris Match French magazine's May 26th edition, 1956. According to her, the gathering at the airport was nothing but a chance to communicate with people that accompanied the French FM. "I established contact with one of the journalists. He was a nice guy and we even partied once. Then I took him to Charbakh and showed him our house, what poverty was, as we had nothing at all. Afterwards, when his shoes got all covered with mud, he got crazy," recalls Mrs. Madlen. According to her, three of her girlfriends were arrested and released shortly after. "I thought I would also be caught as I had taken the journalist to my place," she said.
How many repatriates from France protested at the airport? How many of them talked to Pineau's companions? It's hard to say. The abovementioned protocol of the Bureau of the Central Committee of the Armenian Communist Party contains evidence of only two-three French women who had rushed to the guest, along with their husbands, and asked him to help them return to France. "Such exclamations came from the crowd as well."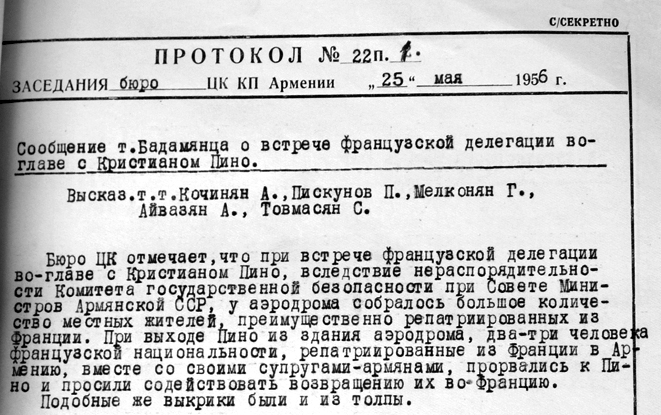 In fact, those two-three women of French descent eventually managed to quickly get their documents ready and leave the USSR. To French Armenians, Pineau's visit served as a ground to voice their issues and wishes. They turned to the Passport and Visa Office (OVIR) and waited till the Soviet Union allowed. According to our information, the emigration of French Armenians began in 1964-1965, around a decade after the FM's visit.
Translator Ani Babayan
………………………….
This article is prepared as part of the "Two Lives: The Cold War and the Emigration of Armenians" project financed by National Endowment for Democracy (NED).
If you found a typo you can notify us by selecting the text area and pressing CTRL+Enter