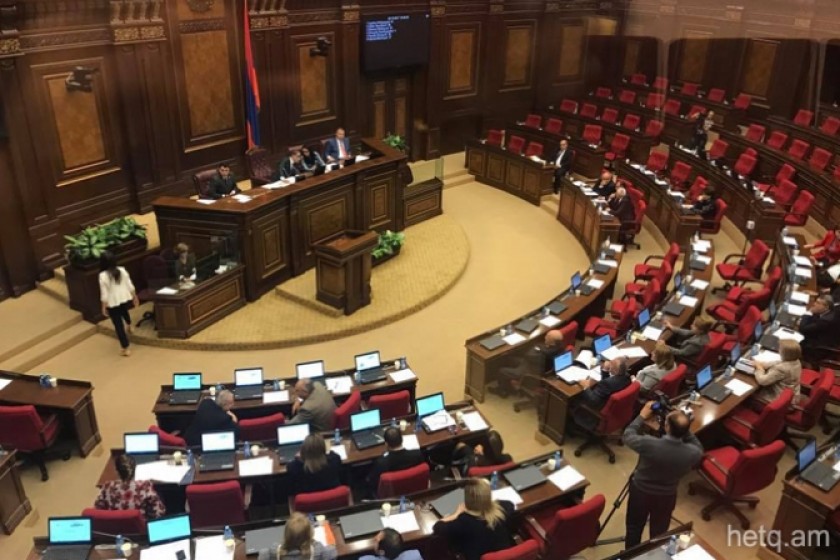 Joint Russian-Armenian Military Force Won't Intervene if Artsakh Attacked, Says Armenian Deputy Defense Minister
At a hearing today in Armenia's National Assembly whether to ratify a November 2016 agreement to create a joint Russian-Armenian military command, Armenian Deputy Defense Minister Artak Zakaryan said that Russia would not come to the aid of Artsakh if attacked by Azerbaijan.
Zakaryan was responding to a question posed by ARF MP Aghvan Vardanyan.
"Defensive measures, as part of the joint military force, will only be taken in the case of aggression against the borders of the Republic of Armenia or if there's a military threat against it," Zakaryan said.
Vardanyan reminded the deputy minister that the agreement states that such a joint military structure would ensure stability in the Caucasus, and that Karabakh is located in the region.
Yelk Alliance MP Nikol Pashinyan noted that while Armenian is a member of the Collective Security Treaty Organization (CSTO), it has never intervened in favor of Armenia.
"There is one issue that pains all of us. CSTO did not respond when Azerbaijan was shelling border villages in Tavoush in 2016. Is there any assurance that this joint military force would have done otherwise?" Pashinyan asked.
Pashinyan wanted to know if Russia would get involved if Armenia was attacked along its border with Azerbaijan as well as along its border with Turkey. Zakaryan only responded that the joint structure would work as a collective security system.
Another somewhat surprising revelation made by Zakaryan was that the joint military command could also be used in the case of perceived domestic security threats.
The matter was raised by Yelk Alliance MP Gevork Gorgisyan, who specifically mentioned the Maidan street revolts in Ukraine and the July 2016 Sasna Dzrer incident in Yerevan, and whether these might be regarded as domestic threats.
Zakaryan responded that provisions are in place to respond to domestic threats but only if both sides agree. "Nothing will be unilateral," he said.
Gorgisyan then asked if Armenia would be obligated to respond militarily if there was a revolt in the Russian federal state of Chechnya.
Zakaryan skirted the issue, saying that each case was different and that the signatories would decide for themselves whether to get involved or not.
If you found a typo you can notify us by selecting the text area and pressing CTRL+Enter