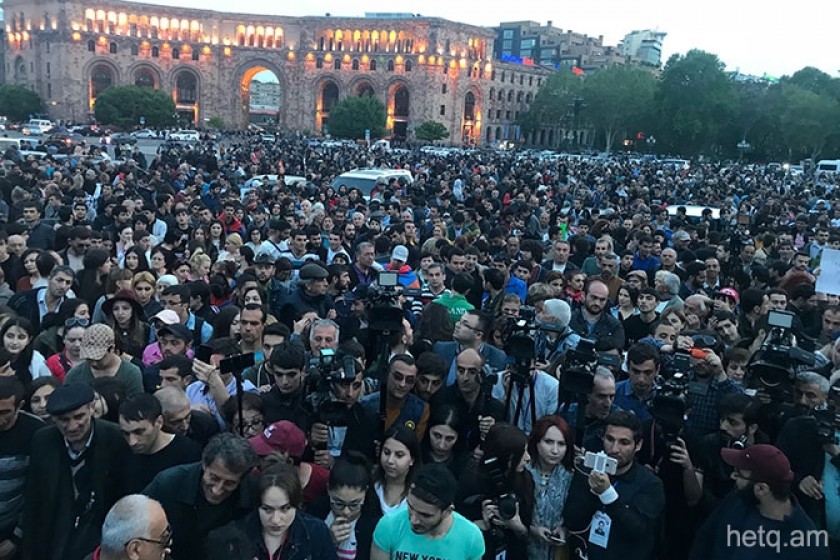 Yerevan: "Reject Serzh" Rally Kicks-Off in Republic Square; March To Baghramyan Avenue
10:04pm
People marching to Baghramyan Avenue.
9:52pm
Pashinyan again urged diaspora "representatives" to join the movement and called on Serj Tankian to come to Yerevan. Pashinyan then read Tankian's Facebook page post describing the events in Armenia as "unbelievable" and that what is taking place as "civil disobedience versus a corrupt system".
He called on people to march on government buildings early tomorrow morning and block their entryways.
Pashinyan then led the crowd towards Baghramyan Avenue, where the National Assembly and Presidential Palace are located.
Another rally is scheduled for tomorrow at 7pm.
9:30pm
MP Nikol Pashinyan, who's spearheaded the movement opposed to Serzh Sargsyan's election as prime minister described it as a "wave of action" and proceeded to enumerate the protests that have taken place in Armenia and the diaspora.
He claimed that protesters had removed a photo of Serzh Sargsyan hanging in the Armenian Consulate in Marseille and publicly burnt it.
Pashinyan told the crowd that donations from the diaspora supporting the movement continue to be received. He boasted that the "Reject Serzh" movement is the first in post-Soviet Armenia not linked to any outside power.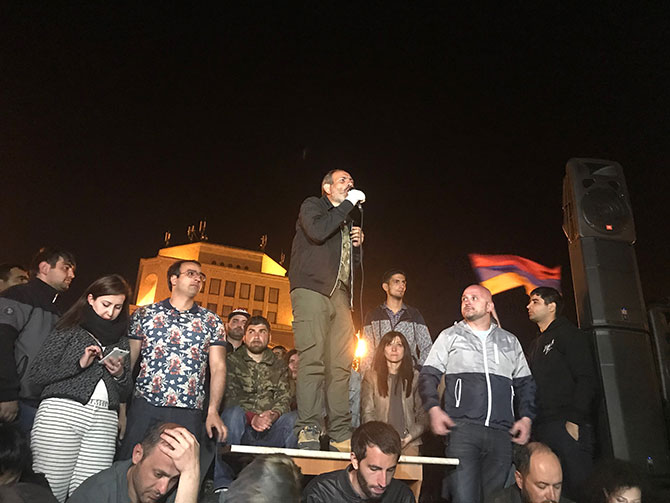 The Yelk Alliance parliamentary faction head said he had received numerous letters from citizens of Armenia now living overseas, writing that they are flying back to participate in the protests.
Pashinyan rejected criticism that the movement was targeting school pupils and convincing them to attend the protests. He said the law on organizing demonstrations had no age restrictions on participation.
Turning the tables, he asked why the Ministry of Education and Science has never condemned the practice of schools forcing pupils, balloons in hand, to participate in tawdry public relations campaigns for Serzh Sargsyan.
"Dear kids, remove Serzh Sargsyan's photo from all you schools and toss it aside," declared Pashinyan.
8:47pm
Rally organizers played a new rap-inspired song called "Reject Serzh" over the loudspeakers. The crowd responded with shouts of "bravo, bravo".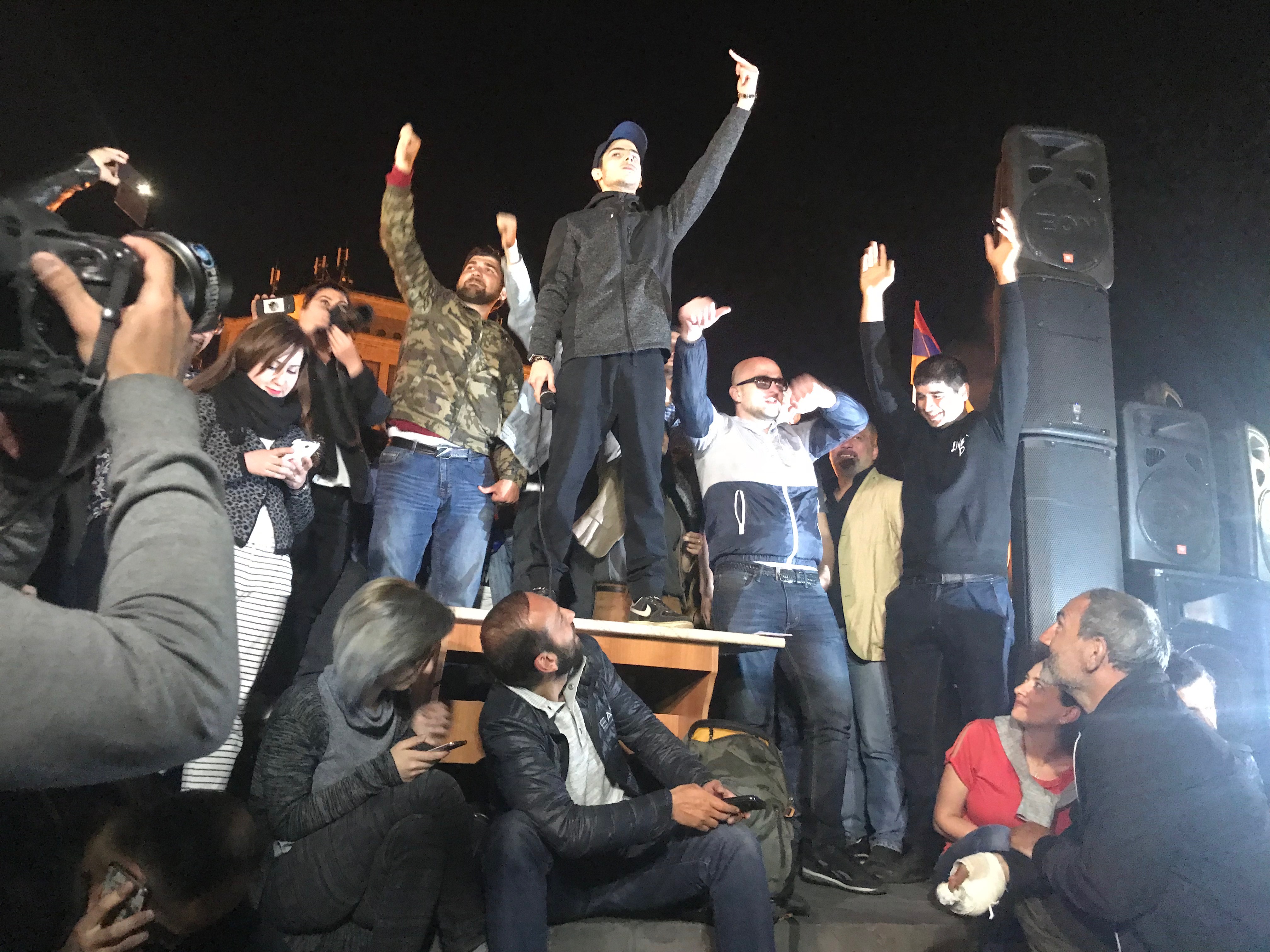 8:34pm
Yelk Alliance MP Ararat Mirzoyan told the crowd that for the past ten years the people of Armenia have lived in an environment of lies and falsehoods. He listed the unfulfilled promises made by ex-president, and now prime minister, Serzh Sargsyan.
Mirzoyan argued that either Sargsyan never intended to fulfill those promises, or that he wasn't able to. In both cases, he said, Sargsyan and his ruling Republic of Armenia Party are unfit to lead Armenia.
"We cannot let our country devolve into a circus. We must stand up until victory," Mirzoyan told the crowd.
"Reject Serzh" initiative member Armen Grigoryan took the stage, announcing that the international media is covering developments in Armenia. He noted that it's interesting that no foreign leaders have yet congratulated Serzh Sargsyan on his election.
8:12pm
"Reject Serzh" initiative member Armen Grigoryan told a crowd of several thousand attending the second mass rally in Yerevan's Republic Square that demonstrations opposed to yesterday's election of Serzh Sargsyan as prime minister have taken place in Marseilles and Moscow.
"They've taken down a photo of Serzh in a Gyumri school. It had been illegally placed there, and by removing it, respect of the law has been restored," Grigoryan said.
He claimed that officials at the Ministry of Education and Science had banned any Facebook, YouTube or Radio Liberty broadcasts, so that workers wouldn't be able to follow the protests outside.
Civil Contract political party Vice President Suren Papikyan read the names of parliament deputies who voted in favor of Serzh Sargsyan becoming prime minister in yesterday's election. He said the 77 MPs who voted in favor of Sargsyan are worthy of public reproach.
If you found a typo you can notify us by selecting the text area and pressing CTRL+Enter