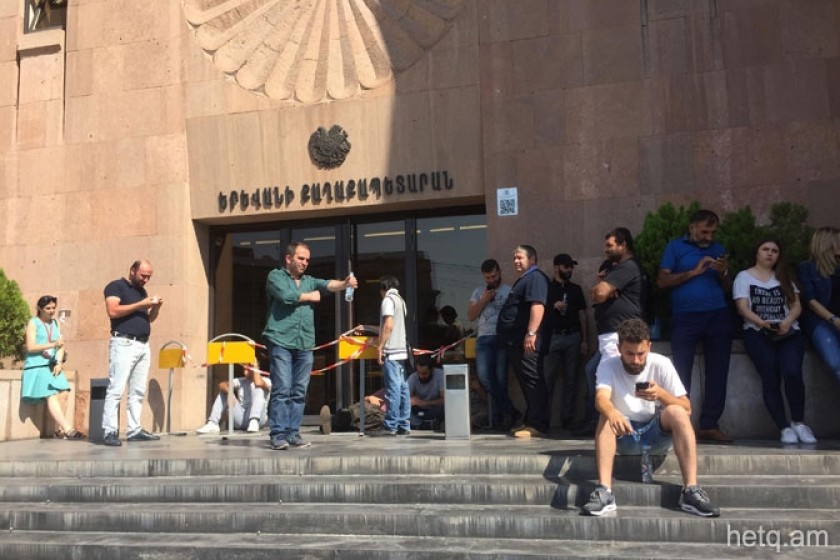 Protesters Block Yerevan Municipality: Demand Police Arrest Mayor Margaryan for Stealing Millions
A handful of people earlier today blocked the main entrance to the Yerevan Municipal Building, demanding that law enforcement investigate press allegations of corruption and embezzlement of government funds levied against Yerevan Mayor Taron Margaryan and his administration.
One of the protesters, Mikayel Nazaryan, told Hetq that law enforcement must look into recent press reports alleging that Margaryan has amassed a tidy personal fortune during his tenure as mayor.
Nazaryan and the other protesters called on police to arrest Margaryan for the millions he and other officials have embezzled over the years. They threatened to "detain and take Margaryan to the police" if law enforcement failed to act.
The protesters, who gathered outside the entry to the municipal building in the wee hours of the night, tried to force their way into the adjacent Yerevan History Museum later in the day.
The door to the museum was locked. Museum staffers inside did not say why the door was locked during working hours.
The protesters left the area at around noon, telling reporters that Aren Mkrtchyan, an adviser to Prime Minister Pashinyan and the author of the investigative piece on Margaryan's assets, verified vis Facebook that the evidence he amassed had been transferred to the National Security Service and would be attached to a criminal case looking into the activities of the Yerevan Foundation.