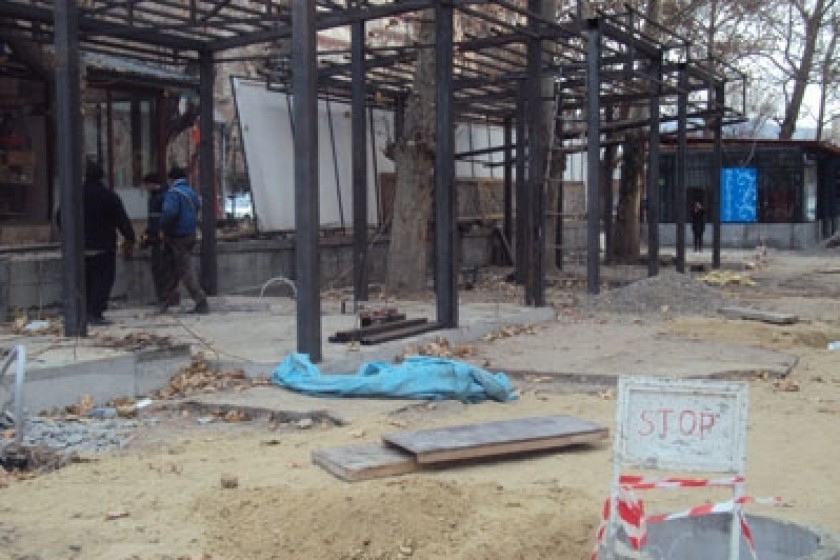 Dismantled Abovyan St. Stores Offered Space in Mashtots Park
While Yerevan Chief Architect Narek Sargsyan had originally gone on record denying media reports that the owners of stores recently dismantled along the sidewalks of Abovyan Street were offered new commercial space on Aram Street, the city's municipality recently confirmed the news.
In light of this statement, I asked the Yerevan Municipality what type of compensation the uprooted store owners would receive.
The municipality's public relations office responded that negotiations were still underway the owners and that various compensation proposals would be made once the dismantling process was concluded.
So it would appear that the Abovyan storeowners agreed to have their businesses torn down before they had agreed to any compensation. Does anyone reading these lines believe this?
In fact, given that the dismantling and reinstalling of the businesses to another location (Mashtots Avenue Park) were taking place simultaneously, it would seem that some compensation agreement had indeed been reached between the city and the business owners.
Yesterday urban activists staged a small demonstration at the new constriction site, demanding that no commercial structures be built at the park.
As I was finishing this article, the Yerevan Municipality issued a statement verifying that former Abovyan Street business owners had indeed been offered retail space on Aram Street. The statement says given that Aram Street is undergoing a major facelift, plans are on paper to relocate retail business to the area.