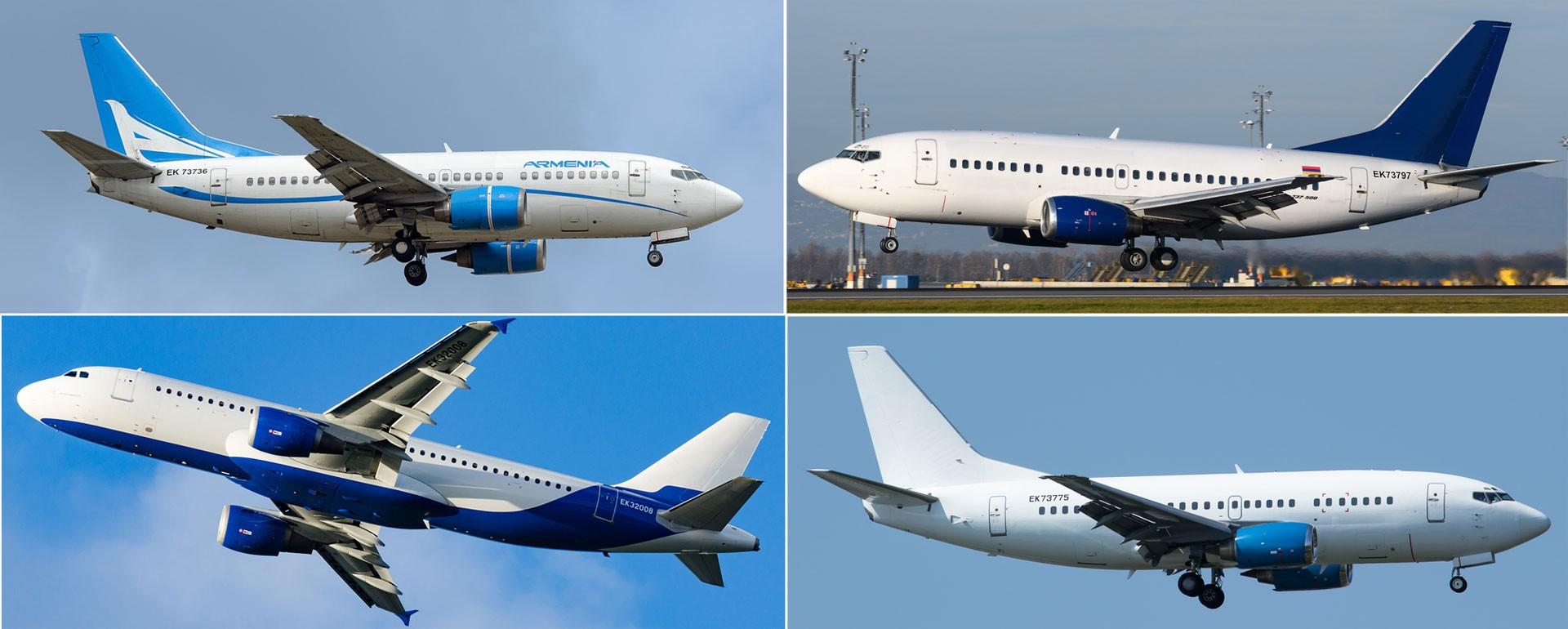 Despite Putin's Travel Ban, Largest Armenian Airline Not Interested in Flying to Georgia or Russia
In the aftermath of worsening Russian-Georgian tensions, sparked by the June 20 incident in the Georgian parliament, Russian President Vladimir Putin signed a decree banning all Russian airlines from flying to Georgia and Georgian planes from flying to Russia.
On June 22, Georgian Airways, which flies to Moscow, St. Petersburg, Kazan and Ufa, announced that it would offer its customers a Tbilisi-Yerevan-Moscow flight option at no additional cost. Georgian Airways is the largest airlines in Georgia.
It is not clear from the announcement if the mention of additional costs refers to the flight between Tbilisi and Yerevan. Georgia Airways was quick to point out that the transfer time between two flights would be under an hour.
Given the situation as it now stands, the most convenient option would be to use Armenia's airspace. (Theoretically, there's also the Ganja option as a replacement for Tbilisi, and Turkish airports instead of Batumi or Kutaisi.) We're talking about both Georgian and Russian airlines.
Given that it takes several hours, by land, to get to Georgia from Yerevan's Zvartnots or Gyumri's Shirak airports, it would seem that the problem would be temporarily resolved in such a fashion. That's to say that Armenia would serve as a space to organize air transfers between our neighbor and our ally.
The following scenario seems realistic. The Georgian operator could conduct Tbilisi-Yerevan-Tbilisi flights, as done now, while the flights from Yerevan to Russia could be handled by Aircompany Armenia, the Armenian company founded by the owners of Georgian Airways.
Aircompany Armenia presently flies from Yerevan to Voronezh and Mineralnye Vody, in Russia. Also, while booking a flight to Moscow on the company's website, the option to leave from Tbilisi is still offered. In other words, the opposite will now occur. Georgian Airways will offer its passengers the Tbilisi-Yerevan-Moscow option.
On June 22, Edmon Marukyan, who heads the Bright Armenia faction in the Armenian parliament, urged the government and the Civil Aviation Committee to take steps by July 8 to have Russian flights originally headed for Georgia diverted to Gyumri's Shirak Airport.
Marukyan believes that the move would spur economic activity in Armenia's second largest town.
The Gyumri option would be ideal for Russian airlines since the town is adjacent to the Georgian border. Furthermore, Shirak Airport is currently be used only by Pobeda, a subsidiary of Aeroflot. Pobeda flights to Shirak depart from Moscow's Vnukovo Airport.
On June 24, Hakob Tshagharyan (an adviser to Armenian PM Nikol Pashinyan), announced that he had urged all Armenian airlines to express their readiness to forge a united Armenian front and specify the possibilities regarding passenger transportation from Russia to Georgia and vice versa.
"Happily, I must note that three airlines, Armenia, Taron-Avia and Atlantis European, are willing to participate, with five airplanes, in the settlement of the crisis that has broken out between these brotherly peoples. The number of the planes can increase by two," Tshagharyan wrote on his Facebook page, adding that he's informed Pashinyan on the matter.
Tshagharyan, on the same day, mentioned that flights from Batumi are planned to be organized via Shirak, and those from Tbilisi via Zvartnots airports. "One of the Armenian airlines is planning flights starting July 8 to four Russian destinations," the PM's advisor said, referring to the flights to Zvartnots.
Currently, Georgia Airways operates a Tbilisi-Moscow-Tbilisi flight three times daily. In addition, it operates 3-7 flights per week to St. Petersburg, three flights of Kazan, and two to Voronezh and Ufa.
A similar gap would only be for the Tbilisi flights of the Georgian operator.
It is clear that in this case, the first of the Armenian airlines will be operated by Aircompany Armenia, which, according to our information, will soon be replenished by a second plane, since its one plane (Boeing 737-500, Armenian registration, EK-73736) cannot make so many flights. We must not forget that besides its regular flights, this Armenian company also launches charter flights to Europe during the summer tourist season.
Of the companies mentioned by Hakob Tshagharyan, Taron-Avia owns the largest passenger fleet - 4 airplanes.
Levon Karamyan, the company's commercial director, told Hetq today that two of the planes (EK-73772 and EK-73776) are currently in Africa and are being leased by Sudanese Badr Airlines. EK-73797 is parked in Shirak, and EK-73775 is in Erebuni, Yerevan. All of them are the same type of aircraft, Boeing 737-500.
It seems that Taron-Avia, which flew to points in Russia from Yerevan and Gyumri in 2017-2018, now has the greatest chance of entering the market thanks to its rolling stock.
But obstacles remain. Mr. Karamyan told Hetq that it wouldn't be conducive for Taron-Avia to launch flights to Russia since existing anti-competitive issues haven't been resolved.
Hetq has previously written about the issue. Without referring to the disagreements between this airline and Armenia International Airports LLC. (the concessionary manager of Zvartnots and Shirak airports), which, for some reason, the government has not yet resolved or cannot resolve, we must point out that Taron-Avia and in general, Armenian airlines are facing problems in Russia.
Despite the existence of Eurasian Economic Union, Russian air services and airports regard Armenian operators as foreign entities and charge them much higher prices when compared to Russian airlines. All this has created an anti-competitive environment. Taron-Avia filed a complaint to the Armenian State Commission for the Protection of Economic Competition (SCPEC) last year on this issue. The SCPEC, in turn, raised the issue at the proper department of the European Commission for Competition. Later, it became known that a schedule was set up to reveal, by 2020, the differentiated tariffs available at all Russian airports and review them. The Barnaul and Chita airports are already offering uniform prices, but they are not yet attractive to Armenian airlines.
According to Levon Karamyan, Taron-Avia owner Garnik Papikyan has noted that under existing circumstances, they can fly from Armenia to Russia and Georgia, if there is state funding.
At the same time, he told Hetq that the problem remains that it takes Armenia's Civil Aviation Committee around two months, even under conditions of the "Open Sky" policy, to declare an Armenian airline the carrier for a particular destination.
Such a lengthy process is complicated by the fact that the Armenian airlines are launching new flights in a near force majeure situation.
Additionally, the other operator, Atlantis European Airways, which has three Airbus A320s (EK-32002, EK-32008, EK-32003), normally does not operate its own flights and rents its aircraft to other companies.
Top photo (clockwise from top left): EK-73736 (Aircompany Armenia), EK-73775 (Taron-Avia), EK-73007 (Atlantis European Airways), EK-73775 (Taron-Avia).
If you found a typo you can notify us by selecting the text area and pressing CTRL+Enter