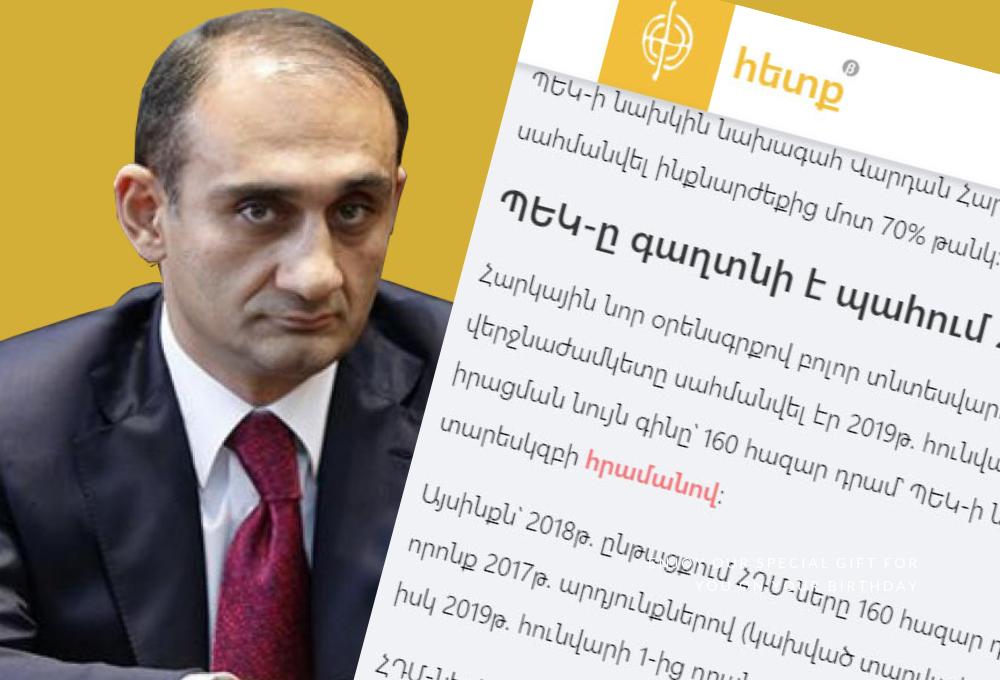 Former State Revenue Committee Head Sues Hetq; Claims Article on Sales Receipt Machines Was Slanderous
Former Chairman of the State Revenue Committee (SRC) Vardan Harutyunyan has filed a slander lawsuit against the Investigative Journalists NGO (Hetq) and is demanding symbolic compensation in the amount of 1 dram.
Harutyunyan claims that an August 7, 2019 Hetq article entitled State Revenue Committee Admits Paying Too Much for Sales Receipt Machines; Criminal Case Launched contains inaccuracies of a slanderous nature.
The former SRC head also wants Hetq to issue a retraction.
After several unsuccessful attempts by Hetq to get the SRC to disclose details of government purchase contracts for sales receipts machines, Hetq filed a civil suit against the SRC.
In the above article, Hetq wrote that "Armenia's State Revenue Committee (SRC) today confessed that it purchased 25,000 cash register machines at a price drastically above cost from the Chinese firm Pax Technologies."
The SRC had denied Hetq's requests for the purchase information, arguing it constituted a state secret.
In the suit, Harutyunyan's lawyer argues that Hetq's article targeted his client directly since Harutyunyan's photo was prominently displayed at the top of the article in question.
The August 7 Hetq article also stated that several top SRC officials abused their positions for personal gain, thus causing losses for the government, which launched a criminal case.
The sales receipt machine purchases were made between 2017-2018, before Armenia's 2018 "Velvet Revolution".