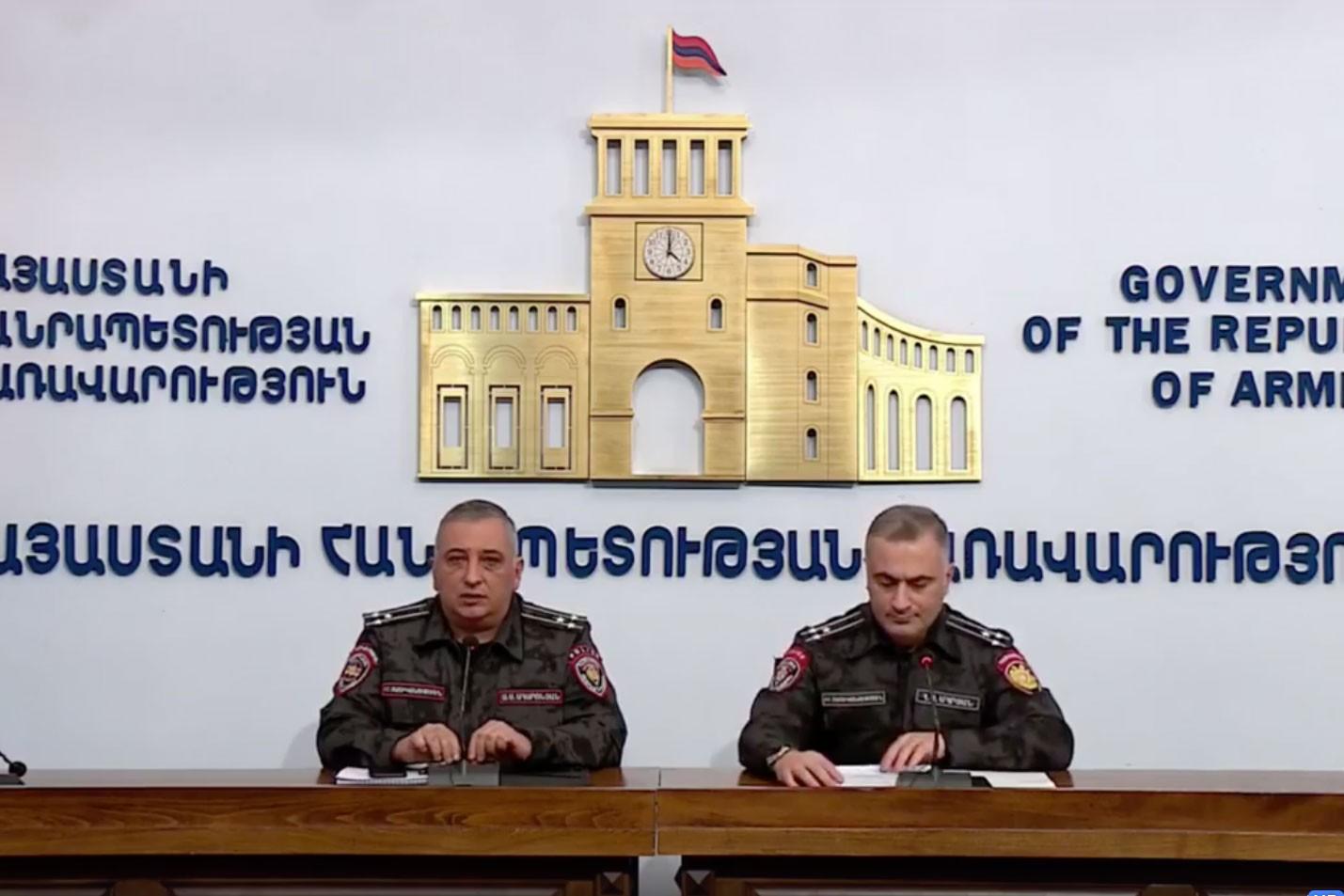 Armenia: State of Emergency Press Restrictions Continue; 22 Media Outlets Told to Remove/Edit Coronavirus Content
When Armenia declared a coronavirus State of Emergency on March 16 it also banned media outlets and social media users from publishing information deemed "panic mongering".
Those found violating these restrictions, as clarified by the government's State of Emergency Command, are soon contacted by the Police and are told to remove or edit the "problematic" material.
Hetq has written about such demands placed upon the editors of the Aravot and Hraparak newspapers.
Other media outlets and social media users have also been contacted by the Police, ordering them to remove content deemed questionable by the Command.
Several physicians in Armenia, who have posted medical advice to citizens citing international developments, have also been told to cease and desist.
Plastic surgeon Artavazd Sahakyan, in a Facebook post, urged people to conduct themselves properly and thus assist medical professionals doing their work. He also called on the government to take drastic measures, noting the rapid deterioration of the situation globally, especially in Europe.
Sahakyan was forced to remove the post at the behest of the Police, who argued that it "fomented panic".
Sahakyan told Hetq that he doesn't believe he did anything wrong.
"I don't want what I wrote to cause such turmoil because people are already anxious. I take it all in stride, as a doctor," Sahakyan said
When asked if the decision has placed undo restrictions on him, Sahakyan said what he wrote was in the public interest.
"How can I be restrained if I pursue medical rather than political activity? I always express my knowledge and opinions that are useful to the public. There was nothing anti-government in my writing."
Filmmaker Tigran Khzmalyan was contacted by the Police for a Facebook post posted citing a Euronews article describing how the dead are buried at night in the Italian city of Bergamo.
The Police forced him to remove the post.
A coronavirus piece by NewArmenia.am reporter Marine Kharatyan has also been deleted at the behest of the Police.
The journalist told Hetq that she did not write about it on the news website, but on a social network. The Police first telephoned her, followed by a visit by two cops to her home, demanding that she remove the post.
Kharatyan says the police did not present any official notice when they showed up and merely showed her the text of the media restrictions via a smart phone.
"They just said that the post has created panic in the country and that they were requesting, on behalf of the commandant, to remove the post. They said they would remain in the house until I removed it," Kharatyan told Hetq.
(The commandant she refers to is Deputy PM Tigran Avinyan, who has been appointed "Commandant" of the State of Emergency Command).
The websites168.am, Armday.am, Tert.am and FactInfo have also been contacted by the Police demanding that certain coronavirus coverage be removed.
Several media outlet editors told Hetq that although they haven't been contacted by phone by the police, they might have received warning by mail at their offices. Since some media outlets have decided to work from home, it's impossible to say if they have received such notices.
FactInfo Editor-in-Chief Sona Truzyan told Hetq that she's received one demand to remove questionable content. While disagreeing with the decision, she removed the content.
The piece was about an Etchmiadzin resident complaining that she was ill but hadn't been properly examined.
"We don't believe that informing the proper authorities about a citizen's alert causes any panic, especially when the Ministry of Health was notified of the alert. Furthermore, the matter was quickly resolved quickly we wrote about it. While we are convinced that the state of emergency decision is being abused by certain mid-level government circles, we have nonetheless complied with the legislation. But we have written to the parliament, asking if a working group has been set up, including specialists, such as sociopsychologists, who are qualified to decide whether this or that material causes panic. What are the parameters that determine the cause of panic," Truzyan said.
Earlier, Hetq contacted the Police to ascertain how many media outlets have been required to remove or edit content after the March 16 state of emergency and how many individuals have been asked to remove posts from social media sites.
Furthermore, we wanted how the Police assess whether content incites panic. In general, we wanted their evaluation of panic mongering.
The Police Department's press service responded that we should wait for today's government press conference featuring Deputy Chief of Police Hayk Mhryan.
At the conference today, Mhryan said he believed that the Police have contacted 22 media outlets, urging them to remove information that was inconsistent with government instructions and officially disseminated information.
When asked how many individuals have been forced to remove posts from social sites, Mhryan said he has no such numbers, adding that the data will be collated and released to the media later.
Questioned about the methodology used to evaluate content as "inciting panic", Armenia's top cop said, "We have relevant professionals who study such content and report such cases."
In a nutshell, the government's state of emergency declaration states that media outlets should only refer to the government press releases, and information released by the Armenian Unified Info Center, regarding the coronavirus situation both in Armenia and overseas.
This includes information regarding the number of infected, infection sources, their circles of contact, the number of those tested for COVID-19, the number of those isolated, etc.
It remains for the State of Emergency Commission (Command) to decide whether any information published or posted is in violation of the media restriction clauses.
Top photo (from right) Deputy Armenian Police Chief Hayk Mkhryan
P.S. Hetq's English Editor yesterday wrote to the Armenian Unified Info Center, asking if an official translation of the State of Emergency, including the clauses on media restrictions, is available. The Center has yet to respond.
If you found a typo you can notify us by selecting the text area and pressing CTRL+Enter