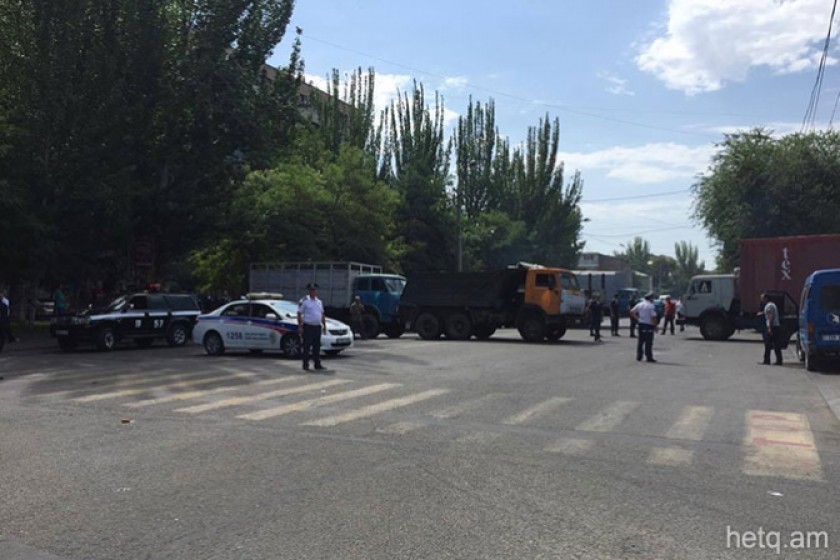 "Daredevils of Sasoun" Group Announces Start of Armed Uprising in Armenia
Shots heard early this morning in Yerevan; One Policeman Dead Says NSS
A group calling itself Sasna Dzrer (after the Armenian national epic Daredevils of Sasoun), has announced that the storming of a Yerevan police station earlier today is the start of an armed uprising in Armenia.
The group, made up of supporters and war buddies of opposition activist Jirayr Sefilyan, say that they have constantly tried to foment change in Armenia through peaceful means but that, in return, they have been politically persecuted and Sefilyan jailed on trumped up charges.
(Sefilyan was arrested on June 20 on charges of illegal arms trafficking and possession. Law enforcement claimed he and others were planning armed actions in Yerevan.)
In a Facebook video released earlier today, the group says it has taken over a police department building in the Erebouni neighborhood of Yerevan and has held it for the past three hours.
In the video, the group has demanded the release of all political prisoners, including Sefilyan.
Varuzhan Avetisyan, vice president of the Founding Parliament, an opposition political organization of which Sefilyan is a member, posted a communique (in Armenian) by the Sasna Tzrer group in which it calls for the people to rise up and join the rebellion. The group also calls for President Sargsyan to resign.
Louiza Grigoryan, apparently a resident in the area, has sent Hetq the following video taken at 5:30 this morning when shots were heard at the police station in Erebouni.
Update: One of the attackers has been confirmed wounded in the attack and seven police employees are being held hostage at the police station. This information was relayed by MP Nikol Pashinyan who recently visited the police station and talked to the attackers. Pashinyan says that the armed group will respond in kind if the police attempt to storm the station.
1:44 p.m. - The National Security Service (NSS) says that one police officer was killed and two injured in an early morning attack by armed men on a Yerevan police station. The NSS says that two of the hostages have been freed by Special Forces personnel.
If you found a typo you can notify us by selecting the text area and pressing CTRL+Enter