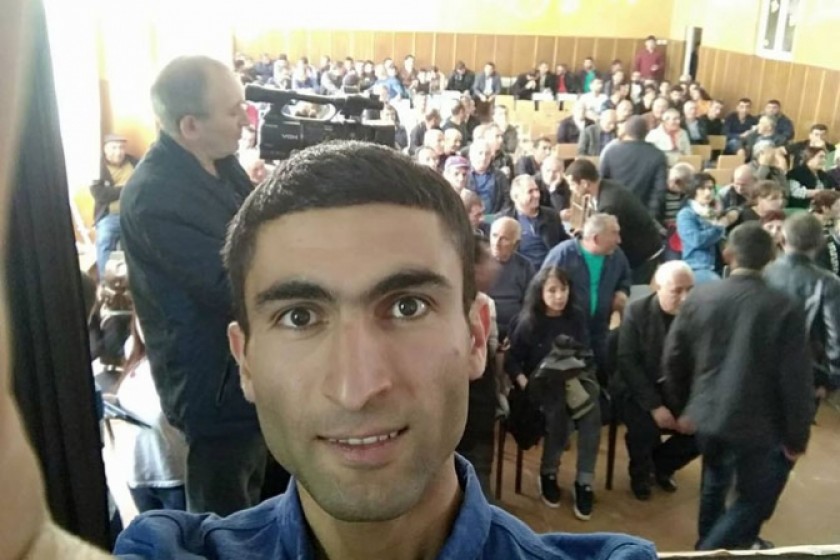 Activist Opposed to Amulsar Mine Says Lydian Armenia Plans to Sue Him
Lydian Armenia, the 100% owned subsidiary of Lydian International, which plans to operate the Amulsar gold mine located 170km south of Yerevan on the border between Vayots Dzor and Syunik provinces, is planning to take activists blocking the project to court and sue them for damages.
Vazgen Galstyan, one of the activists blocking the roads to Amulsar for the past six days, told Hetq that he received a letter to this effect yesterday from the legal agency representing Lydian Armenia.
In the letter, company lawyers charged Galstyan with committing a crime when he organized residents of Jermouk and Gndevaz to block the roads leading to the mine site back in May and earlier this month.
Lawyers say the company has suffered financially due to the actions of the activists.
Galstyan told Hetq that two other activists received similar notices and accused Lydian Armenia of intimidation.
"They want to intimidate us and thus scare off the other activists. But they don't consider the fact that our protests and marches are peaceful and that we haven't called for the use of violence," Galstyan said, adding that Armenia has signed an international treaty allowing environmental activists to peacefully protest without outside intimidation.
Galstyan said that Lydian Armenia's letter would not lead to any legal resolution of the matter other than forcing the activists to write to various international tribunals and informing them of the corporate intimidation they now face.
Yesterday, activists blocking the road to the Amulsar mine met with Artur Grigoryan, the new head of the Environmental Protection and Natural Resources Inspectorate.
Galstyan says that Grigoryan asked the activists to open the roads, but that they refused.
The activists presented the following demand to Grigoryan: Either construction at Amulsar be temporarily halted, or the company must pull out of the project altogether.
On Sunday, Armenian Prime Minister Nikol Pashinyan called on the activists to clear the roads leading to Amulsar. They disregarded his request.