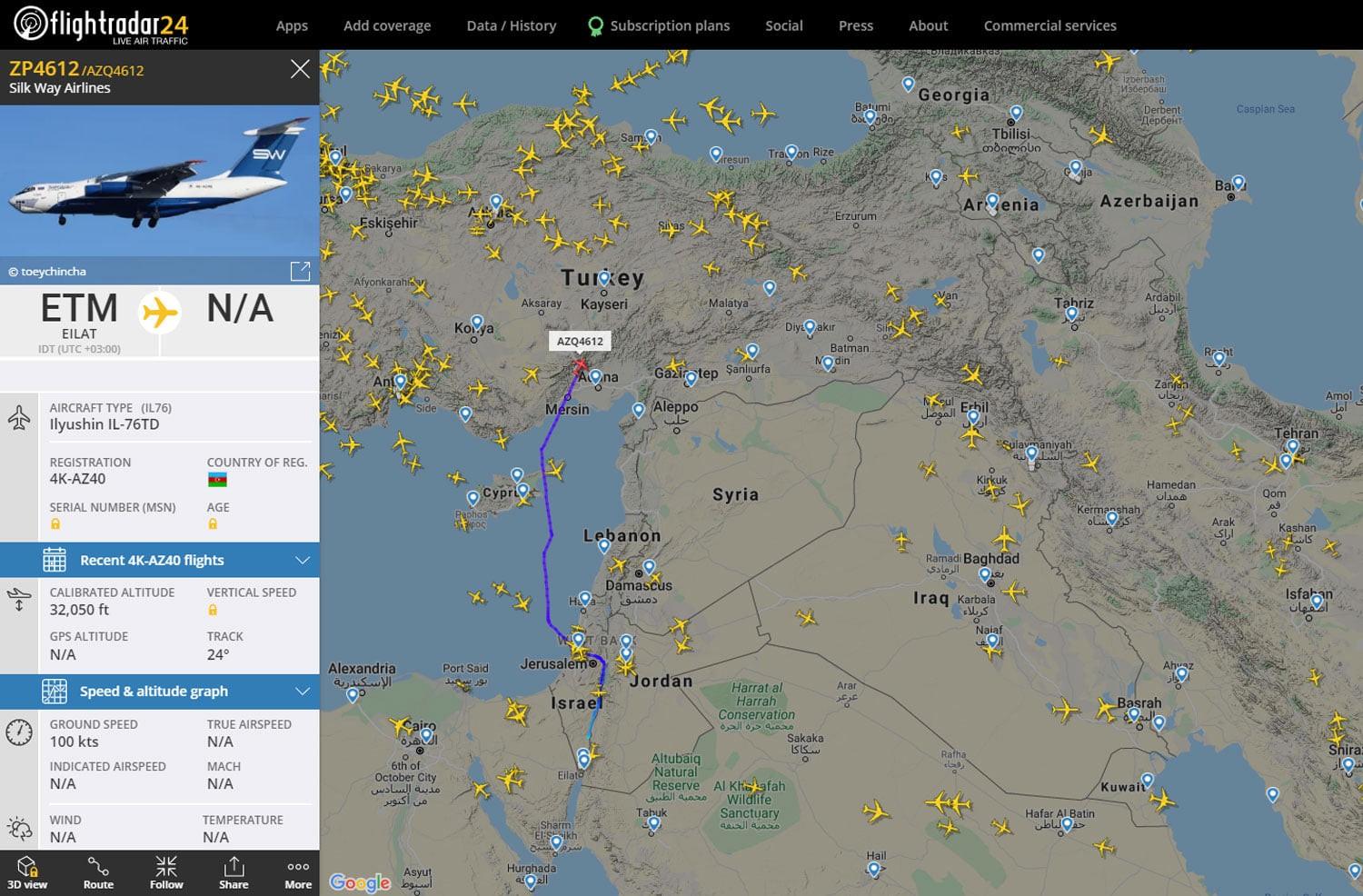 Azerbaijan Cargo Planes Fly to Israel and Turkey During Artsakh Fighting
On September 27, against the background of large-scale hostilities unleashed by the Azerbaijani-Turkish tandem against Artsakh and Armenia, remarkable changes were registered in the skies.
Azerbaijani cargo planes are flying in different directions these days. But this article is not just about them.
Yesterday Hetq wrote about a Libyan passenger plane that arrived in Baku from Tripoli, which, given the factor of Turkish-paid militants fighting in Libya and Syria, including fighters of internationally recognized terrorist groups, most likely transferred such mercenaries to Azerbaijan.
Well-known foreign newspapers have already written about the mercenaries leaving for Azerbaijan, conducting interviews with the militants.
Since the "export" of mercenaries is carried out under the auspices of Turkey, and on the other hand, Azerbaijan is in active military-technical cooperation with a number of partners, in this article we will focus on the flights of Azerbaijani and Turkish planes, which are taking place during the current fighting.
Silk Way Airlines flights to Israel, Turkey, Ukraine
The Azerbaijani Silk Way Airlines cargo carrier, whose name has been mentioned on various occasions in international arms transportation scandals, has been carrying out flights from Baku to the Israeli city of Eilat in recent days.
At Flightradar24.com, we can see that, for example, on September 24, a Silk Way Il-76 cargo plane (registration number 4K-AZ101) flew from Eilat to Baku. The airline's Eilat-Baku flight number is ZP4612 or AZQ4612. We can deduce what the plane transferred from Israel to Azerbaijan. On September 29, the same plane flew again in the direction of Baku-Eilat-Baku. And yesterday, on September 30, the 4K-AZ101 made the Baku-Ankara-Baku flight (list of flights below).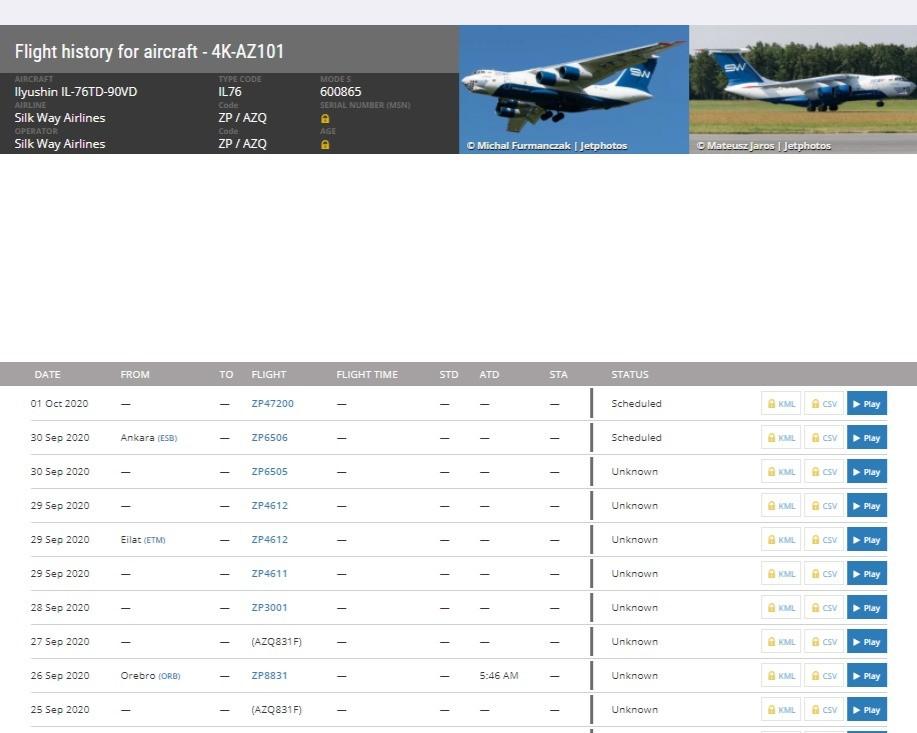 Another Silk Way Il-76 (registration number 4K-AZ41) probably flew from Baku to Kiev's Boryspil International Airport on September 26 and 27 and returned.
On the same day, a Boeing 747 cargo plane of Silk Way West Airlines (a subsidiary of Silk Way Group) flew from Istanbul to Baku.
The Azerbaijani military's Il-76 flew to Turkey, Israel and Ukraine
The Azerbaijani Air Force "Il-76" (registration number 4K-78131) has recently made regular flights to Turkey (Baku-Ankara- Tekirdağ air base), as well as Israeli Eilat and Ukrainian Lvov (see below).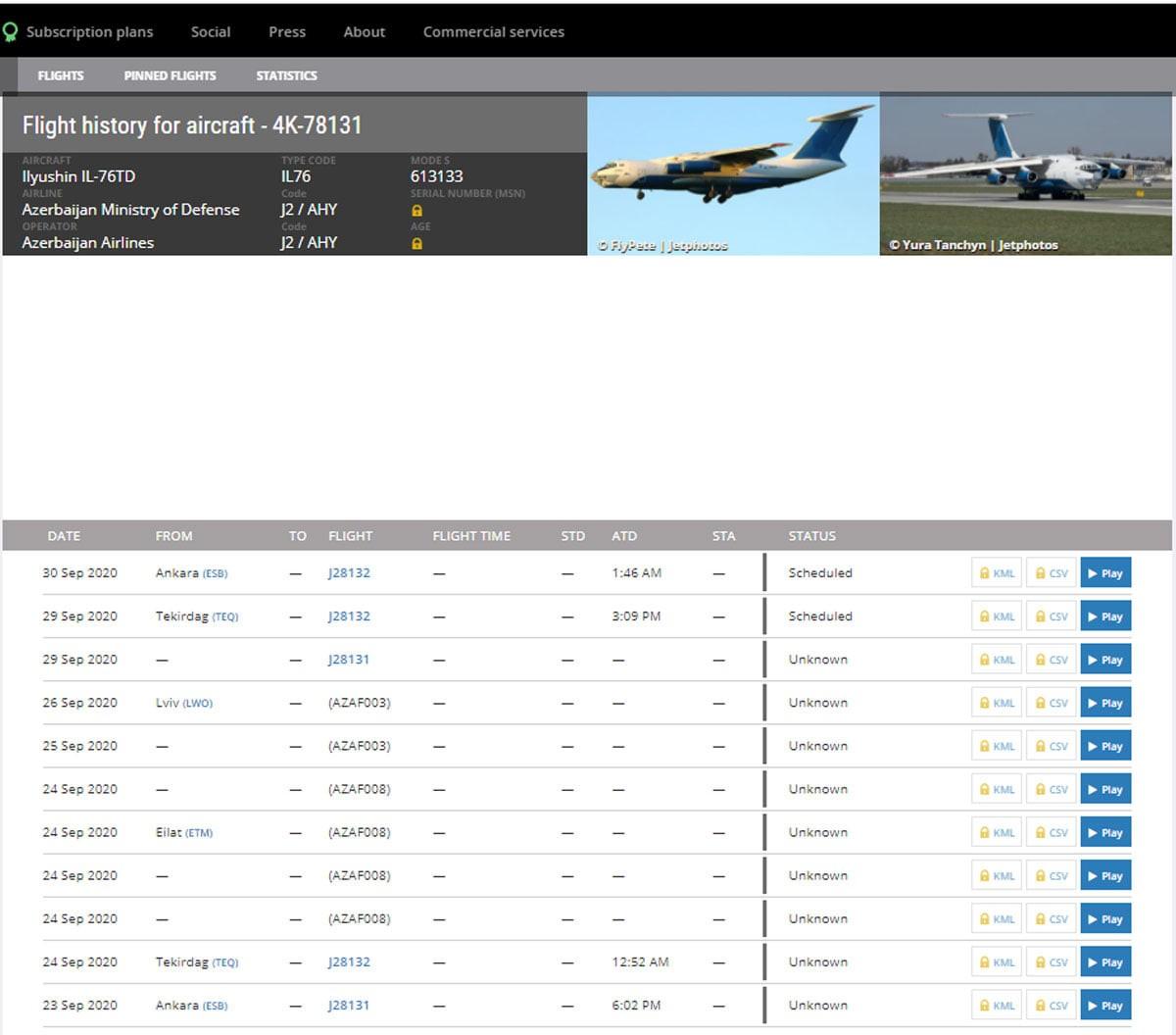 Note that Azerbaijani planes use Georgian airspace to reach Turkey, Israel and Ukraine.
Turkish planes
These days, air interaction between Azerbaijan and Turkey continues via the passenger planes of Azerbaijan Airlines and Turkish Airlines, which connect, Baku and Istanbul, Ankara, Antalya.
In addition, a Cessna 650 passenger plane belonging to the Turkish Air Force (registration number 004) left Ankara for Baku on September 29 and in the opposite direction on the 30th of the month (flight number TUAF129, see below).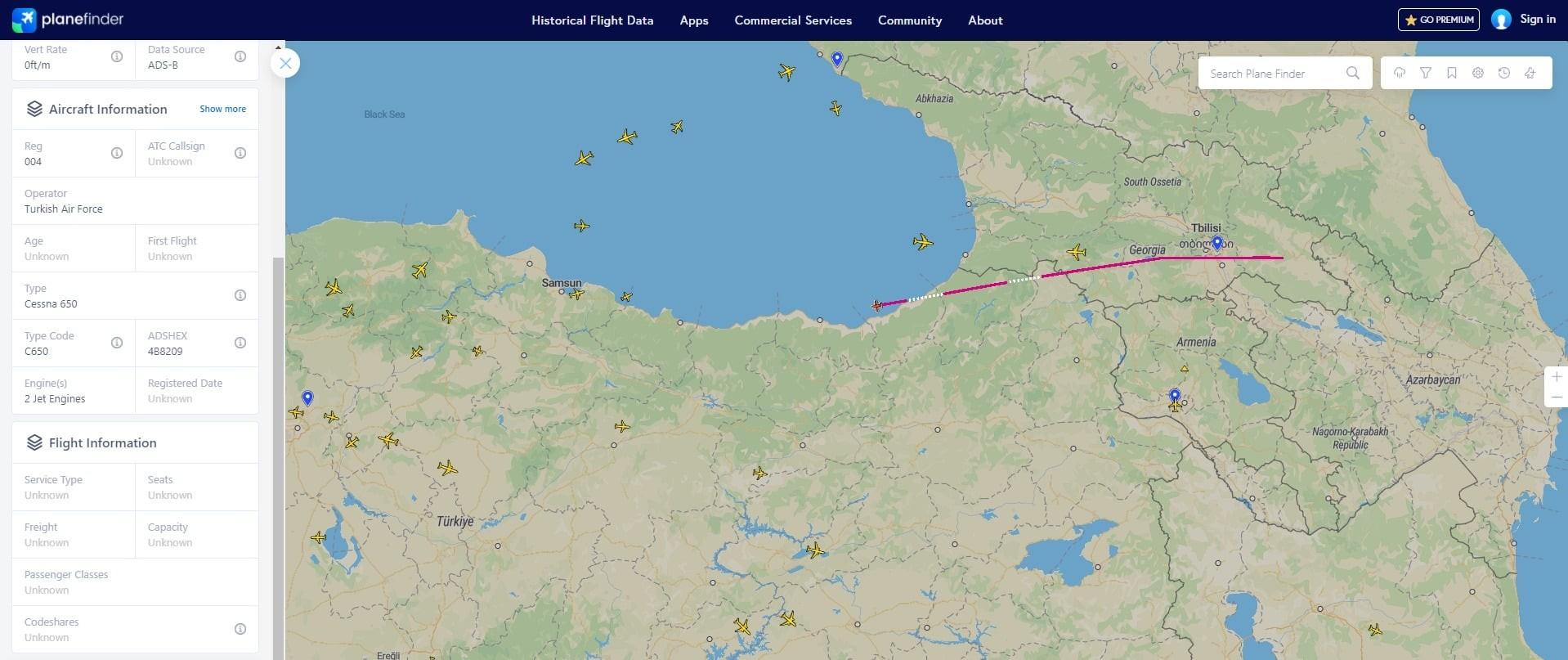 Business-class flights between Turkey and Azerbaijan have been reported in recent days. It is difficult to say who the passengers were.
For example, on September 29, Turkish Airlines General Aviation Airbus A319 (according to aviation registers it belongs to the Turkish Air Force) left Ankara for Baku and returned on the 30th of the month (flight number: TRK8).
Top photo: Silk Way Airlines 4K-AZ40 plane returns from Eliat to Baku (9/30/2020)
If you found a typo you can notify us by selecting the text area and pressing CTRL+Enter