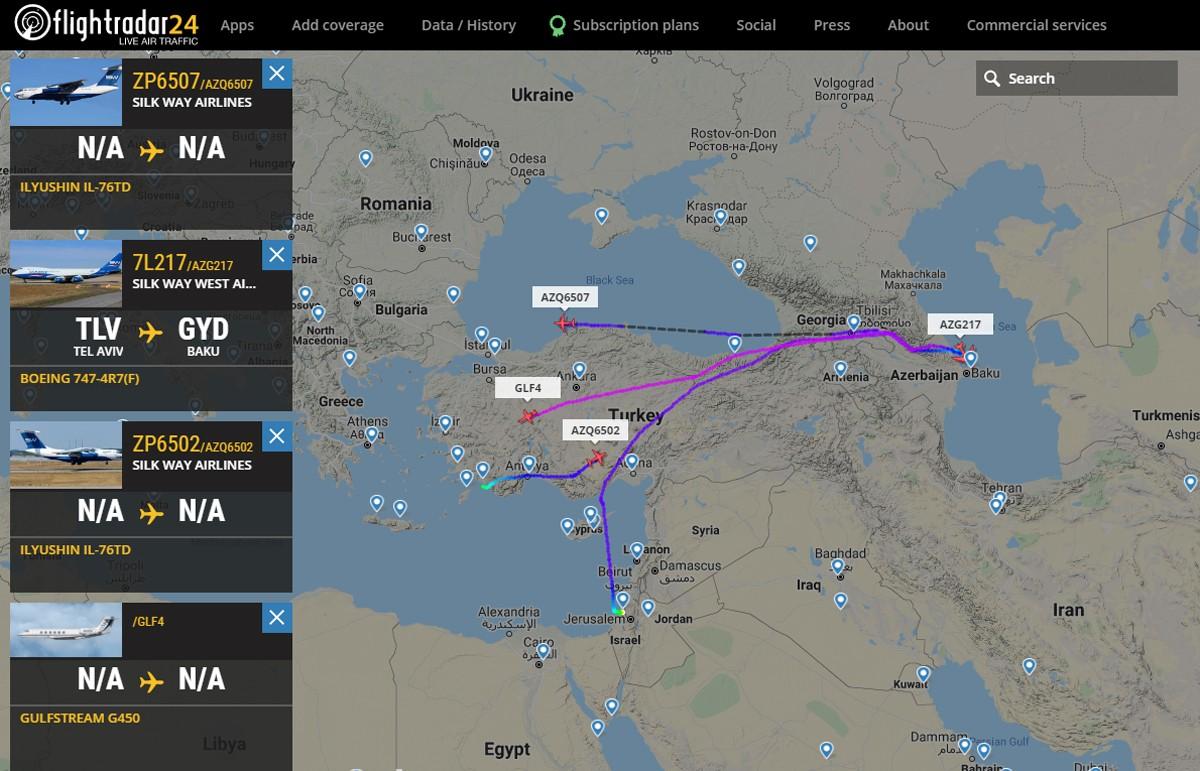 Azerbaijan Using Civilian Aircraft for Cargo Runs from Turkey and Israel Via Georgian Airspace
During the ongoing fighting along the Artsakh-Azerbaijan border, Azeribaijani cargo planes, which are considered civilian aircraft, continue to fly from Azerbaijan to Turkey and Israel.
Here, we are talking about Silk Way Airlines, whose planes Hetq wrote about on October 1.
Hetq wrote that the Il-76 cargo planes of this airline, which was involved in international arms transfer scandals at the time, were flying to Turkey and Israel. Those flights are still taking place now.
It should be noted that the Azerbaijanis use Georgian airspace for all flights.
On October 3, one of the Silk Way Airlines Il-76s (registration: 4K-AZ41) flew from Azerbaijan to Georgia via Azerbaijan (flight number: ZP6505), then returned by the same route (flight number: ZP6506).
Today, the same plane again flew through Georgia to Turkey, to the airport in the Mediterranean city of Dalaman (flight number: ZP6501). At this point the aircraft is returning (flight number: ZP6502).
Another Silk Way Arlines IL-76 (registration 4K-AZ40) flew to Turkey on October 1 and today (flight number ZP6507). The plane is currently in the air.
Silk Way Arlines' sister airline, Silk Way West Airlines, which mainly flies long-haul Boeing 747 cargo flights to various destinations, including the Pacific region, flew to Israel today. Note that the planes of this airline are registered not only in Azerbaijan but also in Bermuda.
Today one of the Silk Way West Airlines' Boeing 747-400 cargo planes (Azerbaijani registration: 4K-SW008) flew from Baku to Tel Aviv (flight number 7L216). The plane is now returning to Azerbaijan via Turkey and Georgia (flight 7L217).
We should note that both before and after the hostilities unleashed by the Turkish-Azerbaijani tandem, Silk Way Arlines' planes flew to the Israeli city of Eilat.
In our previous article we also wrote about the Azerbaijani Air Force Il-76 (registration: 4K-78131), which flew to Turkey, Israel and Ukraine. After September 30, according to flightradar24.com, the plane hasn't flown.
It should be added that against the background of the hostilities, the planes flying from Baku to Turkey and Israel and returning there bypass the skies over Ganja and cross Georgian-Azerbaijani border via Shaki (a town in northwestern Azerbaijan). This is evidenced by the Boeing 747-400 now flying from Tel Aviv to Baku.
This means that Azerbaijan, using the airspace of Georgia, before the war and during the hostilities, carries out important air cargo transportation from Turkey and Israel, which are its main military-technical partners.
Another interesting fact is that the Azerbaijani government's Gulfstream G450 business class plane (registration: 4K-AZ888) is now in the air, flying from Azerbaijan to Turkey via Georgia.
If you found a typo you can notify us by selecting the text area and pressing CTRL+Enter